Photo by Joan Marcus
After 55-years, ten Tony wins and other accolades surrounding this world-wide produced and longest-running musical on Broadway [until Grease surpassed the 3000 performances mark], we openheartedly love Fiddler on the Roof.  A sparkling new touring production launched the Broadway in Indianapolis 2019/2020 Season, earning a full-house ovation on Oct. 1, at The Murat Theatre at Old National Centre. 
The curtain rises and we're thrust, as voyeurs, into the fictional-based-on-fact Ukrainian village of Anetevka, with Tevye, a poor Jewish milkman, as our host and guide through a slice of life circa 1905. Comparing the villagers' precarious scratching out a living to the whispy tune from a violinist seemingly precariously perched even on on solid ground, Tevye introduces us to the key players in this insular hamlet, including his lame horse [that never appears and thus makes Tevye his stand-in for pulling the milk and cheese wagon,] and to God [ever-present and omniscient in conversations initiated by Tevye ].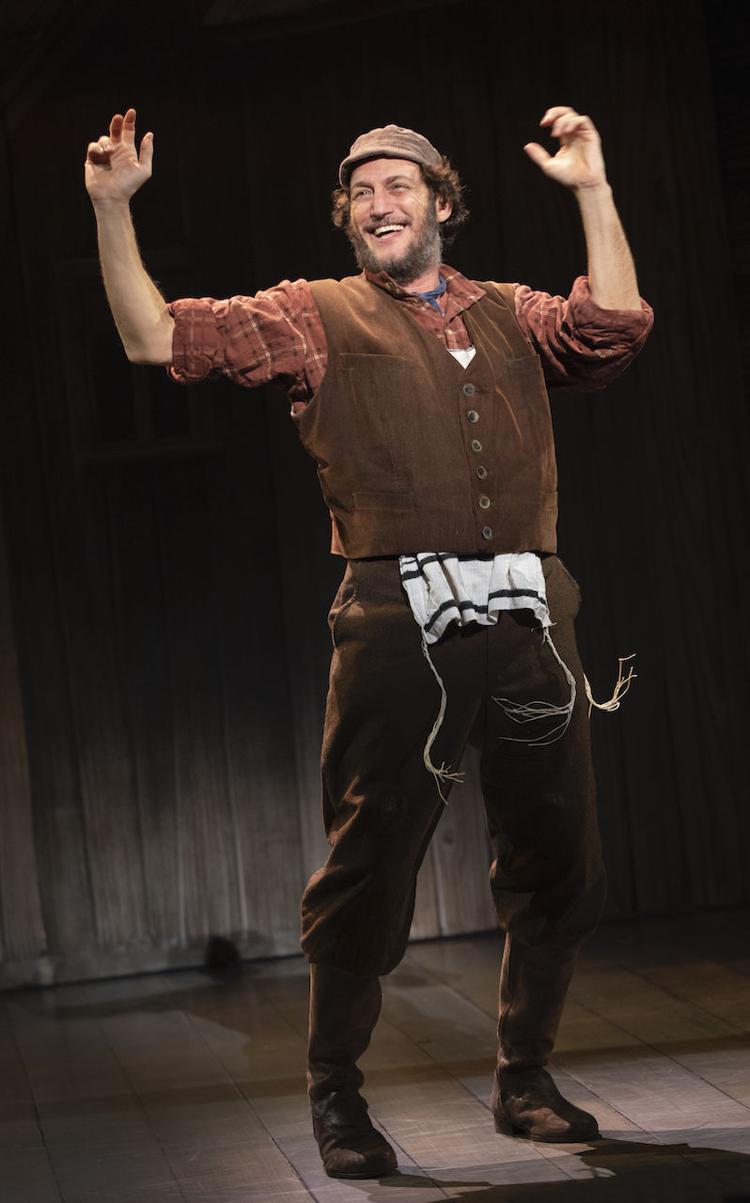 The Pale of Settlement, where people of Jewish faith had been living since the 17th Century, included all of Belarus, Lithuania and Moldova, much of present-day Ukraine, parts of eastern Latvia, eastern Poland, and some parts of western Russia. The term 'Pale' is derived from the Latin word palus, a stake; as a figure of speech Pale also denotes 'fence,' or in current lingo, a wall. The fence as a wall in this production had the effect of a brick tossed at our heads. We got it—and reacted. On a governmental whim, the population fenced in is being evicted. What is your reaction when you are informed: 'You've got three days to get out." No buy-out of property, no time for long-range plans; simply pack up and go. More than two million Jews were forced to flee from Russia between 1880 and 1920. A century later, this flee from your homeland-syndrome is equally wrenching on a global perspective. 
What solidifies our relationship with Tevye is hIs relationship with his daughters. Tradition is what he knows, change is what is tugging Tzeitel, Hodel and Chava into different paradigms of looking at their secluded village's relationship to the larger world, and how that relates to marriage—the basic expectation they know. 
 When Tevye talks to God and, simultaneously to the audience, he's breaking theatre's sacred fourth wall. And when he shimmies an alluring body accompaniment to "If I Were A Rich Man" his humanity meshes with ours—who among us doesn't have a fantasy world of good, better, best?  In his series of monologues that spring up every time he's tested, Tevye takes us along; think with me, he invites, about the meaning of tradition, the challenges of being poor, the constant fear of harassment from authorities, the system, and the general public; how can he keep a family and community together in the wake of challengies to his authority as head of the household.  At its core, Fiddler on the Roof is family-centric. Everyone relates. 
Tony Award-winner Joseph Stein and Pulitzer Prize-winners Jerry Bock and Sheldon Harnick created a seamless work that was part of the then 'new art of musical theatre.' Every scene flows into and out of each other with dialogue, songs and dance—and the execution of the inspired choreography is a loving braiding of virtuosity, sensitivity and sentiment presented as low-key yet as compellingly magical as the Sabbath loaf that  appears fully baked from the wood-burning stove. We could see the pan of raw dough  being placed into that oven, with an accompanied prayer by Golde, It's the small stuff, detail added to detail that gains 5-star status for this touring company. This is a cast that so fully embraces their story, what they do on stage leaves with us—though replicating the bottle dance will challenge even the most agile among us.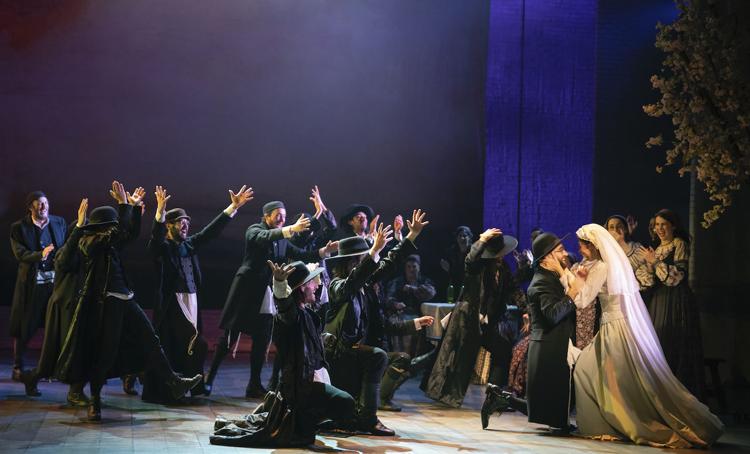 The turning point is the wedding of Tzeitel and Motel. Though we might choose to hold out for yet another miracle…something akin people being nice to "other people," in our heart we know it's the closing chapter on 'normal.' Yehezkel Lazarov embraces us with a compelling Tevye.  Maite Uzal brings spice to Golde; Kelly Gabrielle Murphy, Ruthy Froch and Noa Luz Barenblat win our hearts as the three older daughters, as do their soul mates-in-marriage: Nick Ciccone, Nic Casaula and Jack O'Brien. Carol Beaugard takes matchmaking personally, Jonathan Von Mering brings an edge to Lazar Wolf [feel a bit of kinship with Hello, Dolly?] The entire cast, along with the orchestra conducted by Michael Gildin, earned the ovation.
This touring production is directed by Tony Award-winner Bartlett Sher (South Pacific, The King and I); choreographed by Hofesh Shechter, as inspired by the original choreography of Jerome Robbins; and has musical direction by Ted Sperling. The functional, bare-bones scenic design is by Michael Yeargan, costume design is by Catherine Zuber, lighting design is by Donald Holder; this trio also earned accolades for their collective work with The King and I. sound design is by Scott Lehrer (Tony Award-winner, South Pacific), and hair and wig design is by Tom Watson. 
In 2014, fiction serviced fact when, as was described by Cnaan Liphshiz in The Times of Israel, Jewish refugees overnight went from a normal existence to "a hellish struggle for survival and flight" from Lugansk in the Ukraine's war-torn east. Amazingly, they found refuge in "the nascent community of Anatevka, a hamlet near Kiev that sprang into existence" earlier that year. Named after the fictional hometown of Tevye the Dairyman, Liphshiz describes the plight and resettlement that is not too unlike the aftermath of the reality of 1905 upon which the musical is based. For the full report see: https://www.timesofisrael.com/in-real-life-anatevka-ukraines-jewish-refugees-cling-to-tradition/
Broadway revival of Fiddler on the Roof at Old National Centre from October 1-6.  Tickets are on sale now and available in person at the Old National Centre Ticket Office, online at ticketmaster.com, or by phone at 1-800-982-2787.
Next up for Broadway in Indianapolis
Hamilton,  December 10-29, 2019
For information on HAMILTON, visit: