Indianapolis Chamber Orchestra, in collaboration with the International Violin Competition of Indianapolis, journeyed to Bohemia with musical snapshots across three centuries.
The program opened with a nostalgic nod to the United States by Czech-born Bohuslav Martini, who had sojourned as a WWII refugee in New York City, and, in 1953, was returning to Europe. This endearing 8-minute Overture establishes relationships between sections of the ICO against the full contingent of players, taking us back to the tradition of a Barque concerto grosso, with two sets of soloists, one comprising a flute, a violin and a cello, the other an oboe, a second violin, a viola and a second cello. They alternate within a sprightly tempo and a slower, lyrical interlude before ending in grandeur as a festive event, aptly signaling what this November 23 concert is about.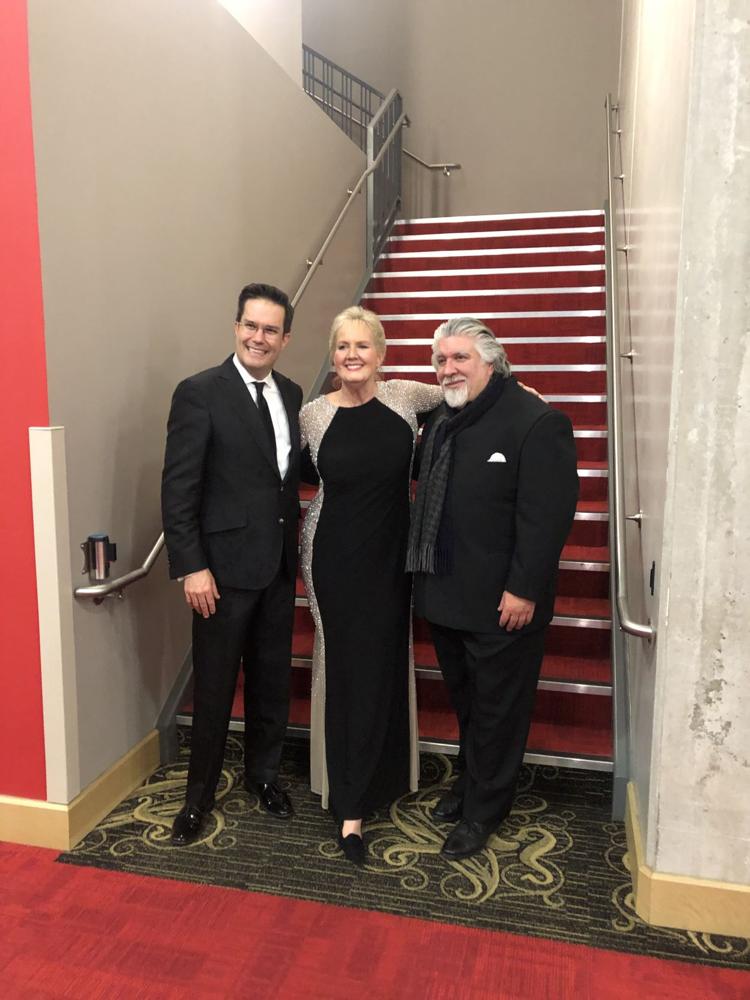 Brahms' Concerto in A minor for Violin, Cello and Orchestra, Op. 102, brought forward beautifully lyrical playing between guest violinist Andres Cardenes and ISO principal cellist Marjorie Lange Hanna within a contained, muted orchestral backdrop. As a Double Concerto, I admit to having previously experienced the work in a more full-out orchestral backing, yet what happened here more than pleased just about everyone else in the audience, and during intermission one knowing patron told me he especially liked this more muted interpretation. I was reminded that this was Brahms' final orchestral work, composed during the summer of 1887 as a reconciliation with his old friend, violinist Joseph Joachim who then performed with their mutual friend, cellist Robert Haussmann. The work, in its first iteration in 1887 was not universally applauded. It remains a work that mirrors its very personal nature, and perhaps that colors its interpretation by the soloists and by the conductor, as a measure of relationships with the orchestra. It's a complex emotional work that does require deep listening. I returned to the Kennedy Center notes by Richard Freed when I got home.
"In our time, of course, it can only seem incredible that listeners in any period could have resisted the appeal of the work's strong themes, bold rhythms and darkly handsome coloring," writes Freed. "The first movement, fiercely dramatic at the outset, casts the cello in a particularly vigorous role and provides ample dialogue between the two soloists as well as exchanges between them and the orchestra. There are double-stops aplenty for both soloists as they discourse on the two principal themes—one stark and angular, the other gently lyrical."
Freed points out how "The slow movement is utterly characteristic of Brahms, its sentiment unconcealed yet infused with great dignity," and he adds a note by Brahms biographer Walter Niemann, describing this Andante as "a great ballade, steeped in the rich, mysterious tone of a northern evening atmosphere."
Freed goes on to say, "Earthy good humor and unreserved vigor prevail in the final movement, the last of Brahms's great Hungarian-flavored rondos. Here too, by way of contrast, are pages of unabashed tenderness and great warmth of heart, set off in lambent sunset hues so fitting to the valedictory gesture this work proved to be for Brahms as a composer of orchestral music."
So I concluded there are many ways to absorb the experience of a beloved work. It was simply great fun hearing what reconciliation sounds like, once again. Andres Cardenes began his now renowned teaching and pedagogical career as an assistant to Josef Gingold at Indiana University. Among his other accolades, he now serves as Music Director of the recently established Josef Gingold Chamber Music Festival of Miami. Marjorie Lange Hanna is a founding member of the ICO, with regional credits as an award-winning cellist.
Leos Janacek's Suite (Serenade) for Orchestra. Op. 3, offers a dance card of folk dances. It too is a work surrounded by personal history. Composed in 1891, it did not gain a premiere performance until September 23, 1928. Janacek died on August 12, 1928. The four movements, Con moto, Adagio, Allegretto, Con moto, designate the tempo for each. The ICO players clearly enjoyed this work, leading to their exquisite rendering of Mozart's Symphony No. 38 in D Major, K. 504 ("Prague"). The drama in the three movements: Adagio, Andante, Presto, show us how Mozart's later work drew from this 1786 composition, and lead us to understand the antecedents for succeeding composers. This work reflects the importance of Prague as a haven for Mozart when the audience whims in Vienna became less fortuitous. The ICO players were so into this piece, their joy enveloped the entire audience, and we leaped to our feet at its conclusion.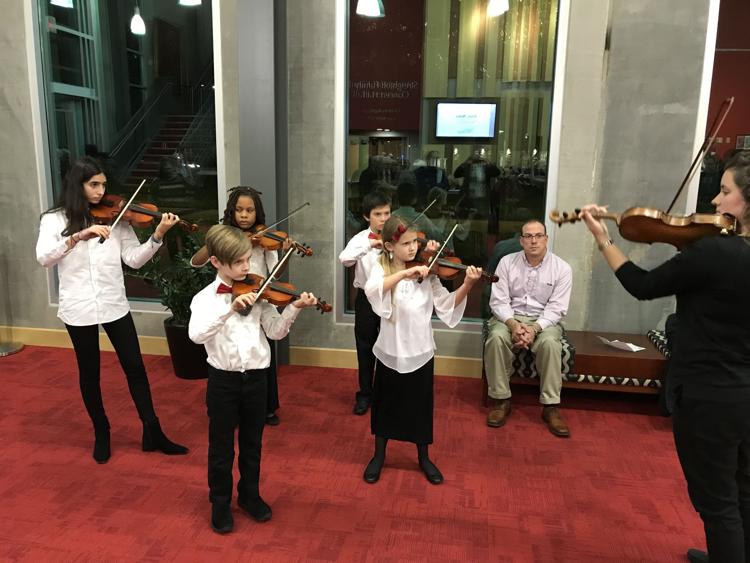 The pre-concert program in the lobby of The Schrott on November 23, 2019, introduced a group of young violinists.
"Playing before the ICO concert is an honor and a joy for our young Suzuki students," said Sarah Beck, Indianapolis Suzuki Academy, Violin Faculty and Executive Director, in an email exchange with NUVO. 
"Not only does it allow the students to share their gift of music with the greater community, it also allows our young players to hear fine musicians in the Indianapolis Chamber Orchestra. Learning an instrument is a life-long journey and our students experience many memorable moments along the way. When professional groups such as ICO inspire the next generation by working together with young musicians, it shows the entire community the vibrancy of our Indy arts and music culture."
ICO spokesperson Alicia McMahon said, "We partner because it is vital to support the education of future string players."
The Indianapolis Suzuki Academy (ISA) started over 35 years ago as a violin program for young children in a community music school program at the University of Indianapolis. Beck added, "In 2011, the ISA Board of Directors voted to become a fully Suzuki-based program and the ISA has set its sights on becoming the premier Suzuki school in Central Indiana. Today, the ISA offers Private Lessons and Group Classes in Violin, Viola, Cello, Piano, and Harp to students aged 4-18, and Suzuki Early Childhood Education for families with newborns to 4 years old. The Academy currently has twelve instrumental Faculty members who are passionate about the Suzuki Philosophy and Method, and we are united in our goal of "nurturing admirable character through excellence in music."
"With all of our programs together, we will serve over 225 students this year from Early Childhood, to instrumental lessons, to chamber music and school programs. Our Faculty and students are thrilled to collaborate with such fine organizations as the Indianapolis Chamber Orchestra."
Up next for the ICO: 
December 15, 2019, A Baroque Christmas, featuring Bach's Christmas Oratorio and Handel's Messiah, Christmas portion with ICO players and soloists and chorus.
January 25, 2020, Dominance and Defiance featuring flutist Amy Porter with the ICO.
both at The Schrott at Butler. See: ICOmusic.org
Up next for IVCI:
January 28, 2020, 1990 Gold Medalist Pavel Beman appears with the Ronen Chamber Ensemble, at the Eugene & Maarilyn Glick History Center. see: www.violin.org
March 15, 2020, is the ISA Annual concert at Indiana Landmarks.
Learn more here:
https://www.indysuzukiacademy.org/