Actors Theatre of Indiana is gifting us with a superb production of an illuminating play as a celebration of their 15th anniversary and as a segue into the holiday season when we are expected to extol the best elements of humanity.  Make time to attend a performance of "Alabama  Story" at The Center for the Performing Arts in Carmel on stage at The Studio Theatre through Nov. 17. 
You'll laugh, you'll wipe away a few tears, and you'll gasp at human nature on a rampage, and at its finest—unless of course, you have in mind to conjure up a societal fantasy that a totally charming picture book depicting the wedding day of a black rabbit and a white rabbit, in joyful communion with their furry, feathered friends, is a blatant attempt to seduce children to march forth as anti-segregationists in the State of Alabama, circa 1959. Actually, such militancy might never have crossed anyone's mind until Alabama State Senator E.W. Higgins, sixty years ago, sought to propel his political currency with an attack on the book, its author-illustrator,  and the librarian who defended the book's rightful place on a library shelf where parents and children could choose yea or nay to borrow it.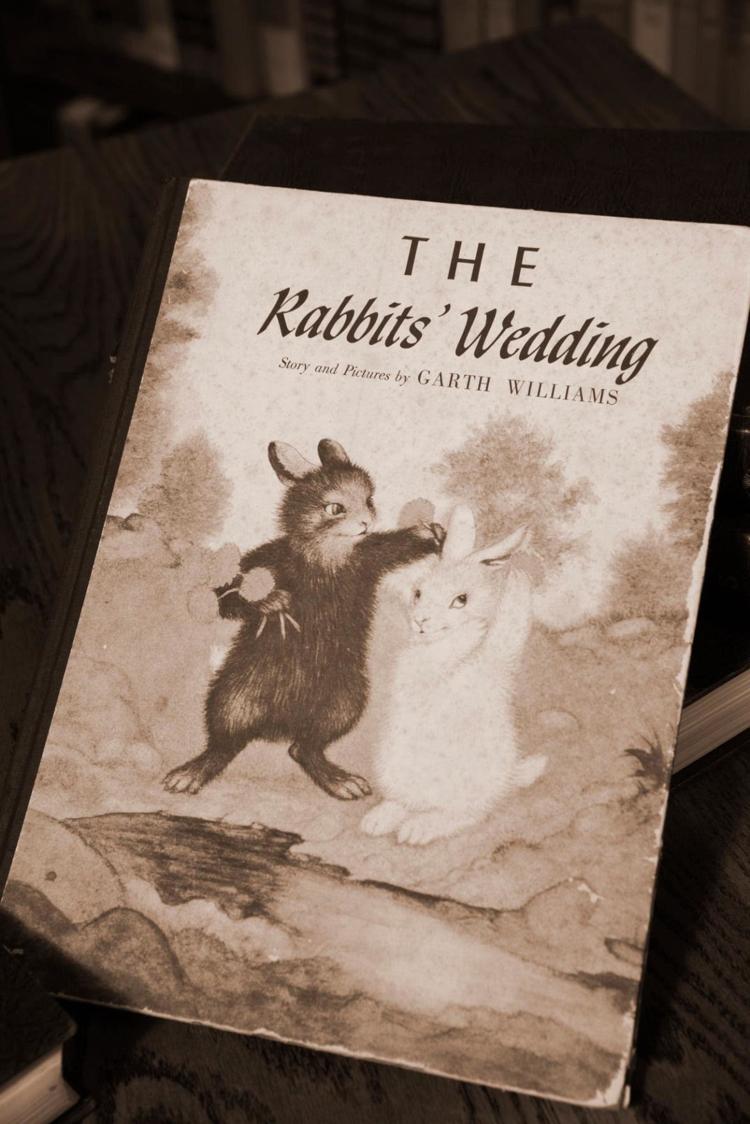 Playwright Kenneth Jones plucked this slice of hidden/forgotten history from newspaper accounts and burnished his findings as a glyph on the scripting of "Spoon River Anthology" to gift us with a 'story within a story within a story' that has legs to be our personal story, which it is for me. Full disclaimer here—Garth Williams is my beloved illustrator of "Charlotte's Web,"  the "Little House" and the "French Orphelines" series, and the penultimate parenting guide: "Bedtime for Frances," among a long list. Of course, demagogues can find a way for any book to be called 'subversive,'  and they know how to gather support to promote themselves as saviors from the troublesome acts of thinking, kindness, empathy, love. For bullies and demagogues, hatred simplifies life—one emotion satisfies all human contact. 
This is where the play, and its sprightly presentation, touches us most directly. Through the dialogue, the historically-based characters reveal what it is that led them to their path and, for me, this sensitivity opens my mind and heart to hear Senator Higgins' pain. He is not a happy person. What is his bombast covering up? It's exhausting to think of having to find a way into the mind of such a person, multiplied to the minions, yet Emily Reed, an Indiana native, with a degree from Indiana University, shows us why we must reach out, one person at a time. It's a demand on multiple levels, starting with the immediacy of reaching out to children and adults who now make our lives miserable because they are unhappy, and helping them find a path to kindness, and from there raising up, by example, a multitude of children to be kind and caring.  Why did hatred become a family value? If I'd rather be in the company of caring, thoughtful people, if I desire that my children and grandchildren live in a caring, thoughtful world, I need to step out, as did Emily Reed when she was targeted as subversive in Alabama—because she wasn't born and raised in their atmosphere of hatred, and thus is an outsider. I need to move out  of my comfort zone and try to understand 'the other' who bullies, hates me, simply because I am not them.
Jane Unger directs a six-member cast with finesse within a faceted stage setting by P. Bernard Killian abetted by Quinten James' lighting design and original music by Barry G. Funderburg. Credit as well expert costume, wig and prop design by Andrew Elliot, Kyle Schellinger and Amanda Pagan-Pechora, respectively. Check out the other credits  in the printed program and applaud them too. 
Praise for the cast requires a lexicon of superlatives. As an ensemble, they deliver the spectrum of nuances essential for making history live; and for making life-changing events personally memorable. Attend, be moved, and stand up for Cameron Stuart Bass, Cynthia Collins, Don Farrell, Maeghan Looney, Paul Tavianini and Samuel L. Wick.
Learn more & get tickets here: https://thecenterpresents.org/tickets-events/events/1920/resident-companies/ati-alabama-story/
Next up for ATI: Murder for Two: a musical making its Indiana premiere, Jan. 24-Feb. 16, 2020.