A free, open-to-the-public program at the Hilbert Circle Theatre on Jan. 13, at 5 p.m., celebrates the life and memory of Raymond Leppard, who served as the Music Director for Indianapolis Symphony Orchestra from 1987 to 2001, and as Conductor Laureate from 2001 until his death on Oct. 22, 2019. The musical tribute and memorial event will include tributes by the Indianapolis Symphony Orchestra, Indianapolis Symphonic Choir, ISO Music Director Krzysztof Urbański, ISO Principal Pops Conductor Jack Everly, and University of Indianapolis Department of Music faculty members Richard Ratliff, piano; Joana Genova, violin; and Austin Huntington, cello.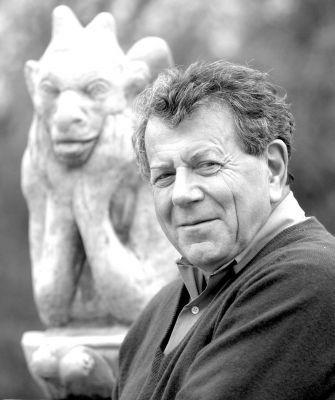 "The bond between Maestro Leppard and the Indianapolis community was so strong, the British native made Indianapolis his permanent home and became a U.S. citizen in 2003," notes ISO spokesperson Kristin Cutler. "In addition to his term as Music Director of the ISO and long-standing association with the English Chamber Orchestra, Raymond Leppard conducted many other major orchestras, including the New York Philharmonic, Boston Symphony, the Philadelphia Orchestra, Los Angeles Philharmonic, Pittsburgh Symphony, Israel Philharmonic, and the BBC Symphony. Raymond was well-known for reviving the baroque operas of composers, including Cavalli and Monteverdi – influencing a rejuvenated interest in the genre."
Anastasia Tsioulcas, in an NPR tribute to Raymond Leppard on Oct. 22, 2019, noted, "Pioneering British-born conductor, harpsichordist, composer, and scholar Raymond Leppard has died. He was 92 years old. With full-bodied performances matched by pioneering scholarship, Leppard helped reintroduce audiences to 16th-century Italian masterpieces by composers including Claudio Monteverdi. But Leppard was also very much a man of his time: he championed — and wrote — contemporary works for both stage and screen… including the 1963 adaptation of Lord of the Flies directed by Peter Brook….A Grammy Award winner, Leppard made some 200 recordings for such labels as EMI, Decca, and CBS, including one of trumpeter Wynton Marsalis' benchmark album Baroque Music for Trumpets." [for this complete tribute see: https://www.wfyi.org/news/articles/conductor-and-composer-raymond-leppard-a-champion-of-the-old-and-the-new-has-died 
 "While [Maestro Leppard's] tenure as Music Director will be remembered for raising the artistic profile of the orchestra through international tours, recordings, and broadcasts, his influence on the ISO continues to this day," said. James Johnson, The Symphony's CEO, "by making Indianapolis his permanent home, Maestro Leppard was able to serve as a champion of classical music in this city, conducting concerts, teaching, and inspiring others to cherish the music he loved. He put an indelible stamp on this city and this orchestra."
The news release at the time of Mr. Leppard's death noted, "The Queen of England honored Maestro Leppard with the title Commander of the British Empire (CBE). For his services to Italian music, the Republic of Italy conferred upon him the title of Commendatore della Republica Italiana. In America, he received honorary degrees from Purdue University, Butler University, and the University of Indianapolis. Born in London, Raymond Leppard was educated at Trinity College, Cambridge.
"Raymond Leppard will be remembered not only for his brilliant mind and incredible talent, but for his charming demeanor, his witty sense of humor, and his deep connection to the Indianapolis community that will have an everlasting influence on the city's musical landscape."
Doors to the Hilbert Circle Theatre open at 4:30 p.m. on Jan. 13. Donations can be made to the Indianapolis Symphony Orchestra in Raymond Leppard's honor, at the time of the program.
"Since music was the most palpably religious of all my experiences, I used it as a basis of a celebration of life and the living of it, for it has made everything worthwhile for me." – Maestro Raymond Leppard, 1927-2019.