PATTERN isn't your typical, glossy fashion magazine focusing obsessively on the runways of Milan, New York, Paris, and London, and chock full of advertisements.
It's published right here in Indianapolis, with 85 percent of the magazine geared towards local personalities, trends, and happenings. It has little in the way of advertisements, as befits the eponymous nonprofit 501(c)(3) organization that publishes the semi-annual magazine.
The magazine doesn't ignore the trends in the far-flung fashion capitals. But you're much more likely to find, in its pages, ink and photo spreads, say, on a local fashion show organized at the Stutz Business Center or on a fashion photo-shoot in Monument Circle.
Volume #14 —  The Art Issue —  released in Oct., 2018  was a special issue, the first issue entirely devoted to Indy's visual art scene. It's an issue that editor and creative director Polina Osherov had wanted to publish for a long time.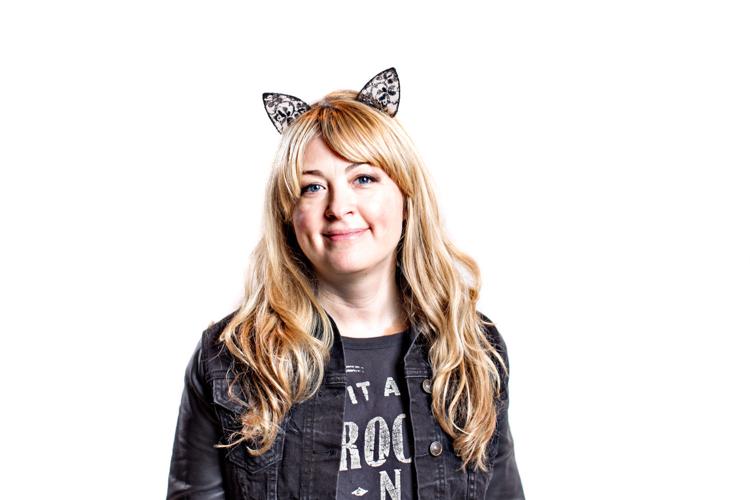 "It's becoming harder and harder to miss the arts, in this city of sports, even if your not paying attention," Osherov wrote in her introduction in that issue.
The Art Issue was also pretty much guaranteed to get a WTF reaction out of, say, L.A. art dealers who consider Indianapolis to be just another stop in flyover country. Because, as this issue amply demonstrates, the Circle City is nothing of the sort, at least as far as the visual arts are concerned.
The issue was full of interviews with, and profiles of, artists, dealers, arts nonprofit administrators, curators, arts writers, and collectors. As Osherov admits, the scene is too large to contain within its 180 pages. Volume #14 also contained, nonetheless, a good overview of the art scene in the Greater Indianapolis area.  
You learn, in reading that issue, about Indy-based artists whose client and collector bases stretch way beyond Marion County or even beyond the US border  — artists like Constance Scopelitis, Walter Lobyn Hamilton, Mab Graves, and Travis Little.
While Little, in particular, complains about some of the economics of making art in the Circle City — it's an issue echoed by Osherov herself, as you'll see —  few can dispute that there is a solid group of artists making world-class work here.
The same world-class art-making can be found across the board in the city, whether it be in fashion or theater or culinary arts or music or something in-between.
Osherov, who was one of the co-founders of PATTERN, says that she recognized along with her friends back in 2010 that there was indeed a small fashion scene in Indianapolis, that was all but invisible to the outside world. And together they wanted to see what happened when they started talking about the scene.
Publishing the internationally-distributed magazine — the first volume was printed in 2012  — is far from the only thing that their nonprofit does. Perhaps the most significant thing is acting as a springboard for interns and fellows to "get their feet wet"  by creating content for local businesses and nonprofits. PATTERN also has a tangential role in what is loosely termed "creative placemaking" in Indianapolis — when artists and arts organizations get involved in community development.
Osherov wasn't a fashion expert, at least in 2010, when PATTERN was launched as an all-volunteer organization. She was, and continues to work as a professional photographer, with a studio in the Stutz Business & Arts Center.
Born in Russia, she grew up in Australia.  She went to school (and got married) in Chicago, and came to Indianapolis with her husband in 1999. Her background undoubtedly informs her perspective. As she told NUVO in 2012, "I consider myself completely international."  
We spoke by phone on March 20, in advance of the PATTERN #15 Music Issue launch event. It will be held on March 23, with musical entertainment by Lari Pati, at 10 E. Washington Street.
NUVO: Why don't we start by you telling me about the Music Issue Launch Party and some of the highlights?
POLINA OSHEROV: OK. As you know, this is our second music issue. We kind of felt it was a good time to do another issue because of the focus of the city that the Chamber [of Commerce] has put on exploring of Indianapolis becoming more music music-focused in economic strategies and such.
There's a lot going on, I don't have to tell you that. There's a lot of talented people and a lot of different representations of music and everybody gets along and we're all in the same boat together trying to all work to rise the tide [laughs.].  
NUVO: The subhead on your magazine is "Fashioning a Community" and you just wrote a definition of creative placemaking published in the article "What is Creative Placemaking? in NUVO. You said placemaking is about putting people first, it's about creating public spaces and neighborhoods that make life a little bit more enjoyable and fun but in a practical and accessible way. So, how does PATTERN go about doing that?
OSHEROV: That's a good question. I don't know if we're strictly a placemaking organization especially given that we've been mostly homeless [The current physical address is 941 N. Meridian St.]. I see us more as a culture-making organization. Like: put us anywhere and we'll gather in that spot. That's kind of been the thinking behind our launch parties. We always try to go to the new place. Ideally we'll look for places that might feel a little undiscovered just to try and show people different sides of the city, so I think for us what's big and I think this is where we share some commonalities with placemaking. It's really about engaging the community and seeing what they are interested and making sure that they are part of the process. To the extent that we can, we love not just featuring creatives from the city —  some that are well-known, some that aren't but also through our internship and fellowship programs, engaging that same community of young creatives to help us make the magazine and keep up with the digital publication as well.
NUVO: The "What is PATTERN? A 90 second show and tell" video on your website describes the organization as a kind of glue between creative people and businesses in this city. Can you give me a small example of that?  
OSHEROV: Well, there's probably several …  I think that what we see is that creatives can drive the economy in a significant way.  And also there's a lot of conversation just about how innovation requires creativity. And yet, in our city, we don't really tangibly see a lot of support for creatives. So the hope is to continue bringing that conversation about how can we marry business interests with creativity … And also making sure that we have a big enough pool of talent here that local businesses can draw on, right? I mean, there's not a lot of opportunities for paid creatives in this city, whether they're musicians or photographers or models. So we lose our best talent to other markets, and then the big companies end up hiring talent from those markets and bring them here to shoot campaigns and videos to write for them and speak for them and it's like backwards. Why don't you just invest in local talent and keep it all in the family so to speak? That's very convoluted.  
NUVO: No, that makes a lot of sense and it fits in with the questions that we're asking at NUVO about placemaking, although some of what you do is tangential to that.
OSHEROV:  Some of the things we do specifically to address this with our fellows and interns. We have this creative services program where we try to work with other local nonprofits or businesses where we create content for them because content creation and storytelling is really our jam; we've been doing it for a while: we do it well.
What we do is; we utilize interns and fellows on some of these projects which are probably a lot more advanced than where they are in terms of what they could have access to on their own, but with supervision from more experienced individuals, they really have a hand in making things, whether a photo shoot or print design or fashion design. So that creates this really great symbiotic cycle; they receive some really excellent creative content and the people that create it get some creative stuff to put in their portfolio and a really invaluable experience. And there is a little bit of compensation in that but not a whole lot. It's sort of an interesting model that we're testing out, to see whether it can be successful.
My model is, if anything, the Orr Fellowship, what they've done with companies and how competitive that whole program is and how it has grown. I would love to see what we're doing grow to that. We're not quite there yet, but that's where we're taking steps to go. PATTERN becomes that one place in Indianapolis where young creatives can go get their feet wet for their first years out of college.
NUVO: It struck me, looking through PATTERN online, you can see notes on Paris Fashion week and also The Stutz's Tats & Hats fashion show. It seems unique. You're aiming for both a global and a local audience right?
OSHEROV: Yeah, it's an interesting hybrid. We're not a straight-up fashion magazine. I'd probably say we're more culture, arts, and fashion. Because we are distributed globally, it's good for us to do some things that are maybe more global sounding, but honestly that's not the reason why we feature things outside the city. It's probably more like an import/export, right? You keep it all Indy-based and it becomes sort of incestuous. But the other piece; I'd say 85 percent of the magazine is about and based in Indiana and specifically in Central Indiana. For us, it's a tool to export to export Indianapolis to other parts of the world, right?  And the way we do that is we kind of mix it up.
Fifteen percent of our stories/our shoots are done outside of the state and the reason for that is it allows us to engage with creatives outside the city; some of them are very influential; some of them are starting out. But by coming in contact with through us and therefore Indianapolis through this publication, and the experience of working with us, it gives people a completely different perspective on what Indiana is. It's almost like a diplomatic mission when we do things that aren't specifically about Indianapolis or Central Indiana. Does that make sense?
NUVO: Yes, but you're also trying to show people in Indianapolis what's going on elsewhere...
OSHEROV: Absolutely.
NUVO: … and try to make connections, say, between a fashion show going on here, and a fashion show going on in Paris or in China.
OSHEROV: Absolutely. In this day in age everything is so connected, that it makes sense to be more outward facing. There's a lot of great things going on here, but there's a lot of great things going on there as well.  
NUVO: Was it a lack of creative froth going on in the Mile Square itself [as referenced in the aforementioned PATTERN & PATTERN workshop video] what led you to create, or co-found PATTERN in the first place?
OSHEROV:  No, back when it was founded, it wasn't just me —  I was one of the co-founders. I was there purely by accident. It was this recognition that fashion and people interested in fashion was sort of a thing here, like there were designers and photographers and models and really all the different professions that one would associate with the fashion industry. They were all present but they were very disconnected, obviously completely under the radar; I mean. nobody would have thought of Indiana as a fashion anything 10 years ago. I'm not sure if they do now either.
But it was just this desire to see what happens if a bunch of us band together and start talking about the fact that there is a fashion industry here: it's tiny, it's underserved, it's very fragmented but it's here. It could legitimately grow and exist here in the, you know, flyover state. So that's where it all started.
The recognition, I think, in terms of what we were saying as far as Mile Square had to do with the [Pan Am Plaza] space. We wanted to launch PATTERN Workshop 3.0 at the empty ice skating rink on the Pan Am Plaza. We proposed a mixed use facility with artist studios, and co-working, with access to amenities like photography studios, sewing machines, a darkroom, a podcasting studio, macs with video and photo editing software. The space would have also been an event space specifically targeted at small non-profit and creative entities that can't afford to rent out typical event spaces. There was also going to be a retail storefront that would have carried products from local makers, artists and designers.
We pitched the idea to Kite [Realty] in the spring of 2017...and tried to get it figured out for about a year before the idea fell apart due to lack of support.
It's just this idea that we have this great, clean, walkable, likeable city and there's really nothing that really represents the vibrancy of the city that we know that it had in that area.  It's all chain restaurants and banks and law firms and government buildings. So for a visitor, who might appreciate how clean we are and how everything is connected in terms of getting from the hotel to the convention center, say, they don't really get a flavor for Indianapolis and what it has, for example the amazing music scene is one of those things, so we wanted to plant something at the Pan Am Plaza to be front and center, in the way of all the visitors to show them very tangibly like holy cow, there's all this activity and all these artists and all this stuff going on and wow, who would have thought Indianapolis had all this culture.
So that's like eight years into PATTERN, right?  It's not so much focused on the fashion industry per se, because after eight years I've come to accept the fact that it's not going to be a focus of economic development in the foreseeable future. It was important to widen that scope and embrace everybody.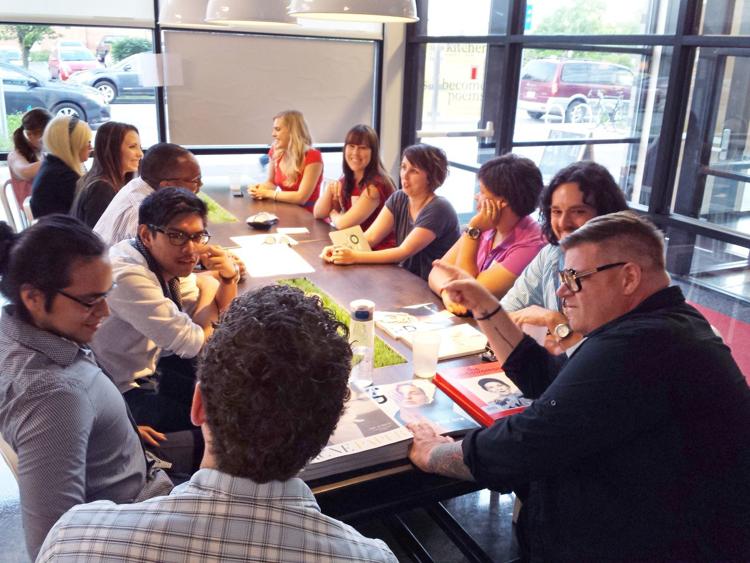 NUVO: As far as last October's Art Issue, did you learn anything about the visual arts in Indianapolis that you hadn't before, that fits in with what you were just talking about?
Nothing new. It's just recognizing that there's so much more going on than meets the eye. You have to dig in and put your feelers out in every direction possible. For me what's exciting, I feel as though, because of what I do, I'm pretty plugged in and aware of different cultural happenings in the scene that's going on but then to discover a bunch of new things, I'm like, That's amazing. That's so exciting. Because Indianapolis is a big city.  If you take in all the donut counties its over a million people. Holy crap, that's a lot of people. There's got to be a lot going on. But a lot of it is centralized. It's good to have something central, like a cultural master plan or something in place that helps bring all these disparate things together. And we don't have that. So if anything, doing the art issue got me thinking about the fact that there isn't a top-down cultural anything.  We have, obviously, the Arts Council [of Indianapolis], and the city gives them a million dollars but what is that; that's pennies for a city [of more than a million people].
… I've done research about cultural master plans.  A lot of cities have them. If you think of cities that are considered culturally vibrant; your Portlands, your Austins, your New Yorks, … most of them have had master plans for culture. From that standpoint I know that we're not getting a cultural master plan but we might get a music industry master plan; that would be a great start.
NUVO: [Talk about the economic challenges of running PATTERN.]
OSHEROV: There's a lot of things about PATTERN that could be monetized, right, but it just hasn't happened because the money's not here for that. Imagine you guys see that for NUVO as well.
NUVO: We're finding out that to be a free, commercial paper, like other alternative weeklies have found out, it's just not viable anymore; the former model is not viable; we're switching to a nonprofit [membership-based] model … We're becoming more like you guys. We're working on grant writing right now. I'm working on grant writing right now.
OSHEROV: You have my deepest sympathies. That is possibly my least favorite part of running PATTERN for me.
NUVO: But I assume it's a big part because you've got to have some funds, you just can't run on fumes right?
OSHEROV: Yeah absolutely.  And we've done the fumes thing for a while; our budget is still tiny. I think last year our budget was $150,000 and we've kind of figured out what our direct economic impact is; if everyone in PATTERN was getting paid their actual market rate value, all the photographers, models ... It was some crazy number something like $350,000 per issue.
NUVO: Is there anything I didn't ask that you think is important to mention?  
OSHEROV: I think we just need to import more people. I think that re-educating the local, ingrained several hundred thousand who grew up here, who have been here [is not enough.]  We need to import people who appreciate culture who grew up around high cost of living who when they see an art piece selling for a couple hundred bucks, they see something like that back in New York or Portland, or San Francisco, they go holy shit, that's a bargain, I'm going to buy that, you know?  For all that stuff we need patrons. These patrons are not going to be coming from inside the city. I don't think. So I just think that it's important for us to attract people from outside and to let them know that Indianapolis is a tremendous opportunity; you just have to kind of dig beneath the surface.
So my hope is that PATTERN is helping to do that; to give people a new perspective on the city. Also, with a lot of interns and fellows that we work with; I never try to convince anybody that they should stay in Indianapolis. A lot of the interns that have come through, they want to explore the outside world if you will. A lot of them are like, 'no I'll be back; there's something for me to come back to here. I feel like I need to go spread my wings, but I'm super-excited about coming back and contributing to this city.'"