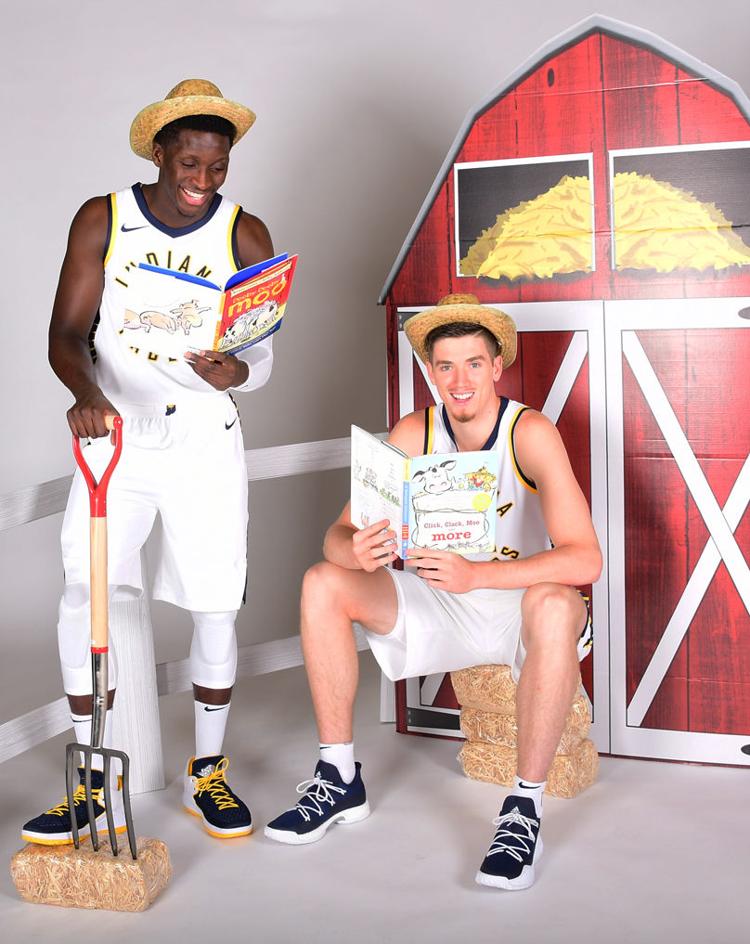 Having clinched their third consecutive playoff appearance earlier this week, it's fair to say the Indiana Pacers have been a pleasant surprise this season — if not the biggest surprise in the entire NBA. Especially after "experts" wrote this team off before the season even began. 
"The one-sided Paul George blockbuster and Jeff Teague's departure have left the Pacers with mediocre-at-best starters at all five positions," wrote Sports Illustrated, picking the Pacers to finish 11th in the Eastern Conference. 
ESPN predicted the Pacers would win 32 games (and also finish 11th), a total they achieved on Feb. 11, only 57 games into an 82-game season. 
But proving doubters wrong isn't the only thing the Pacers are doing this year. They've also teamed up with the Indianapolis Public Library to bring back the popular "Call-a-Pacer" storytime initiative. 
"As proud as we are of our on-court success with both the Pacers and the Fever in Central Indiana, we are equally proud of our community involvement and this project to promote reading among our youth ranks at the top," said Pacers Sports & Entertainment President Rick Fuson.
Current and former Pacer players recorded themselves reading children's books that go along with this year's "down on the farm" theme. 
"Reading is as fundamental to the development of our youth as dribbling is to playing basketball," Fuson said. "It's vital."
By dialing 317-275-4444 or toll-free 877-275-9007, kids can listen to players read stories each and every day throughout the summer. 
The 2018 "Call-a-Pacer" schedule includes:
Week of April 2 – Victor Oladipo reads "Horseplay" by Karma Wilson
April 9 – Ike Anigbogu reads "Big Tractor" by Nathan Clement
April 16 – Darren Collison reads "Sheep Go to Sleep" by Nancy Shaw
April 23 – Glenn Robinson III reads "Giggle, Giggle, Quack" by Doreen Cronin
April 30 – Mark Boyle reads "Old MacDonald's Things That Go" by Jane Clarke
May 7 – Cory Joseph reads "I Love My Hat" by Douglas Florian
May 14 – Domantas Sabonis reads "Stanley the Farmer" by William Bee
May 21 – Scot Pollard reads "Farmer Duck" by Martin Waddell
May 29 – Thad Young reads "Click, Clack, Peep!" by Doreen Cronin
June 4 – Myles Turner reads "Go Sleep in Your Own Bed!" by Candace Fleming
June 11 – TJ Leaf reads "Click, Clack, Moo: Cows That Type" by Doreen Cronin
June 18 – George McGinnis & Darnell Hillman read "Thump, Quack, Moo: A Whacky Adventure" by Doreen Cronin