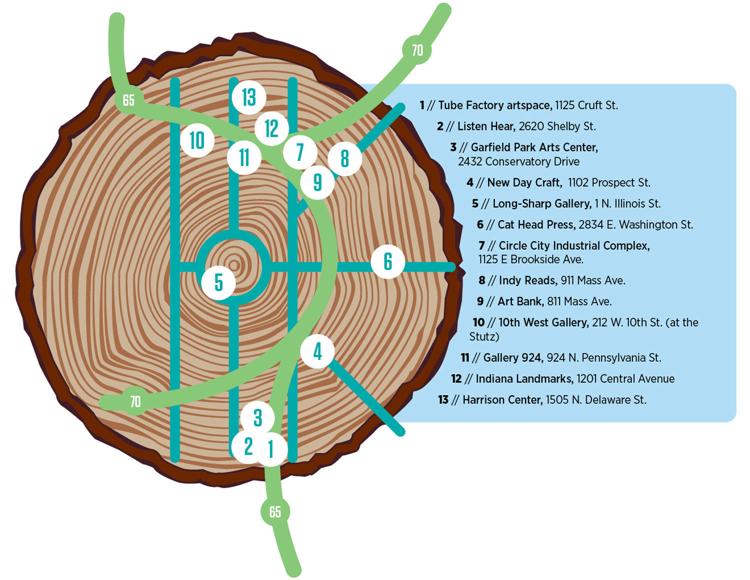 The Australian perspective world map shows the Earth with Antarctica at the northern pole, in stark contrast to the wall maps we all grew up with. Art can also flip your polarities, as it were, and make you think differently about things.
For November First Friday you'll have many opportunities to consider different perspectives, as it's also the first day of the annual multi-venue Spirit & Place Festival  running through Nov. 11. This year its title is Intersection and kicks off at the Harrison Center.
Accordingly, we're going to flip our First Friday map around this month, by starting, not at the Harrison Center as we normally do, but on Indy's Southeast Side.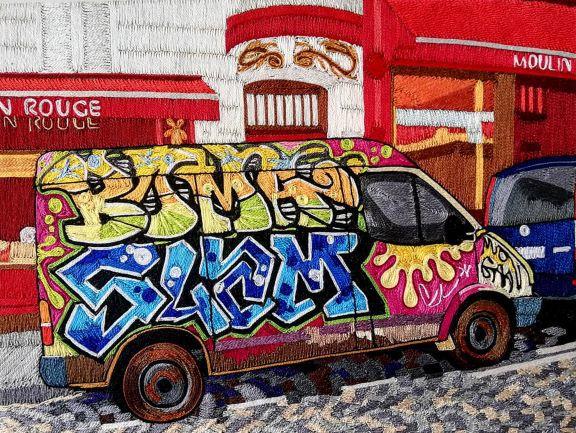 For her first exhibition at Tube Factory artspace, Mexico City-born artist Laura Ortiz Vega is showing her "thread paintings" in No USA Return. Vega takes as a starting point in her work the venomous language Trump has used to describe his aspirational border wall in his speeches and his tweets. She also considered the eight wall samples already built in place along the U.S. side of the border, in San Diego.
 "I saw the opportunity to present this matter in a positive note," says Vega. "I envisioned the wall as a blank canvas for expression, and in a way, made him eat his own words. [It is] a chance to reject the negativity and turn this around."
Also at Tube Factory, you can get a different perspective on portraiture with Freaks & Geeks, Aaron Scamihorn's collaboration with writer Jason Roemer. Roemer supplements Scamihorn's screen-printed portraits of "the faces of those we see around us everyday" with his stream-of-conscious narratives.
Just down the street from Tube at Listen Hear you'll find On The Nose, new paper works by Jacob Mullins, who promises to hit you on the nose with "themes of absurdity, failure, and dark humor."
The theme at Garfield Park Arts Center, meanwhile, will be all about its Dia de Muertos (Day of the Dead) celebration. There will be music and storytelling by Meztil Cultural, and traditional foods like tamales and Mexican hot cocoa. You can also draw a picture or write a story about a deceased relative and post it on a memorial wall, before joining a night parade to Tube Factory.
If you're extending your night parade into Fountain Square, you might stop at New Day Craft. You can ponder Nicole Whitis's exhibition Sacred Geometry and Symbolism while downing a glass of mead.
And if you extend your night parade even farther into Downtown Indy you'll be rewarded by the exhibition Shiny and Bright at Long-Sharp Gallery, where you will see numerous bright and shiny works by silversmiths Thalen & Thalen, among others, as well as an eclectic mix from artists the gallery has represented both in Indy and New York, including the kinetic sculptures of Tarik Currimbhoy.
Cat Head Press has been generating many bright and shiny objects by giving access to their shop to Indy's premiere artists in order to create a print-centric body of work.  The prolific Benny Sanders was one of these artists. This month it's Rebekah Nolan's turn: she'll be exhibiting Tethered, a new body of work, in Cat Head's Middle Space Gallery.
If you're feeling that these First Friday previews have become too tethered to painting and printmaking, you'll be pleased to know about the featured exhibition Put Some Glass on it—A Reclamation of the Versatility of Glass, by mosaic artist Nicole Staab at Full Circle Nine Gallery at the  Circle City Industrial Complex (which will also have many open studios and galleries that you can visit.)
"Just as there is versatility in glass, there is use and new purpose for items unfortunately destined for a trash pile," says Staab in her artist's statement. "By combining various mediums with something as beautiful as stained glass, I am able to convert otherwise discarded items into something new, beautiful, and inspiring. My show is about imagination and the beauty of second chances. By upcycling Items like wood and old windows and incorporating other complimentary elements, I am able to highlight the adaptability of stained glass."  
It's handy to have a conceptual framework with which to explain your art. But sometimes it's enough to be able to explain your work in pithy, plainspoken language as painter Vicky Shaffer White says about her exhibit at Indy Reads Books. "I'm privileged to share my images of wildflowers I see locally set on colorful abstract backdrops," she says in her statement.
Ever hear of "representational expressionism?" Just down Mass Ave at Art Bank Gallery, you can see examples of Pamela Halliburton's self-described style in We Rise: the Exhibition, which will include inspirational quotes on her choice of media: women's fashion scarves and throw pillows.
Maybe you will be equally, or more, inspired by the "experimenting with light, geometric form and space" on the agenda at 10th West Gallery. Look Both Ways will feature the "constructed urban abstract work" of Andrea Townsend and the freeform sculpture of Caroline Tabac, joined by the oil paintings of Columbus, Ohio based artist J.T. Thompson painted in the style of "geometric surrealism."
Inspired by Native American cultural and ritual practices, Wabash College professor of art Gregory Huebner delves into the power of ritual in his own life with his colorful abstract paintings in Ritual Series at Gallery 924. These paintings, he writes, "create visualizations of his own personal rituals."
There's a certain ritualistic way in which we take photographs these days, with our iPhones, as if we'll lose the memory of the the subject photographed if we don't capture its image before we've even seen it.
This is something you might think about as you ponder photographer John Siskin's explorations of the human form using a combination of techniques dating back to the 19th century in his new series Courting Chaos at Indiana Landmarks, where he "creates a chaotic environment that alters viewers' perceptions of the subjects" and is not necessarily trying to capture a memory.
Somehow the Harrison Center, with its manifold activities every First Friday, manages to avoid chaos: this first Friday should be no exception. This time around, the Center is not only hosting, per usual, many separate art exhibit openings but also the opening night of the aforementioned Spirit & Place Festival. You'll be able to pick up an event guide and choose from a myriad of events, discussions, films, and activities of the multi-venue festival lasting through Nov. 11.
And of course, as always, there's art.
You'll definitely want to check out Checkout My Melody by 2019 Robert Beckman Emerging Artist Fellowship winner Gary Gee, whose art encompasses many mediums, from ceramics to painting.
On view in the Harrison's Hank & Dolly's Gallery is work inspired by PreEnactIndy, the second annual community festival, organized by the Harrison Center, which took place on East 16th Street area on Oct. 6, between Andrew J. Brown Ave. and the Monon Trail.
The second annual festival had the stated goal of imagining a neighborhood "as it ought to be," which presumably means without gentrification but with the social capital necessary to make a community vibrant. The participating artists, at the Harrison's Hank & Dolly's Gallery, are Alicia Zanoni, Andrea Smith, and Courtland Blade.
Don't miss Harrison Center curator Kyle Ragsdale's exhibition of new paintings Bateaux and contemplate just what makes his often impressionistic, often expressionistic, work so popular of the Circle City. In the title painting in the series you see people from different time periods and ethnicities sharing the same boat against a seeming tapestey composed of many intertwined flags.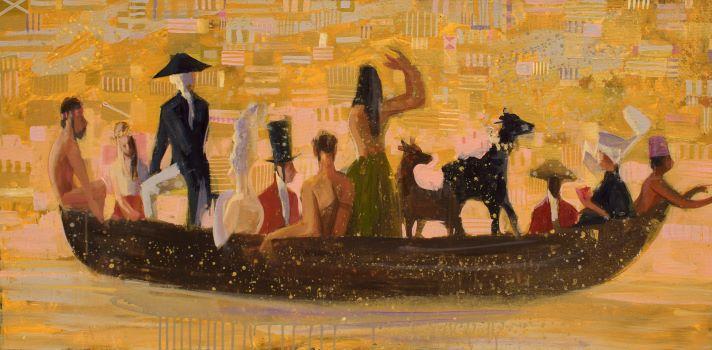 While you might see Ragsdale's painting as a glossing over of inconvenient historical facts, you might also see it as aspirational. Perhaps it's a map of the world as it ought to be, as it were, without walls, without gentrification, without concentration camps for unaccompanied children on the Texas Border.
It's an idealism, perhaps, not out of place in this year's Spirit & Place Festival.
Editor's Note: The previous version online of this article, and the print version, had Nathan Winship Smith as the featured artist at Full Circle Nine Gallery. Apologies.