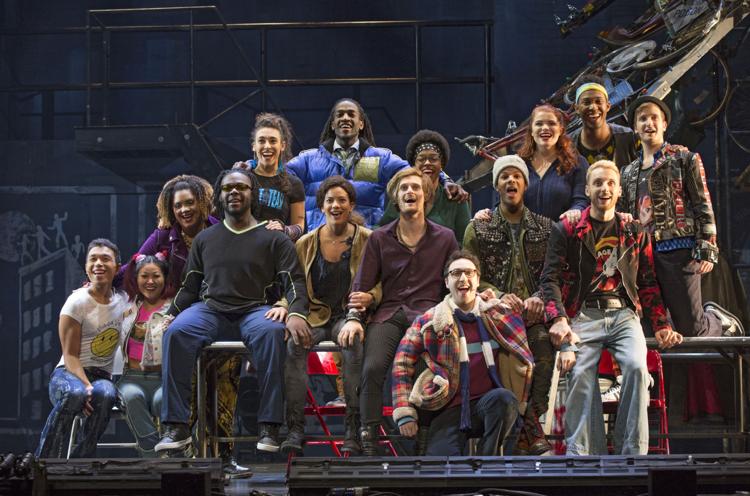 Let's just say that Rent doesn't seem to have aged well.
 It will maintain its status in the musical history books because when it debuted, it initiated rock opera in a time infested with Andrew Lloyd Webber. It intimately explored the lives of people snared in the AIDS epidemic. Many of its Broadway cast members became performance gods (Idina Menzel, Anthony Rapp, Adam Pascal, Taye Diggs). And the tale of its creator, Jonathan Larson, who died of an aortic dissection immediately preceding its first Off-Broadway preview, is a tragic parallel with Angel's death—both so young with so much unfulfilled potential.
But over the last 20 years, its original audience has grown up. For us, it is a piece of nostalgia. But after the advent of hundreds of shows since then, the storyline has become a commonality (though still tragic in Angel's death), and its music is less interesting and lacks tonal variety. And for the next generation, this particular production is a lackluster introduction to what could be considered a classic. 
While the cast is capable, there are no superstars here, and most are still paying their dues in a professional capacity. Javon King as Angel does have a great voice and captures your attention and your heart in his colorful characterization and sweet persona, but the rest are pale imitations of others whom I have seen in many (many) other stagings. They are just not that impressive, and their characters' relationships suffer for it. Logan Farine as Roger is a particular disappointment in his twitchy performance. But one ensemble member (sadly, uncredited) does hit a particularly beautiful note during a "Seasons of Love" reminiscent of the emotion embodied in the original version.
 Marlies Yearby's choreography is unimaginative and repetitive, and Evan Ensign's direction is monotonous in that everyone moves and emotes in too-similar ways. A relatively insignificant quibble is that Mimi would have a minimal amount of moonlight in her hair with costumer Angela Wendt's choice to not wig Deri' Andra Tuckers's close-cropped style, though many pieces of costuming are homages to one or another Rent production from over the years. (Going with Maureen's embroidered, flared jeans for "Over the Moon," IMHO, could have better been replaced with the original skinny pants that more often appear for this number.)
And at one point Tuesday night, the spotlight hit Mark square in the torso before quickly and shakily adjusting to include his face. 
But why in the world is the sound so muddy? Clowes is a quality concert hall, yet the lyrics were often hard to catch even for me—someone who knows every word of every song.
Fingers crossed for the upcoming tour of The Lion King coming to the Murat in September.
Lisa Gauthier Mitchison covers local theater at IndianapolisTheaterReviews.wordpress.com.