No mural city? Artists and the City of Franklin bump heads over public art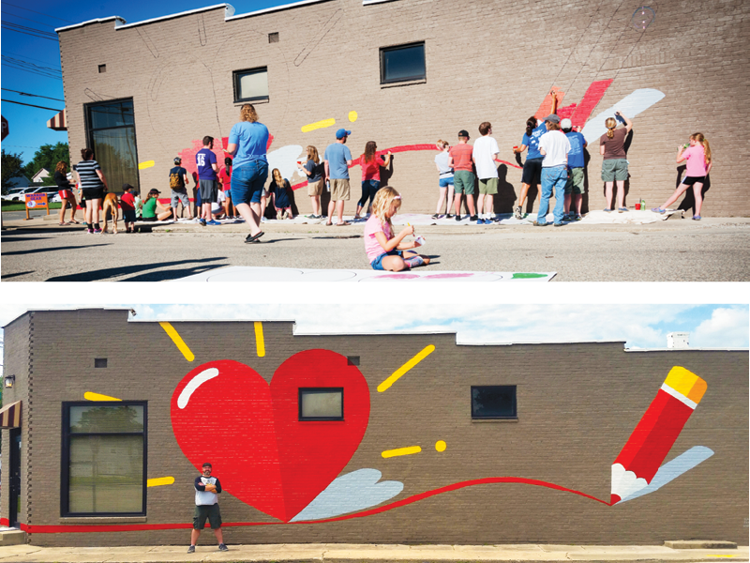 Tuesday, June 27, was a busy day in Franklin, Ind. It was the day that the Great Race, a collector car show, rolled into downtown. Later in the evening, you could have checked out the motion picture Bullitt starring Steve McQueen — and his Ford Mustang — at the restored Artcraft Theatre (for free). You might also have checked out the group show at the Franklin Department of Public Art (FDPA) gallery and studios at 100 S. Jackson St. There was car-themed art on its walls from local artists, lots of patrons checking out the art, and a quilting class underway. 
And if you were checking out the art that evening, you might have run into FDPA co-founder Gordon Strain, 39, who is currently running FDPA as a business while seeking nonprofit status.  He was wearing a Scottish kilt and sporting numerous tattoos; he was keeping tabs on things and chatting up patrons. Strain's daughters Josephine, 7, and Lexi, 19, were sitting at a table in front of the building selling T-shirts that read "KEEP FRANKLIN FUNKY" and rainbow-colored signs that read "LOVE MORE."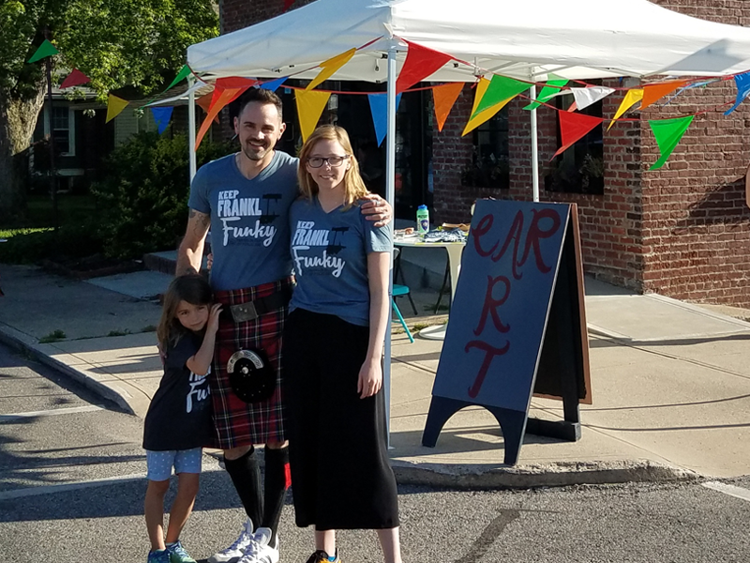 You might not have known that Strain is at the center of an ongoing dispute with the town of Franklin. At issue is a city ordinance that restricts the size — but not content — of murals that he was set to install this summer. The practical effect of this ordinance, so far, has been to delay a number of mural projects within municipal boundaries.
To start wrapping your brain around this controversy, all you'd need do is look across the street from the FDPA gallery. You'd see a mural attached to the west wall of the Johnson County Court Annex Building that was put up in the summer of 2016. The mural, "Summer Days," is composed of colorful aluminum panels cut to represent children blowing massive bubbles.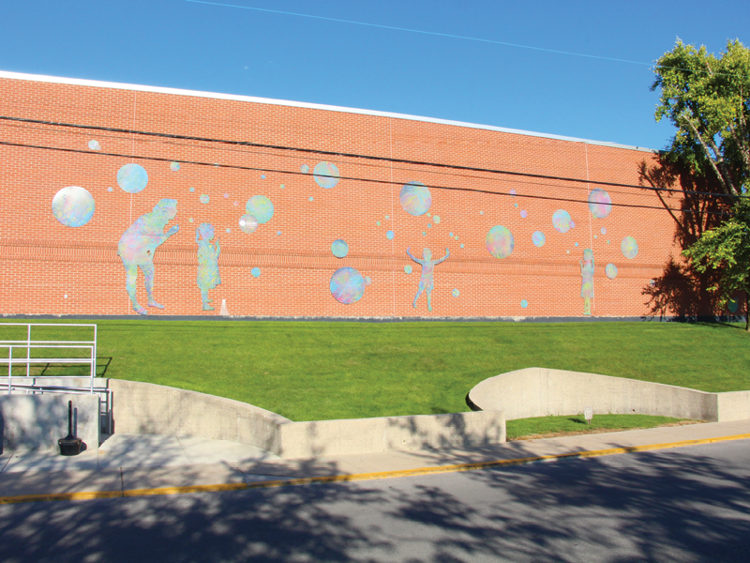 (The city considers this a sculpture and not a mural, and thus exempt from the ordinance but more on this later.) 
The "Color the County" mural program which sponsored this mural was conceived by the Johnson County Community Foundation [JCCF] but this particular mural is, in many ways, Strain's baby (although he had the help of hundreds of volunteers, of all ages, in painting it.)
"In 2016 the JCCF put out a request to the community for anyone to submit mural ideas," said Strain. "I was hired as the project manager for all of the murals; I was the one who was going to be in charge of making sure that they could get painted and installed, whatever needed to happen."
Strain also submitted a design proposal anonymously to the JCCF. The mural design, which depicts Strain's daughters Lexi and Josephine in outline, was the one selected.
"We put a call out to artists," said Kim Minton, vice president of development at the JCCF. "And we took in mural submissions, we reviewed those.  And so, there were no stipulations in our polices or guidelines that he could not submit."
Minton, who discovered the Franklin Department of Public Art through Strain's involvement with the murals (and liked what she saw, eventually signing up for quilting classes) explained how JCCF pushed mural installation in Franklin, and in surrounding Johnson County.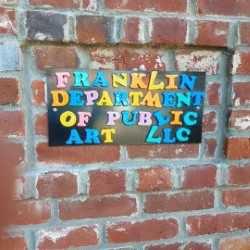 "Last year was the 25th Anniversary of the Community Foundation," she said. "And our board decided that they wanted to do public art, and so I presented to them [the question] how about we do a collaborative mural-making process. We researched Art Partners for Lawrence. They have a similar program and some other programs in the state of Indiana; ours mostly resembles what Lawrence does."
Shortly afterwards, JCCF's "Color the County" mural program was born, inviting artists to submit proposals for mural designs and paying the selected artists for their work. They also called out for volunteers to help paint on "Community Painting Days." Aside from the mural on the Annex building — the only one designed by Strain himself — murals have been installed in Greenwood and Bargersville.  And, on June 24, a new mural was completed on the side of the Crystal Graphics business at 530 E. Main St. in Downtown Whiteland, with the assistance of many volunteers of all ages, after the design of artist Dave Windisch (former NUVO art director and current marketing director of Franklin Heritage, Inc.). 
But when both JCCF and FDPA wanted to install four murals in Franklin this summer — the mural slated for the FDPA gallery would depict a girl reading a science  fiction book — they ran into a roadblock.
Color the County, but do it within a frame (in Franklin)
The JCCF was notified of the city ordinance when they inquired about the possibility of putting a mural on City Hall, according to Franklin Mayor Steve Barnett, a lifelong Franklin resident. He took the position of Mayor in February, after Joe McGuinness vacated the position to become commissioner of the Indiana Department of Transportation at the request of Governor Holcomb.
 "We checked with the planning department and let them know that they had to [follow the ordinance]," said Barnett. "That's how it all started."
The city ordinance regulates size and type and frequency of signage, whether commercial or artistic. Such ordinances cannot regulate content in light of the Supreme Court decision Reed vs. Town of Gilbert (2015). The decision ruled such regulation a violation of the First Amendment, said the mayor.  
Barnett raised one concern in particular about murals, aside from the usual municipal concerns of preserving an uncluttered appearance along storefronts and such that the ordinance addresses by limiting the size and frequency of displays: historical preservation. 
 "The Franklin Development Corporation gives out grants that gives business owners (money) that want to get their facades done. And if you get assistance from them, you can't paint the brick," said Barnett.
  This is an example why a mural on a historically important building is something the city might want to have a say in, he said, because some buildings are better suited for murals than others
But allowing only 1.5 square feet of sign per linear foot of facade doesn't give a mural designer much room to work with. Such strictures might be fine if you're putting up a Doritos advert but would suck if you're an artist channelling your inner Diego Rivera. 
That is to say, as a prospective mural designer, you wouldn't be able to cover more than a small fraction of any given wall with your work within Franklin's municipal boundaries — unless you present your case at the Board of Zoning Appeals [BZA] and they vote in your favor. 
"So that's sort of our big stumbling block that we had no issue with last year and it just sort of blindsided us this year," said Strain, who has offered assistance to the mayor to rewrite the ordinance so as to distinguish between commercial signs and public art (which the city is loathe to do because of aforementioned constitutional considerations.)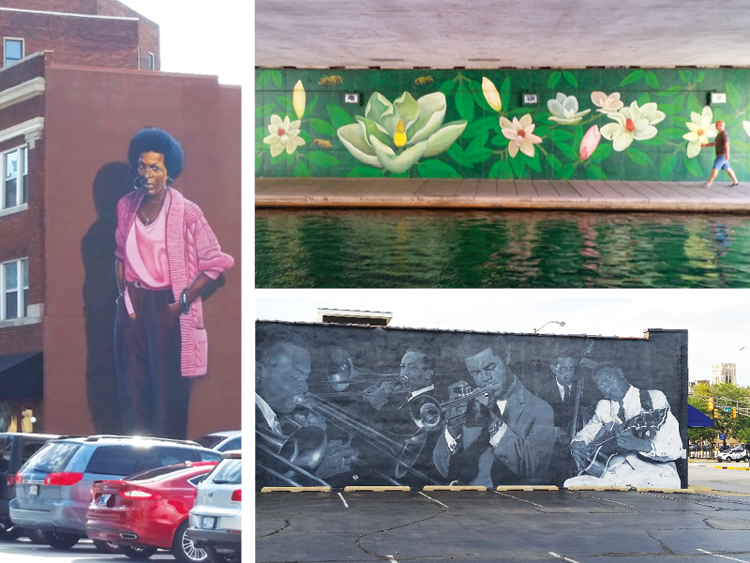 But if you don't like the ordinance, Barnett said, the place to take it up with is with the city council. The mayor, after all, can only make recommendations to the council and not change ordinances on his own, he said.  He also said that the city attorney Lynn Gray had recommended to him that the ordinance not be changed. 
Barnett is supportive of putting public art in Franklin, he said, and supportive of arts entrepreneurs like Strain, but he also believes in the structures of city governance that are in place.
"I think the right thing is to let the five people on this BZA decide what to do," he said.  "That's why they're on this board.  And if there are seven city councilmen who want to change that ordinance, so be it, I'm not going to fight it. "
Elsewhere in Hoosierland
None of the other cities in Johnson County that have received murals through the JCCF Color the County Program — Bargersville, Greenwood, and Whiteland — have, so far, notified the mural makers of ordinances, and no murals have been prevented from going up.  
And then there's Indianapolis. Imagine for a minute a similar ordinance in force in the Circle City, if you would, where the idea of using murals and other public art projects to employ artists and generate social capital is almost old hat.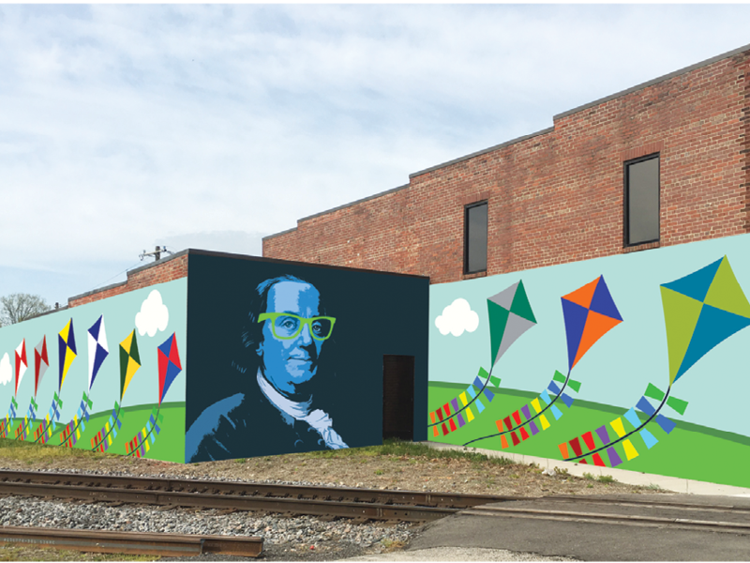 "Indy decided long ago that murals by their nature were art, not signs, and specifically exempted murals from its sign ordinance," wrote Julia Muney Moore, the Director of Public Art for the Arts Council of Indianapolis, in an emailed statement to NUVO. "This has given the city huge wins for public space vibrancy, neighborhood character and identity, attracting visitors, and a positive national presence. We're grateful every day that we can work in a supportive environment and continue to give artists such great opportunities to do what they do."
A Franklin-style ordinance would have, at the very least, made the Arts Council's 46 for XLVI murals program a much more cumbersome and expensive process if not put a kibosh on it altogether. This is because most of the 46 for XLVI murals — commissioned to celebrate Indy's hosting the Super Bowl in 2012 — would have taken up more square footage than the Franklin ordinance allows, according to Moore. Most of the murals would've required variances to go forward.  
And as we shall see, asking for variances is a time-consuming and expensive process — even if a board of zoning appeals votes in your favor. 
Under the previous mayor, the city had not applied this ordinance to the JCCF "Color the County" mural program but according to Barnett, the issue had not come up under Mayor Joe McGuinness.  
As for the mural on the Johnson County Court Annex, the Franklin city planning department considered it sculpture, not a mural, exempt from the ordinance, said Barnett.
Indeed, that is something that Strain points to as well, albeit from a different angle:
"It was a little strange, especially because it was so easy last year," he said.  "Under the ordinance sculptures are allowed. Murals aren't. Even if the sculpture is an advertisement, it's allowed under the ordinance."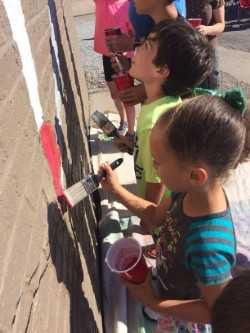 Anyway, as a result of the ordinance, both JCCF and FDPA were unable to start their mural projects without first obtaining a variance from the Board of Zoning Appeals. 
Applying to the Franklin Board of Zoning Appeals (BZA) to ask for a variance costs $200.00 for each proposal.  In addition, a petitioner is also required to pay $175 to run the required ad for a public hearing in the Daily Journal, the local paper. Gordon Strain and his wife Dianne Moneypenny are paying out of pocket for the mural on their building. JCCF is paying their fees separately for the community mural slated for a building on the other side of town.
The Johnson County BZA hearing was held on July 5, 2017.
Starting the Train
Strain, Associate Professor and Chair of Theatre at nearby Franklin College, grew up in Indy but has spent the last 11 years in Franklin. Strain, his wife — who teaches Spanish at IU East in Richmond, Ind. — and daughters live in Franklin.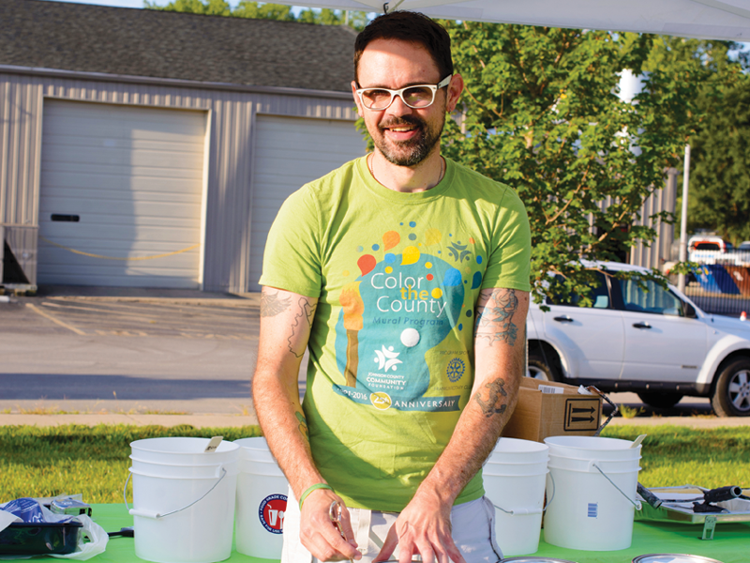 The property at 100 S. Jackson St. that now serves as the FDPA hub was built around 1890 and has served Franklin as a stable, restaurant and law offices over the years. Their decision to buy came in the wake of a major life decision. Strain and Moneypenny had been contemplating leaving Franklin for Indianapolis, where his parents live. Living in Indy would've shortened Moneypenny's commute to Richmond. 
 "So we debated a move," said Moneypenny.  "What we decided was that if we moved to Downtown Indy, we would be jumping on a train that was already moving. If we stayed in Franklin, we could help start the train and make Franklin an even better place to live ... We stayed. Since then we have kept an eye out for a studio for Gordon. He had a tiny studio at our house and his work tended to spill out into other areas. So, we looked at our finances, ate a lot of peanut butter and jelly, and made an offer." 
Strain and Moneypenny bought the building in Oct. 2016 and began laying tracks, as it were, for their train. 
"We formed an organization to purchase the building and another for the operations [FDPA]," said Moneypenny. "We came up with a mission: art for all, diversity, sustainability, local-first, and social justice. We try to live that at FDPA."
They are also working on getting their nonprofit 501c3 status with the help of JCCF. 
 "We turned [the building at 100 S. Jackson St.] into a little gallery, shop; we represent 95 percent local artists from the Indianapolis/Johnson County area," said Strain. "We keep a low commission, so our goal was just to get art into the community.  That's what we were doing at first; so then we started offering classes and camps.  And we do pretty well with that."
So far they have had four camps for kids ranging in age from kindergarten to 12th grade, with Strain acting as camp counselor and supervisor. Dianne Moneypenny has also run a Spanish Camp out of the FDPA classroom.  
(Strain, due to his extensive experience in set design, became a one-man contractor for the building, with occasional help from friends, laying down floorboards, stripping and knocking down and rebuilding walls.)
Such activities fill a gap in much of Johnson County, where there is no equivalent of the arts nonprofits available up north, such as the Indianapolis Art Center. And there has been full enrollment for the camp and the mural painting excursions, and other classes have attracted many since the FDPA held its first activities back in November, 2016.
"In our back parking lot we set up on the mornings in the farmers' market," said Strain. "We just do little [bake and cake] projects. People can come over and do a quick watercolor. So that was sort of the main goal, which was to help get art into the community. But my real passion is public art, hence the name. We were all hoping that this would be the launch pad for people who are wanting large installations or murals in town.  At least they can come to us and say 'Hey do you know people who can help connect us?' So it would just sort of be that place that art would be; we could help point the right way."
The Board of Zoning Appeals.
On the evening of July 5, a JCCF mural proposal and a proposal for a mural for the FDPA building were on the agenda in Franklin City Hall at the BZA meeting.  There were roughly 70 or so supporters of public murals in the audience and if there were any against the variances that were sought, they didn't make themselves heard.  Some supporters were wearing T-shirts reading "Murals are public art, not signs." 
You'd recognize some faces, if you had been at the FDPA art show on June 27, the day of the Great Race. Many were Strain's friends. He has a lot of them in Franklin. 
Bitchy Signs and Confederate Flags Inspire Love-Themed Signs and T-Shirts.
And Mayor Steve Barnett, who was in the audience as well, hoped that the JCCF and FDPA won their appeals, he said.
Kim Minton spoke for the Johnson County Community Foundation proposal for a large mural depicting Ben Franklin and kites at a building at 351 E. Jefferson St.. She explained to the board that the BZA members that the aforementioned mural didn't harm general health or welfare, didn't hurt adjacent property owners and needed a variance from the ordinance since it was 20 times larger than what the ordinance would allow.  And then she mentioned the virtues of the JCCF Color the County Mural program; attracting grant monies to Johnson County, paying artists, getting volunteers involved in mural painting, involved in their community. 
But then a BZA member mentioned an incident of graffiti tagging that had occurred at the Greenwood mural site.
And then a BZA member made a motion to approve the variance for the JCCF.  
It was denied.  
A motion to deny was put forth. 
It too was denied.  
So consideration of the variance was tabled until August 2.
Public art supporters were not pleased, and there was something of a murmur as supporters expressed their displeasure.  
But Keri Ellington, Assistant Dean of Students for Franklin College as well as a watercolor instructor at FDPA, ignored the hubbub. She walked calmly up to the podium and presented in place of Strain (who was away on vacation with his wife); she made a similar case for this mural that Minton had made for JCCF.
 This mural, she said, would portray a girl reading a 20,000 Leagues Under the Sea, with scenes from Jules Verne's science fiction book to be painted directly on the wall of the FDPA building.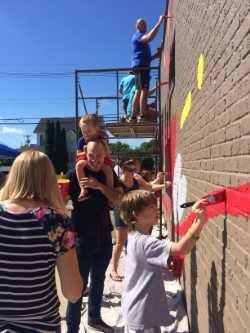 "We have three major goals for this project," she said. "The first is to beautify and enhance our downtown," she said. "Our hope is that by providing more public art we can attract new people to our downtown as well as provide enjoyment for our residents. Our second is to help provide jobs to local artists. The mural is detailed and time consuming. By hiring local artists, we can provide at least some compensation for their time. And finally, because we are including an actual sign, our third goal is to spread awareness of our business."  
And when a motion to approve the variance was made by a board member,  it was approved by a 4-1 vote.
BZA member Brian Alsip, who seemed somewhat frustrated with the discrepancy in outcomes to two similar variance proposals, motioned to reconsider the previous vote on the JCCF variance. This time, the JCCF variance was approved unanimously to loud applause.
You might suspect — if you had been there — that the votes had gone the way they did — that a number of BZA members had ultimately switched their votes — because they saw the support that the mural proponents had in the community, due to the fact that supporters had bothered to show up at City Hall that night.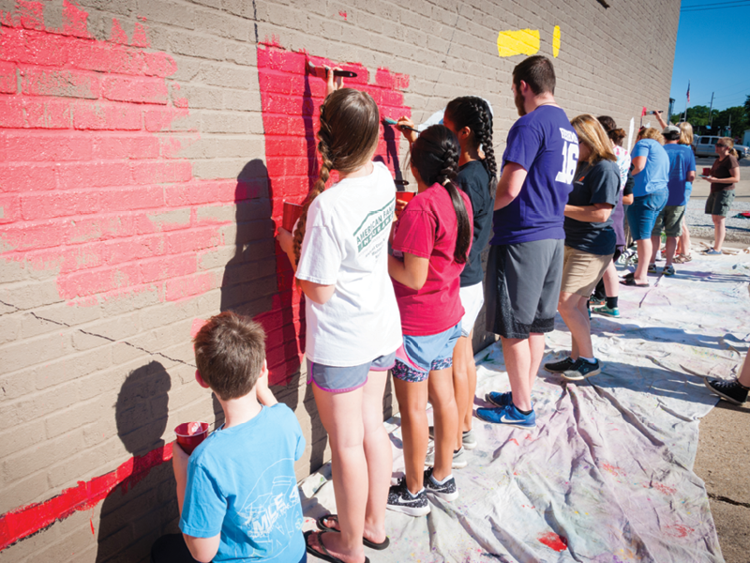 But there is also the not so small matter of obtaining a sign permit that the mural makers need to obtain before proceeding, a sign permit that costs $30.00 plus $0.50 per square foot of mural unless they can get the fee reduced and/or waived by the Board of Public Works & Safety.  In addition, they must also seek a variance from the Board of Works if one of the murals is found to be in the city of Franklin's right-of-way (as city planner Alex Getchell believes to be the case, as he stated in an email addressed to Strain the day after the BZA meeting). The next Board of Works meeting is July 17.
At any rate, these particular mural projects can, just perhaps, move forward. But subsequent petitioners might find the appeals process just as, if not more, challenging. After all, there still is an ordinance in effect in Franklin that makes artists jump through hoops if they want to make public art.
"This might not be exciting," Keri Ellington said.  "But I felt like we really took to heart the criteria and were genuine and authentic and intentional about how we would articulate the positive that comes from public art. And that we really have thought through how to do it well and follow the guidelines — to manage through a process that's somewhat governmental."