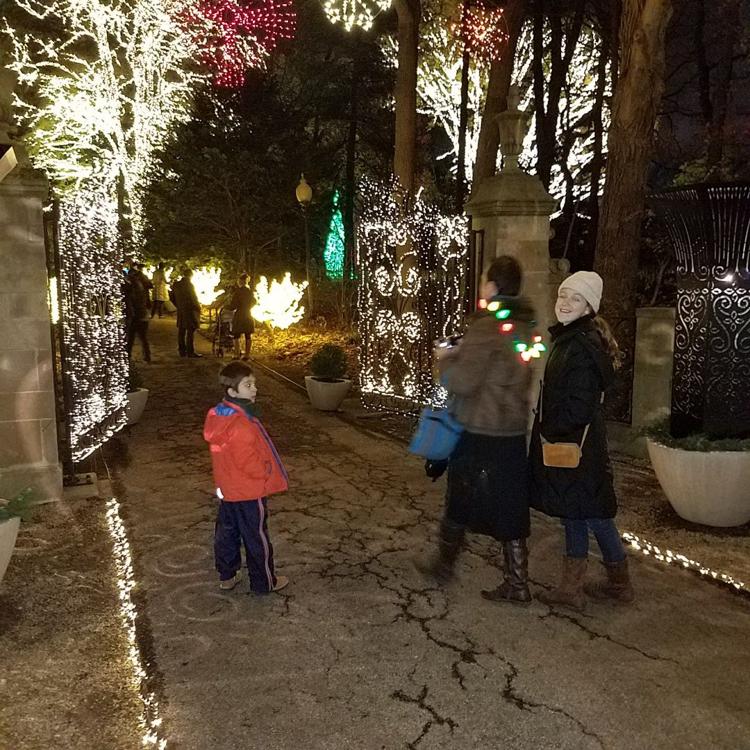 It's a winter wonderland out there even if there's no snow on the ground. That's because there's so much entertainment in this city around Christmas. But some of the smaller events sometimes get lost in the shuffle. Whether they're big or small, I love them all.
Dec 7 - 10. Imagine as you walk into the Indiana Repertory Theatre's upper stage that you're into a different wonderland, a DK for kids, as it were. New this year.
140 W. Washington St., see website for ticket prices
Dec. 11. The Messiah Sing Along at the acoustically luscious Grand Hall at Indiana Landmarks invites everyone to be "part of the artistry by singing choruses from the Christmas section of Handel's Messiah." You can bring your own musical score, or you can purchase or rent at the door. Matthew Kraemer conducts;  Sari Gruber (soprano), Mitzi Westra (mezzo-soprano), Norman Shankle (tenor), and Timothy Lefebvre (bass) are featured soloists. Actually, I've never been shy about humming, albeit softly. But here you get to stand and sing out!  
Indiana Landmarks, 1201 Central Ave., Adults $25, Student $10
Through Dec. 17. Fridays and Saturdays at 8 p.m.; Sundays at 2:30 p.m You can now experience the timeless classic as a live 1940s radio play, running weekends now through Dec. 17 at Buck Creek Players. Buck Creek Players used to be a regular event for me. They represent civic theatre at its finest.
Buck Creek Players, 11150 Southeastern Ave., prices vary.
4. Not So Silent Night Concert
Dec. 7, 8 p.m., at the Murat Theatre at Old National Centre, the Not So Silent Night Concert benefits Indianapolis professional firefighters. Presented by 104.5 WJJK's and Rise From the Fire, featuring the acclaimed Night Ranger with Lita Ford. Expect to sizzle to the arena rock sound and in-your-face style of Night Ranger. You get to mingle close up with firefighters.
 Old National Centre, 502 N. New Jersey St., $25-$75 all ages
Dec. 9, 2 p.m. and 7 p.m. Heartland Film is screening White Christmas at Indiana War Memorial Pershing Auditorium.  And it may indeed be a white Christmas on Dec. 9, according to weather forecasts.
55 E. Michigan St., check website for ticket prices
Through Jan. 15. Jingle Rails is the big attraction at the Eiteljorg, where you can travel by train from a miniature Monument Circle to the National Parks of the American West,  but there's so much more! In addition to three wow exhibits: Native Art Now!, In Their Honor and The Geometry of Expression. The WFYI documentary Native Art Now! premieres on WFYI 1  (channel 20.1) Dec. 14 at 8 p.m. with re-broadcasts on Dec. 15 at 4 a.m. on 20.1; and Dec. 16 on WFYI 3 (channel 20.3) at 7 p.m. Experience the evolution of contemporary native art over the last 25 years, featuring personal perspectives from internationally acclaimed contemporary Native artists.
Eiteljorg Museum of American Indians and Western Art, 500 W. Washington St., free with admission.  
Dec. 15, 16, and 17. See website for showtimes. Candlelight Theatre is back at the Benjamin Harrison Presidential Site with 'Twas the Night Before…, by James Trofatter.  Guests experience a progressive theater performance room-to-room within the Harrison mansion, each space revealing a vignette of a new holiday figure from tradition and folklore. You never know who's audience, who's a performer. Plus you get to experience where our 23rd U.S. President lived and carried out his front porch campaign in 1888.  
Benjamin Harrison Site Museum, 1230 N. Delaware St., $14.95 Members & students ages 6-12, $17.95 Adults, Kids under 3 FREE
Dec. 17, 6:30 p.m.  Oh What Joy at the Basile Theatre at the Historic Athenaeum features the renowned Tindley School Show Choir with special guests Alexis Bottoms, Lamar Campbell, Rob Dixon, LA Norris, Valerie Phelps and Terrance Dennie as band director. Hosted by Josiah McCrusiton and Wendy West. These young singers, mentored by many of Indy's now-great jazz performers, are the current crop in the footsteps of  IU's Straight No Chaser.
Athenaeum, 401 E. Michigan St., $12 online, $15 at door
9.  Canadian Brass Quintet Christmas
Dec. 23, 8 p.m. Join a tuba, trombone, horn and trumpets for a Canadian Brass Quintet Christmas at The Palladium in the Center for the Performing Arts. You will see a broad range of classical, traditional, and pop tunes reflecting the spirit of the season. I've been a fan of this group since my student days in Buffalo, New York, when crossing the bridge to Canada was as ordinary and easy as crossing the street.
The Palladium, 1 Center Green, Carmel, prices vary
10. ComedySportz New Year's Eve at the Athenaeum
 Dec. 31, 7:30 p.m. and 10:30 p.m. ComedySportz will ring in 2018  shows at the Athenaeum, with two special matches including countdowns, favors and a toast. You supply the suggestions, they supply the party hats and the laughs. An Indianapolis staple, ComedySportz makes improv a high art.  
407 E. Michigan St, $20 adults; $18 students/seniors.
Through January 7. New too is Winterlights at Newfields (aka IMA) O.K., so I haven't been yet. My night got stormed out, but it would be great to find treasures in the Lilly House. Driving by along Michigan Road offers a sneak peak at the extravaganza of 1.2 million lights.
Newfields, 4000 W. Michigan St., Tickets $8 -$25
December 19. The cinematic experience mixes the spirits of Chanukah and Christmas, of Klezmer and Tchaikovsky, what's not to like?
See website link above for participating locations, ticket prices.