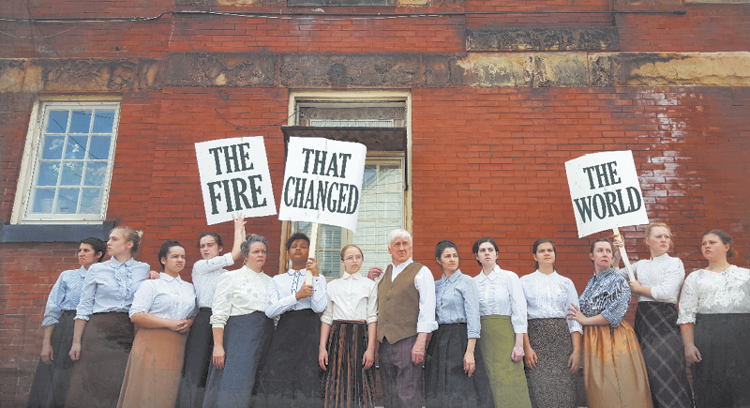 Triangle, a co-production by Q Artistry & Young Actors Theatre, stands for the Triangle Shirtwaist Factory, and a disastrous fire. The tragedy claimed the lives of 146 garment workers, mostly young immigrant women, making it the deadliest industrial disaster in N.Y.C.'s history. Ben Asaykwee's play zeroes in on New York City's garment district at the turn of the 20th century, and a cast of 15 actors portraying actual people in history highlights a 1911 fire and what happened in its aftermath. 
Before this weekend's run of shows, NUVO caught up with Asaykwee and with Indianapolis resident Ellen Rosenthal, who lost one great-aunt in the fire, and had another great-aunt who survived. 
Rita Kohn: Ben, what drew you to create a dramatic work about the Triangle Shirtwaist Factory Fire?
Ben Asaykwee: I've always been fascinated with the Triangle Factory fire, not just because of the disaster itself but because of the events leading up to it.  For the garment workers to have worked so hard to make progress under [harsh] conditions and have this suffering and atrocity occur is not only tragic, but incredibly compelling, especially in light of the change it would inspire
Rita: Performing at the Propylaeum Carriage House is special on many levels — it was the first "home" for the Children's Museum of Indianapolis, an organization that grew from the energies and foresight of May Wright Sewell, who came to Indianapolis in 1874, via Wisconsin, to teach at Indianapolis High School. By the time she retired in 1907, Sewell was cited for "her genius for organization" including co-founding the National Council of Women and the International Council of Women." [from Fighting for Equality: the Life of May Wright Sewell by Ray Boomhower].  What drew you to perform at this site? 
Ben: Crazy, huh?!  And perfect! When we were exploring ideas for where to put up the show, one of the Q Artistry board members informed me they had contacted the Propylaeum and that there were possibilities. I was ELATED. Matching this story, a story largely about women fighting not only for their own rights but for the rights of workers in general, with an organization so important to the fabric of Indianapolis culture seems just so right to me.  And they've been incredible at the Propylaeum.  It's really worked out fantastically.
Rita: What prompted you to approach the event as an immersive theatre experience in collaboration with Young Actors Theatre?
Ben: Both Justin Wade [Young Actors Theatre Executive Director] and I have talked for quite some time about finding a way for Q Artistry and YAT to work together.  This specific project is designed as a "mentor" program where the professional actors work one on one with young actors while learning the show, so it seemed like a perfect fit.
Rita: What's the story about connecting with Ellen Rosenthal?  
Ben: It was kind of awesome.  After rehearsal one day I got a text from one of the pro actors in the show, Beverly Roche, who just happened to be discussing the play with a friend and that friend brought up Ellen and that not only was her great-aunt Rachel Grossman one of the victims of the fire, but also another great-aunt, Pauline Grossman, was in the fire and survived.  After that, we made a connection and were able to have Ellen come talk to the cast.  It's been pretty exciting. It seems so kismet-ish and random and really shows you how small the world can be.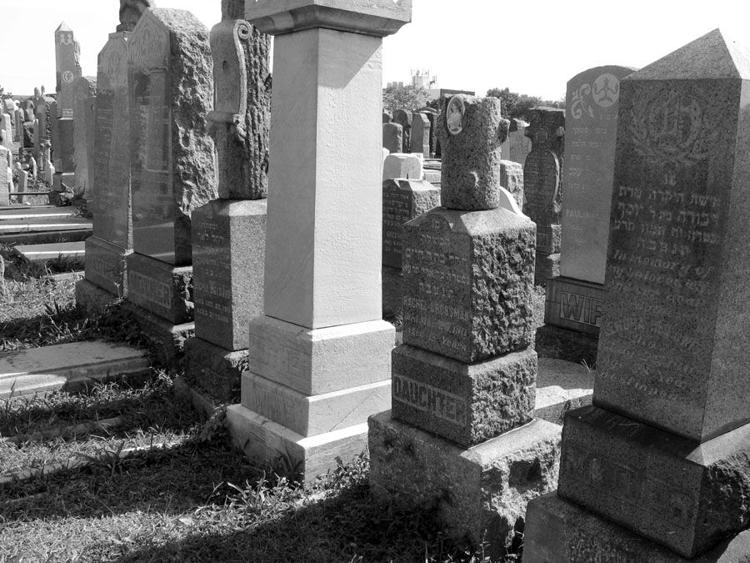 Ellen Rosenthal retired as Conner Prairie President and CEO in 2015. During her tenure she transformed Conner Prairie into a national leader as an immersive, interactive history park. 
Rita Kohn: How has your family kept alive this story of your great aunt over the years?  
Ellen Rosenthal: Growing up my family was pro-union and pro-workers. Whenever these subjects came up, my mother talked about the Triangle Fire. Mostly she mentioned her aunt Rose Grossman — a.k.a. Rachel, who died at age 16 — and how her father, my grandfather, (who at that date was 21), could only [identify] her by the replacement shoe button that he bought for her that morning. 
My grandfather died before I was born. I didn't realize that my great aunt Pauline Grossman Abromowitz had survived the fire until I began researching it. As my mother, 94, said this week, "The family didn't like to talk about the fire. It was a sad and difficult time."
Rita: What has been particular for you and your family now connecting with Ben for this new performance piece in Indianapolis?
Ellen: When I first learned that my family, the Grossman family, had been thoroughly researched by Triangle Fire historians and my great aunt Rachel's name often was used on protest and commemoration banners and signs, I was amazed that anyone would want to know about my family. As delighted as I was to share the story with Ben and the actors, I have the same nagging feeling of boring them with family stories. But having worked in history museums for 50 years, I know the importance of using specific examples and stories as a way into the larger picture. 
Rita: What particularly do you want audience members to take away from experiencing the story?
Ellen: At this moment in US history when unions and workers' rights are under attack, I would like audience members to think about the consequences of thinking about people as productivity units in the business world. The example of the Triangle Fire is still very relevant today.