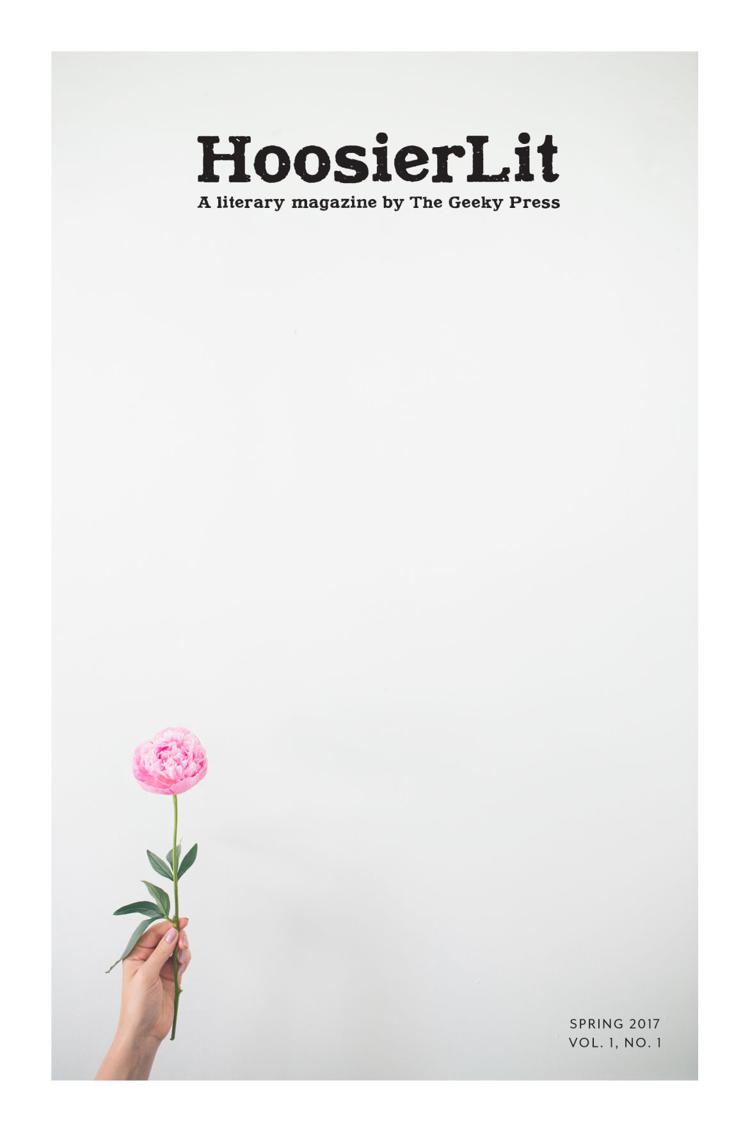 For creative nonfiction writer Amanda Kay Oaks, a certain White Castle in suburban Ohio carries a great deal of personal significance.
"My parents met there, and I had my first real fight with a high school boyfriend there, in what would turn out to be a pretty unhealthy relationship," she says.
After realizing the juxtaposition between these two events, the University of Evansville graduate decided to write an essay, titling it "What Happens at White Castle." 
This rather typical Midwestern tale, Oaks' essay will be one of the many works featured in Indianapolis' collective The Geeky Press' first-ever journal, Hoosier Lit.
Released on May 19, the first installment of this bi-annual publication will feature essays, creative nonfiction, fiction, poetry and playwriting from 19 different authors that are either from or connected to Indiana. Curated by Brad King and his partners at The Geeky Press, Hoosier Lit will aim to build upon the Indianapolis writing collective's mission of making, promoting, and supporting the creation and distribution of great words.
"When I host readings, I always get four or five people from different genres together because everybody brings their own audience to see something new," King says. "This [Hoosier Lit] really is the manifestation of that idea."
 After sending an initial call out to writers both near and far, members of The Geeky Press were quickly bombarded with a slew of submissions. 
 "We received submissions from writers all over the globe, which was a little surprising but exciting," says Nicole Mathew, one of King's three partners at The Geeky Press. "We found some were living abroad but had ties to Indiana, whether it be they lived here once or had family who still lived in the Midwest." 
Although writers were asked to have some sort of Indiana tie, submissions were not limited to a specific subject matter.
"The writing didn't necessarily need to be about Indiana or serve a Hoosier purpose; rather, we were looking for fresh pieces that showcase great writing by folks from Indiana," Mathew says.
Oaks only spent four years living in Indiana, while receiving her undergraduate degree from the University of Evansville. Nevertheless, she feels that her White Castle essay is one that can relate to most people, and especially to Midwesterners. 
"The actual events in my essay took place in a small town in Ohio," she says. "However, I think it deals with subjects that are common to teenagers anywhere, first learning how (and how not) to be in relationships." 
Oaks continues, "There's also something to be said for the small town, Midwestern vibe, where pivotal moments take place in fast food parking lots, since that's the main place where kids hang out. I think that vibes as much with small towns in Indiana as it does with Ohio. And of course, I was living and studying in Indiana when I learned what creative nonfiction was and first started toying around with writing about some of the issues addressed in 'What Happens at White Castle.'"
After previously sending a play to the Phoenix Theater with no luck, KT Peterson was pleasantly surprised to find out that the same piece would be featured in the first Hoosier Lit. "I appreciate the idea that publication is not some far-fetched idea for later in my career when I'm 'ready,'" Peterson says.  "I am grateful to The Geeky Press in many ways for just saying, 'Hey, let's do this.'" Having lived in Indiana since 1987, she too says that Midwestern living has affected her composition.
"I feel like if you grow up in the Midwest, you are horrified by its lack of sophistication and devastated by its serene profundity," Peterson says. "I spent many years fighting it, but that perspective and upbringing — from Appalachia to Naptown — will always be present in my work. And I am thankful for it."
Although this spring edition of Hoosier Lit will already be rather expansive, King's hope is to bring even more genres of writing into the publication's fall installment. In particular, he would like to see elements of comedy and spoken word writing in the future, as well as photo essays. 
"I am hopeful the next one is bigger," he says. "As we get more genres, that will allow us to add more partners into the collective." Because like he adamantly insists, The Geeky Press exists to serve Indiana writers of all genres.
"Writing isn't just poetry, and writing isn't just fiction," King concludes. "The nature of writing comes in all forms."