As the season changes, so too the arts scene in Carmel. This week, it was announced that Jeffrey McDermott a 30-year resident of Carmel and a seven-year board member, will be the President and CEO of the Center for the Performing Arts. And with his tenure, he says, will come increased attention to educational programs and a focus on bringing in — in his words — more "robust" performers.
A change was certainly what McDermott was looking for, after spending three decades as a partner at Krieg DeVault law firm.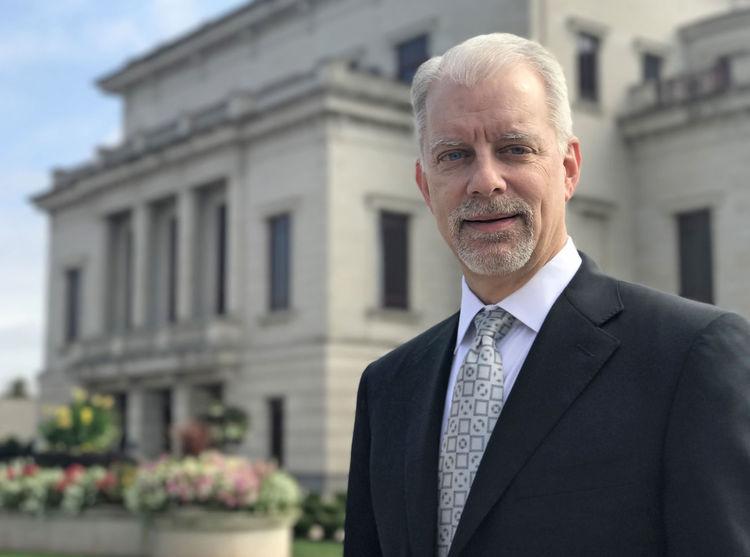 "I love the challenge and competition of litigation," McDermott said. "But after 31 years, I was certainly interested in doing something else. Litigation is one of the only professions I can think of where everything you do, someone is trying to undo. You have a team working on a case together, but on the other side, there's people working with a completely different goal. One of the things I'm enjoying the most about the Center is that it's completely collaborative… It's not about winning, it's about performing and enriching our body and mind and spirit."
Along with being a partner at Krieg DeVault LLP, Jeffrey C. McDermott has served as the interim leader of the Center for the Performing Arts since the August 2016 departure of Tania Castroverde Moskalenko. During the past year, he has brought his skills from the law firm and gained new skills that have helped prepare him for his new position.
"I managed our [Krieg DeVault] Carmel office for 15 years, it's a lot of the same principles. Hopefully you've got strong people skills, you understand budgets,"  McDermott explained. "So some of those things were similar for me. Some of the things were different for me. I didn't really understand programming or marketing. But we have great staff members who do that, so I just dedicated myself to learning what they do, but also not to get in their way."
With his new position confirmed, McDermott is looking towards the future of the Center, in terms of financing, programming and ticket sales at all three of its venues; the Tarkington Theatre, the Studio Theatre, and the Palladium.
A nonprofit, but also a business
In 2014, The Indianapolis Star reported a $40 million endowment that was intended to be the Center's main source of financing. That endowment never came through, creating difficulties in predicting a budget.
"I think there was always the hope when the Center was built that there would be the ability to create an endowment to help sustain it in the early years. That didn't happen,"  McDermott said. "We've got a great board of directors, and they're always finding opportunities to get funds. We, as a board, know that our goal has been to continue to help the Center mature. We're blessed with a strong board of business leaders and arts leaders with the long term goal of sustainability."
Ticket sales play a large role in how much money the Center brings in every year. With a wide range of ticket prices — ranging from $35.00 to $350.00 in the upcoming Oct. 12 Michael McDonald concert, for example —  pricing is something that is always on the mind of board members.
"We're a nonprofit, but we're also a business,"  McDermott said. "One of the best and most challenging things about the Palladium is that it is a maximum of 1,600 seats. It's great because it makes it a very intimate show, but it's challenging because it's only 1,600 seats you can sell. If an artist is going to charge this amount, and you've got 1600 seats to sell, the prices have to be a bit higher. We have a lot of great sponsors and donors who are able to help us, and that allows us to help us try and keep our prices down. I think that is something that we will continue to focus on, to bring in the most talented artists we can and keep ticket prices viable."
One of McDermott's goals for the Center is to switch up some of the programming, while also keeping true to the Center's mission of bringing high quality performances to the city.
"I'd love for us to bring more robust artists in," he said, perhaps making referencing the fall/winter 2017 season where both Michael Bolton and Michael McDonald are scheduled.  (Jazz singer Greg Porter, Evanescence, and The National Acrobats and Martial Artists from China are also scheduled for performances at the Palladium.)
"We're always going to have a great supply of classical and jazz musicians, but I want to bring in some artists who are not only more commercially profitable, but also great art. I also want to continue to work with shows that don't necessarily have the commercial support."
Another goal of McDermott's is to bring more attention to the educational programs that the Center offers, including programs for children, musical therapy for Alzheimer's patients and the annual Songbook Academy, put on by the Great American Songbook Foundation.
The Foundation, one of five cultural affiliates of the Grammy Museum, hosts the week-long competition for high school students.
"Our past winners have performed at Carnegie Hall, Kennedy Center and the Lincoln Center,"  McDermott said. "Maddie Baillio, who won three years ago, got the lead as Tracy Turnblad in the NBC production of Hairspray. She credited the program with getting her start, and it's a program that we're very proud of."
Working as an usher, assisting the stage crew
With six senior staff members that report to him, McDermott found that the best way to figure out his way around the Center was to learn more about all of the different positions that go into keeping the Center successful and efficient.
"Part of my responsibilities is just knowing what they do and knowing what each area of the organization does so I can best support them," McDermott said. "I don't know how to support someone in a leadership position if I don't know what they do."
McDermott did much more than just learn about the different positions, however. Between assisting the stage crew at a LeAnn Rimes concert and working as an usher at a show,  McDermott got first hand experience as much as he could. Beyond that, he worked to get to know as many of the 300 volunteers as he could.
On a larger scale, McDermott hopes that Indiana's art scene will become well-known outside of the state, as well as the appreciation for art to flourish  throughout Indiana.
"I think that sometimes the arts scene in central Indiana and Indianapolis are a well-kept secret. It adds to a great quality of life, but it also is an economic driver. I think all of those things, when it can enhance life and enhance the community, fiscally and financially, it's a win-win for everybody."