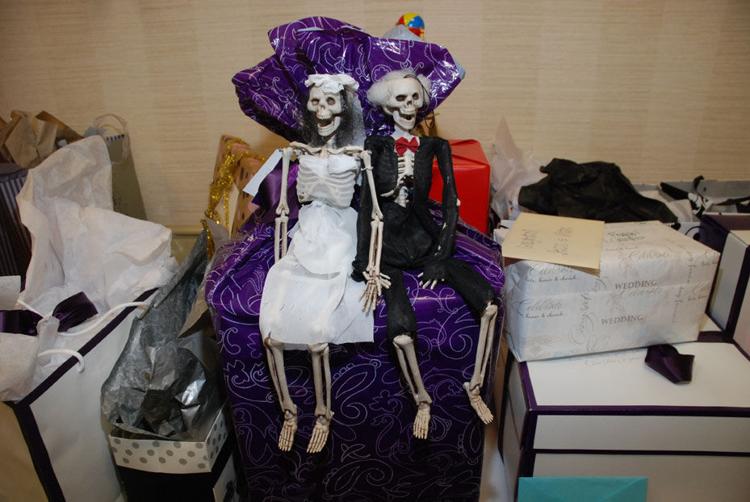 This year marks 10 for the convention, but HorrorHound's magazine has a few more years on the annual event. Before this weekend's event, we chatted up founder Nathan Hanneman on the history of his horrifying mag and convention. 
Cavan McGinsie: What initially sparked the idea for HorrorHound Weekend?
Nathan Hanneman: I had worked in publishing and online news since I was a teenager. I landed my first job in publishing way back in 1997 and worked my way up to writer, and then editor for two different publications. In 2003 I had co-written a book on horror movie collectibles with a friend named Aaron Crowell. Being long-time horror fans, we loved working on this book. In 2005 I was approached by my cousin, Jeremy Sheldon, to start a new company — any company — and I loved the idea of starting a horror magazine. 
Even had a name immediately picked out: HorrorHound. So in the fall of 2005 HorrorHound Magazine was launched, with Jeremy and myself, alongside Aaron and my then-girlfriend Jessica (Bruewer). 
Once we had a magazine, we knew we needed a convention — all of the best horror magazines had their own conventions — so it just took a couple years to figure out how to get to that point. By the spring of 2007 (thanks to tremendous assistance and support from family and friends in the industry), we launched HorrorHound Weekend at the Marriott Indianapolis East.
Cavan: Over the past ten years what have been the biggest changes?
Nathan: These conventions can be a difficult beast to tame, and there were definite growing pains those first few years. Our first show was considered a rousing success by then-industry standards. I believe we pulled in approximately 3,000 attendees over the weekend, which helped us pull in more interest and bigger names down the road. 
[We focused] on Indianapolis alone — but in 2007 conventions like these were deemed "geeky" and definitely attracted a more niche audience. I think with the success of horror in mainstream, and with advances in social media, horror has become something less taboo — and conventions have become big business, attracting names that otherwise would have frowned at such a position. Conventions used to be considered where celebrities go when they retire. Now, it's a gauge of success. 
The biggest names from the hottest films and television shows (especially) are on the market. Stars of the Marvel film franchises (last year in Indianapolis, one of our guests was Michael Rooker, who starred in the top-grossing Guardians of the Galaxy 2 this year). At this year's event we have Sean Astin — one of the stars of The Lord of the Rings franchise and someone whose career is still thriving. We have the cast of Bates Motel — all of whom are extremely relevant and in high demand in Hollywood. 
So I think the idea that conventions are these dark basement underground events has been the biggest change in the past 10 years. Our last event we hosted Jeffrey Dean Morgan, the star of the No.1 rated show on television (The Walking Dead). If that isn't progress, I don't know what is. 
Cavan: What is your favorite aspect of the event?
Nathan: Honestly, I love when I see those moments when fans are overwhelmed with their experience. I am a fan myself, and I get such a kick out of bringing in some of the names we are able to have. We have brought in people who I never thought I would meet myself, such as Jamie Lee Curtis, or David Arquette, the late George A. Romero, Clive Barker, Corey Feldman (who is coming back!) … I have seen fans shaking as they get a hug from their favorite celebrity. I have seen them cry. 
We have worked with local hospitals to have sick children meet with people like Norman Reedus. Actually having an ambulance bring them to the show — and to see the celebrity stop everything to make sure they are giving those people their full attention. It can be overwhelming. 
A lamer answer — I also love that I do this with my friends and family. Outside of people like my friend Aaron and now-wife Jessica — almost every friend I have today was made thanks to putting on these shows. These are people I invite over for dinner. I have been guests in their homes, we have gone on vacations together — gone to weddings with each other — and sadly, funerals. 
Horror conventions like this one are special, because you can go in by yourself, knowing nobody, and come home with friends. You can literally walk up to anyone at these shows and start a conversation — which could end up in beers at the bar.
Cavan: What is it like to see this event you created grow into what it is today?
Nathan: I am very proud — of my friends and family, as well — for everything we have accomplished. In 10 years, we have went from an upstart with 3,000 attendees to a sold-out show that hosted 22,000 fans over a weekend (our largest event, which was in Cincinnati, Ohio). We have won various awards for best convention, fan event, and even were honored with a CVA by NUVO in 2016, which we are all immensely appreciative of. 
We have been featured in two documentaries, a handful of television shows, and New York Times even did a spotlight piece on us earlier this year. Last year saw the release of an official mass-market produced HorrorHound action figure — and Scarlet Lane Brewing produced an official HorrorHound Ale, which can be purchased in retail markets like Kroger. At this show coming up (Sept. 8-10), Scarlet Lane is introducing HorrorHound Ale Part 2 — which tastes great. 
I know married couples who met at our shows. People who proposed to their significant others at our shows (many who have since had children — some who may have even had children conceived at our shows. Ha!). We have even had people get married at our shows (including myself to Jessica). 
I just take solace in knowing that something [that] was essentially created in the kitchen of my apartment has amounted to something people have found value in. I have found the value in it, in my own personal ways, and I know my life would be drastically different without the people in my life, of whom I met at these shows. 
Cavan: Anything else pertinent you'd like to add?
Nathan: My mother passed away in 2001, so she never got to witness any of this. And she was the biggest influence in my life, in regards to my love of horror. She encouraged my interest in everything spooky, when I was a kid. Buying me Freddy and Jason toys, renting me movies like Psycho and Night of the Living Dead. She loved this stuff. So it's sad that she never got to see what I do today. She would get such a kick out of it.
I think about this, and this is one of the main reasons we try so hard to make our shows family-friendly. Something you won't get at most other horror conventions. We host a Saturday kid's costume contest — we have done giveaways and fun coloring book activities for children at past events. Families are encouraged to bring their little ones (we offer free admission to children 12 and under). It makes me laugh so much, watching these kids walk around — 6, 8, 10 years old — and they can tell you who Chucky and Jason and Michael Myers are. Sometimes they know more than their parents. It's so fun. 
And in Indianapolis, especially, we host Mask-Fest, which is a show-within-a-show. All mask artists and FX gurus — and the ballroom is loaded with some of the most impressive displays you will ever see (think your local Halloween pop-up store — but 10 times cooler). It's a rare opportunity to see so many impressive items on display and for sale — kids and families both can just walk around in awe of the art on display.