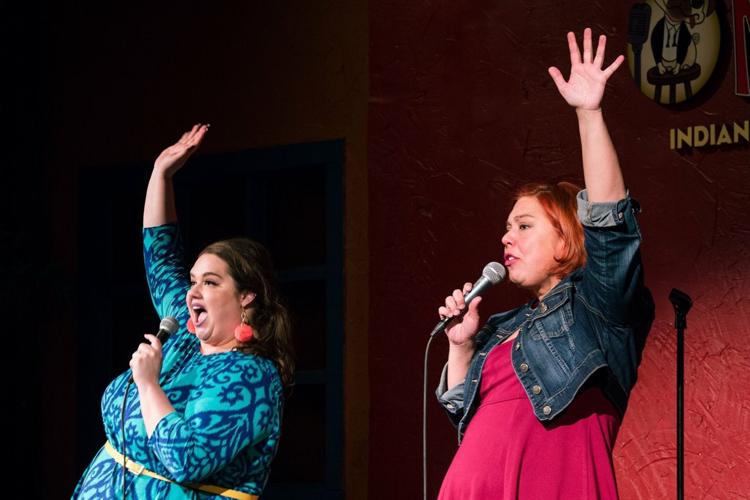 After the election of President Donald Trump, local comedians Erin Carr and Gwen Sunkel felt a call to stand up as women.
"The election happened, and it was just a big old bummer for everybody," Carr says. "I was like, 'I wanna do something. What can I do?' As a woman, it felt like we weren't having a voice for being heard. So I was like, 'Let's do a show, and let's benefit some women's charities.'"
This prompted the start of the co-hosting duo's all-female Nasty Women comedy showcase, a comedy benefit for Planned Parenthood. With two showcases already in the books, Carr and Sunkel are now preparing for the third, which will take place on Thursday, Feb. 1 at the White Rabbit Cabaret.
Like previous installments, Nasty Women 3 will feature female comics of all varieties. Additionally, attendees can receive a five dollar discount on admission by bringing donations of pads and tampons, which will be distributed to women in need via The Damien Center.
With several years of comedy experience between them, Carr and Sunkel first started co-hosting shows together at Morty's Comedy Joint as part of the weekly 10@10 showcase.
After those events were discontinued, however, they decided it was time to start something more female-centric.
"It was an opportunity to put more women on stage," says Sunkel about starting up the Nasty Women showcase. "A lot of times you're on a show as a woman, and you're one out of one or two women and you feel like the token person. It becomes a thing where it's like, 'Oh, well, the only women's perspective in comedy is that one because that's the one that's on that show.' This is a chance to hear 10 to 12 different women all on the same show, which is great."
After deciding to make the show a benefit, Planned Parenthood just seemed like the natural beneficiary too.
"A lot of the political fallout last year felt very directed toward women," Sunkel says. "So giving the money to them seems like a good way to politely give Mike Pence the middle finger."
Host of the monthly Go Yuck Yourself show at State Street Pub, Katlin McFee remembers the support she received from Carr upon trying stand-up for the first time. "The very first open mic that I did was at Monkey's Tale, and Erin was at that mic," McFee says. "Before it even started, she came up to me, introduced herself and was just extremely supportive. She was like, 'Yeah, I love to see when there are new females that are starting.'"
Since then, McFee has appeared on several shows with Carr, including all three Nasty Women events.
"When you're doing comedy as a female, you often do rooms that are just a bunch of men, and older men on top of that," McFee says. "You'll get into situations where people are saying, 'You have to do this kind of material if you want to do well in that room,' which sucks. With this show, everyone goes up, and they just say what they want."
In addition to the atmosphere, local comic Carrie Clouse also looks forward to being on a show that's for a good cause. "When the first one came along, I was so excited because Planned Parenthood and The Damien Center have done so much, and I just wanted to be a part of it," says Clouse, an Indianapolis native who also appeared at all of the Nasty Women events. "They are such great organizations and make it possible for women to get health screenings or hygiene products." With all of the positivity that comes out of these Nasty Women showcases, Sunkel hopes all in attendance leave feeling invigorated.
"I think laughter is so healing, both for the person laughing and for the person making other people laugh," she concludes. "I hope that people walk away from this night saying, 'I had a great time. I feel renewed and rejuvenated, and I also feel empowered.'"