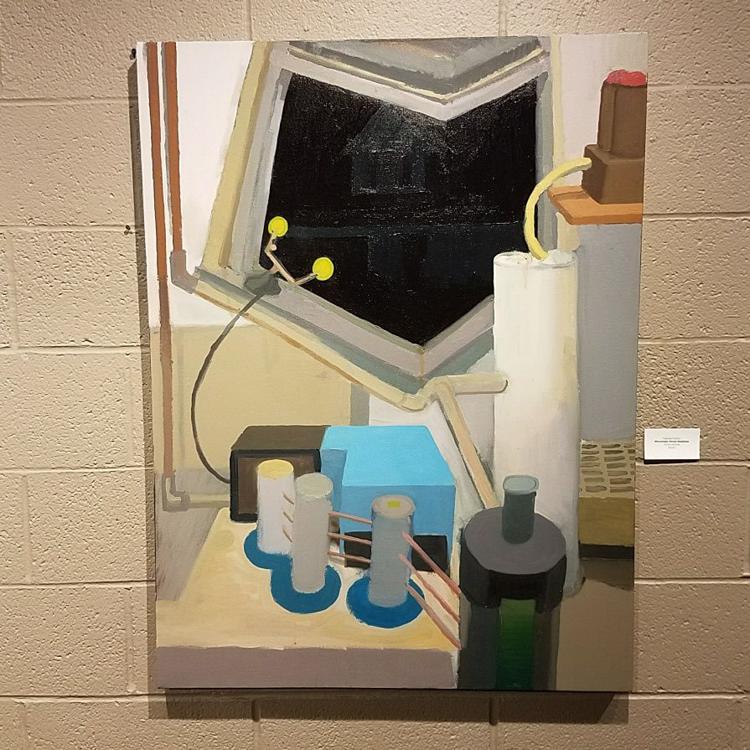 Transcending the Tabletop, in the Harrison Center for the Art's Underground Gallery until Oct. 30, isn't your typical Harrison Center group exhibition. Curated by Harrison Center artist Nathan Foxton and Dayton, Ohio-based Julie Anderson, it's set to become a traveling exhibition this year, one of the first times an exhibition has gone on the move after opening at the Old Northside venue.
Foxton came to the Harrison Center after receiving an MFA in painting from Indiana University Bloomington in 2014. He can be credited for bringing some fresh ideas to the sprawling nonprofit arts center with its plethora of galleries that feature new work by both beginning and well-established artists.
Foxton has curated several shows at the Harrison Center before this one including the Summer Landscape show in July, 2016. This show featured a wide array of landscape paintings by a wide array of Indy and Bloomington artists outside the Harrison Center orbit such as Indy-based Carla Knopp, whose studio is in the Circle City Industrial Complex, and Tim Kennedy, who teaches painting at IU Bloomington. But this is Foxton's first traveling exhibition originating from the Harrison.
Later this year, the exhibit will travel to Dayton, Ohio to the Dutoit Gallery. From there, it will go to the Fifth Street Gallery in Dayton. It features work by artists from five states as well as work from Harrison Center artists, including Foxton.
You won't see much in the way of traditional still life subject matter like fruits and bottles in this exhibition which features both 2D and 3D work. There, is however, a strong engagement with art history in a number of the works here, including "Cubist Sunflower" by Virginia-based John Lee.
Just as Pablo Picasso and Georges Braque created images in their paintings with interlocking geometrical shapes in the early days of the 20th century —  images that often only vaguely suggested their titles —  John Lee hints at a particular form with "Cubist Sunflower (Elvis is Atlas)."
A roll of electrical tape (resting in a coffee cup) is depicted as the central disc in this painting that suggests a sunflower, with a dinner plate propped behind it. Surrounding the plate are various items such as bright yellow books in the place of petals.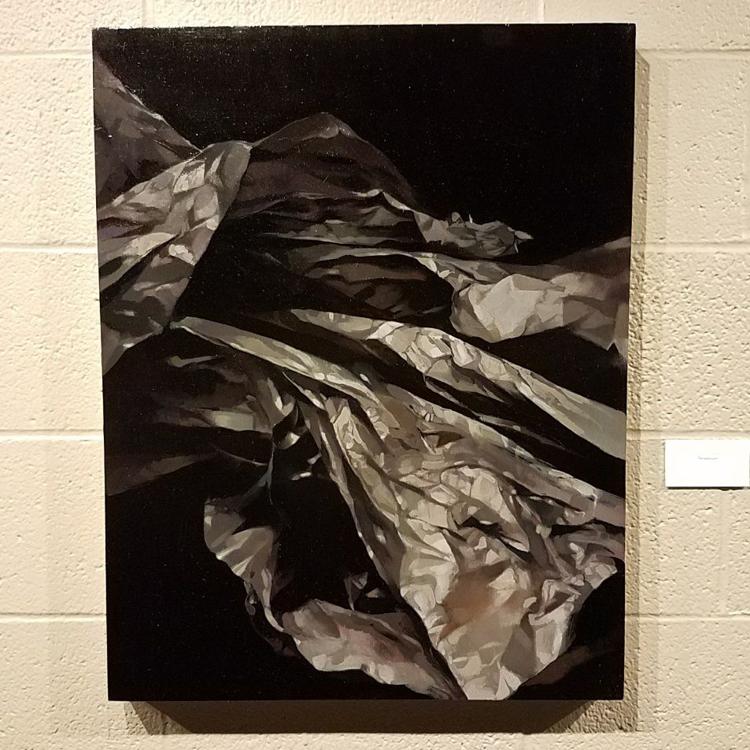 If North Carolina-based Christina Weaver's painting "Tenebrium" (oil on panel) has a similar engagement to art history, it's hard to see it. Even the title is hard to pin down. When looking at the crinkled, shiny, sometimes sepia-toned surface of the thing being portrayed against a black backdrop, definitions slip away from you. But, if you have a painterly appreciation for, say, dialogues between form and color —  in this case a very minimal use of color —  then you might find this particular painting very engaging.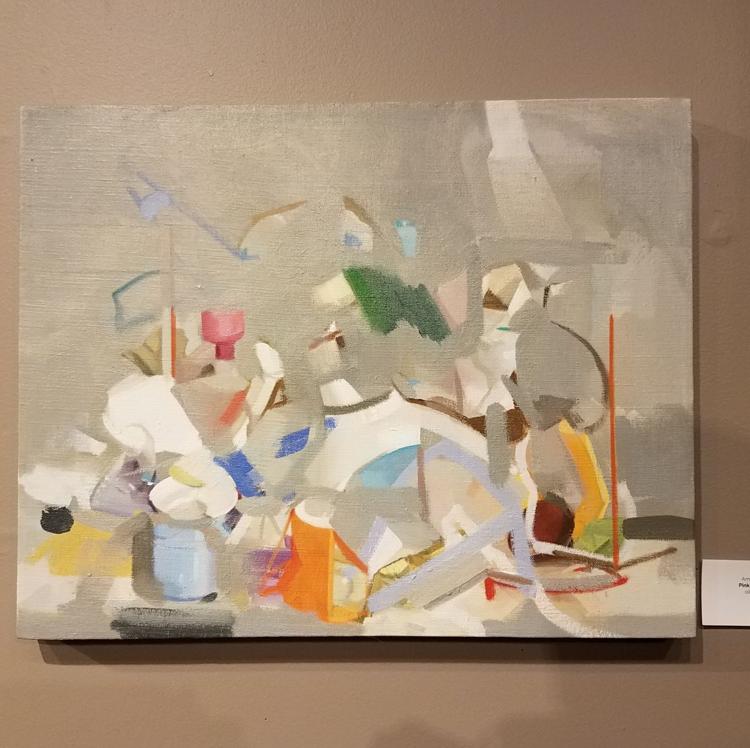 The Brooklyn, N.Y. based Amy Mahnick's "Pink Aggregate," is as perplexingly-titled as Weaver's. (If you're like me, catching yourself constructing narratives about ambiguous artwork titles, then maybe it's best not to think too much about the titles).
"Pink Aggregate" only seems like a still life in the sense that the image is frozen in time. Only some of the items that are portrayed —  the fragments of items, rather — seem to be resting on a tabletop. The rest of the items (the kind of stuff you might find on a table in a Hallmark shop) seem to be floating in the air. This painting might be the artist's attempt to throw all traditional notions of perspective out the window. Or maybe the artist is attempting to portray the moment when some bad dude comes into a Hallmark spraying the place with an AK-47 and fragments of Christmas ornaments and condolence cards go flying. (There I go again with my narratives.)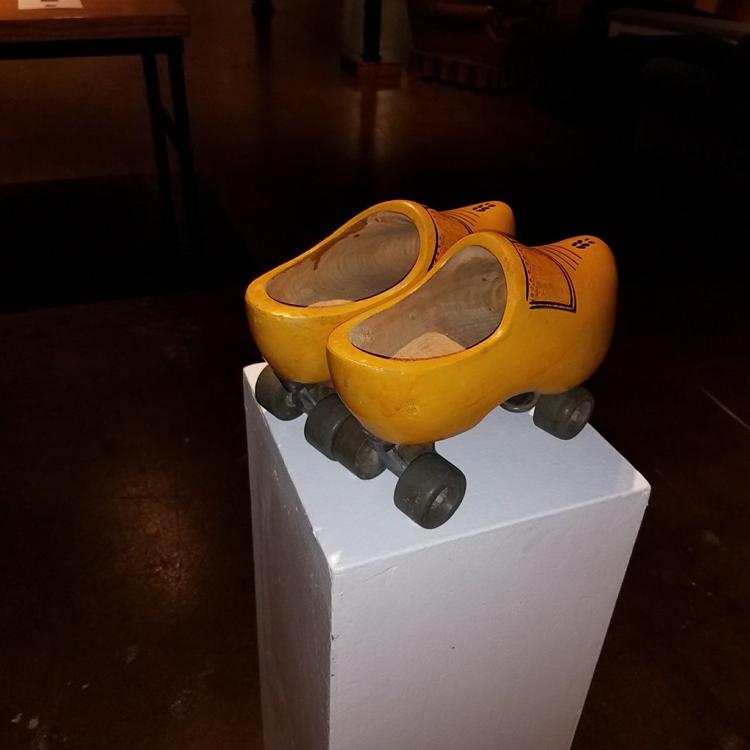 I don't want to give short shrift to the 3D work here. An assemblage by Harrison Center artist Kipp Normand titled "Flying Dutchman" is something of a visual pun as it features Dutch wooden clogs on roller skates. Although using clogs as roller skates has been done before, I'd say it's a fairly safe bet that this is the debut appearance of roller clogs in a still life show.
It's also a pretty sure bet that a painting with the title "Rhizomatic Portal Stabilizer" has never before graced a still life exhibit. This work, one of Foxton's contributions to this exhibit, portrays mechanical contraptions and then something that resembles —  save for its sleek black surface —   a window built like two perpendicular sides of a box, with its frame protruding towards you at an angle. Yet the black surface of the window, if that's what it is, appears flat. It's like a cut-rate approximation of Vantablack — the world's blackest material —  swallowing all notions of traditional perspective — although you can just make out the vague outlines of a house in the darkness.
Of course, given the title of this exhibition and his choices for it, this playing with perspective is par for the course. And Foxton, like others in this exhibition that he curated, doesn't seem to feel that that his paintings need to be framed by explanation. In some sense, these paintings transcend words. Welcome to the language of color and form.
As far as titles are concerned: let's just say if you Google "Rhizomatic Portal Stabilizer" you're not going to get any hits. The fact that "rhizome" means "mass of roots" in ancient Greek, is a helpful hint, however.
If you ask Foxton about this title, he'll probably tell you (because he told me) the following: "Certain plants have this web of roots and I like to think about that in terms of ideas."  
The show will run at the Harrison Center's Underground Gallery through Oct. 30 before heading to Dayton, where it will be displayed at the Dutoit Gallery from November 3-19 and at Fifth Street Gallery: December 1-15.