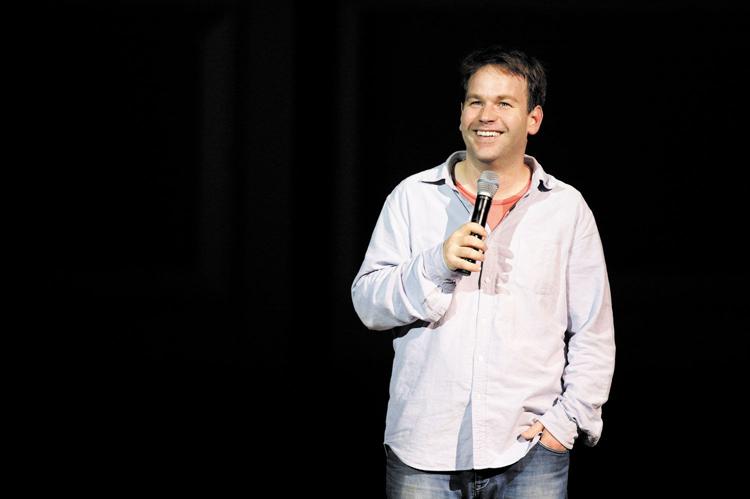 Mike Birbiglia is a nice guy.
The 39-year-old comedian and filmmaker isn't as vulgar as some of his counterparts and relies heavily on personal stories to connect with audiences. Birbiglia will share some of those personal stories at Clowes Hall on Sept. 15 after spending the month doing 30 shows in California's Berkeley Repertory Theatre.
After performing his new show The New One, Birbiglia will accept the Kurt Vonnegut Humor Award at Clowes. He will be the fourth recipient of the award, which will be officially awarded (or re-rewarded) in November during a VonnegutFest video playback of his Sept. 15 acceptance.
The Kurt Vonnegut Memorial Library got in touch with Birbiglia through Hoosier author John Green, whom Birbiglia met while on set, while portraying support-group leader Patrick in the 2014 film adaptation of Green's novel The Fault in Our Stars.
"It's such a distinct honor of a thing to be thought of," Birbiglia said. "Since they're presenting me with that, I've been reading and rereading different Vonnegut pieces. It makes you a better writer to read a better writer," he added with a laugh.
"Slaughterhouse-Five reads like it was written yesterday," Birbiglia continued. "It's so timeless and so darkly funny, and satiric and gritty at the same time. That's what impresses me so much about Vonnegut, the way that he intermingles humor with grittiness is so impressive. It's like a masterclass."
While Vonnegut often told stories by satirizing political systems and ideologies, Birbiglia tries to steer clear of anything too political.
"People have different reactions to that," he said. "Some people come to me after shows and say, 'Thanks for not talking about politics, because I'm dying to get away from it. It's all over the news and my Twitter feed, so thanks for coming up and telling a personal story.' And then other people tell me that they wish I would have talked about politics."
Birbiglia noted that there are plenty of other comedians offering political commentary: John Oliver, Trevor Noah, Seth Meyers.
"People are already doing it so well that, unless I had some take that was extraordinary or as good as those guys, I don't think I would take a stab at it," he said.
Reporters often describe Birbiglia as "friendly," "soft-spoken" and per Film School Rejects, a "human ASMR machine."
Don't let that fool you.
"My shows are for adults," Birbiglia said with a laugh. "I don't curse gratuitously, though. If there's a better way to phrase something, I will phrase it that way."
In his last special, Thank God for Jokes, Birbiglia described the infamous tirade of David O. Russell, who shouted at Lily Tomlin, "I'm just trying to fucking help you, you understand me?," during an expletive-filled rant on the I Heart Huckabee show.
"I say it in the show," Birbiglia explained. "It would be very disingenuous for me to not say what he said in a story about him. I definitely get the frustration that people have with seeing modern comedy and having it be so laden with curses that they're put off by it. But, at the same time, I don't want to hide from reality, which sometimes has curses."
Declining to reveal specific content from his latest, The New One, Birbiglia simply says: "It's definitely an adult-themed show."
As with his other specials, The New One will focus on personal stories from Birbiglia's life. With a background in improvisation and filmmaking, Birbiglia pulls from his experience in those fields to write his stand up.
"Last year I made this movie about an improv group called Don't Think Twice, and to promote it, I went around the country and did a bunch of improv workshops," he said. "What I would tell improv students is to be as honest when you're writing and performing as you can be. Really push yourself out of your comfort zone. While I was on that tour, I was writing this new show, and I forced myself to do what I was telling others to do. It never becomes easier to be frank and candid about your own shortcomings. Personal comedy to me is all about your shortcomings and what you're doing wrong. It's fun to play around with your shortcomings in a superficial sense, but it's really deep when you can talk about the stuff that you're really embarrassed about."
One thing that can be said for sure about his upcoming set at Clowes Hall: it has been well rehearsed.
"I've been workshopping this new show in comedy clubs for about ten months before taking it to theatres," Birbiglia explained. "One of the things that I like about performing in front of audiences is that they will tell you the stuff that's boring by their silence and judgmental looks. I wouldn't show up to Clowes without a show that I'm proud of, so the Clowes audience won't see the boring version."