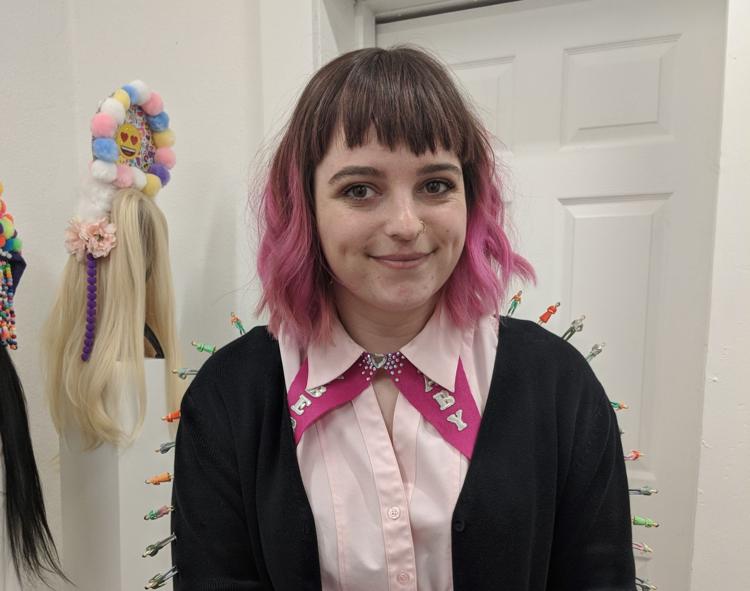 "The surging commercial art market has become another colonizing force, even as it has opened new economies for artists of color. There are now two incompatible art worlds: one committed to inclusion, artistic freedom, and change, the other driven by money and entitlements."
The above quote from Olga Viso's New York Times op-ed piece, "Decolonizing the Art Museum: The Next Wave," was on my mind during May First Friday.
She goes on to describe our time as an "era of reckoning" for race and gender in which people are demanding a voice and a sense of accountability.
Now, First Friday is not a museum-centric institution or a unified statement on behalf of one Indy arts community. Rather, it is several groups of artists and curators simply existing and working at a cadential cycle. Some are working together with a goal; some are just working and trying to make a living. But every First Friday, I'm struck by the differences between the artists who feel a need to speak on social issues and reckon with our current era and those that don't.
I began First Friday by mistakenly walking into Rabble Coffee looking for the Inside/Outside: Art & Spoken Word Show, an exhibition featuring artwork created by people incarcerated in Indiana and beyond organized by Indiana Department of Corrections (IDOC) WATCH. I was a bit sleepy and confused when I saw there was no crowd inside of Rabble.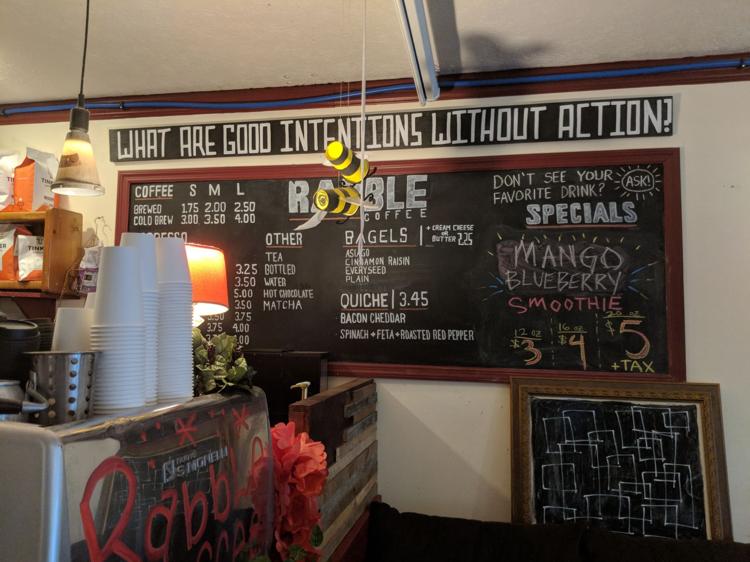 The barista, Francis, directed me to the space next door, which Rabble uses for art exhibitions. While waiting for my iced tea, I noticed a Clayton Hamilton work over the menu; the text "What are good intentions without action?" was dutifully painted onto plywood.
Next door, the show had already started. I walked in as spoken-word artist Tuesday introduced her poem "Mr. Rogers." The room was packed. Behind Tuesday, a painted banner depicting a menacing barricade including police officers, Dakota Access Pipeline security, National Guard, paid mercenaries, and the Sheriff Department painted by Rob Z with help from Evansville Letters to Prisoners (ELTP) hung high. Although the banner was painted in 2017 for a Standing Rock/NoDAPL fundraiser in Evansville, the message was clear: The trust between marginalized groups and organizations tasked with policing is broken.
Hanging on the walls, there were drawings and letters written by prisoners. Two pen drawings on handkerchiefs made by Jeremy Jones, who lives in Miami Correctional Facility, caught my eye. The drawings are reminiscent of Chicano paños (prison artwork on fabric) and depict his inspirations and the lessons he has learned since being sentenced to 60 years in prison at 19.
"The three most valuable lessons I have learned is to never do drugs, always think through our actions, and all life is beautiful. I see it even in this dungeon," said Jones in his artist's statement.
Tuesday, who is trans and has a mental illness, is an advocate for both communities and believes these conditions do not correlate or define each other. Her art is meant to let people experience life through her eyes so they can benefit and bring about change.
"There's a lot of people who are incarcerated that don't have a voice, so I'm going to speak for them," she said. "Will they agree with everything I have to say? Probably not, but I'm going to try my best anyway."
A few blocks east and across 10th Street from Pogue's, I visited Kime Contemporary that is showing Infinite Scroll by Nelson E. Kaufman. Kaufman completed his BA in sculpture at Indiana University in Bloomington, where he met gallery director Ian Kime. He now resides in Atlanta, where he works on elevators and is part of a union. Kime contacted him through Instagram after seeing his new paintings and asked him to show at the gallery. The work was loaded onto a pickup truck and delivered by the artist himself just a few hours before Collector's Night on Thursday, May 3.
Kaufman said of the show, "It's a compilation of how I feel about social media and how I feel about the day-to-day. It's about how we gather information and process it."
The show consists of paintings and drawings. None of the works on display were traditionally hung; some of them were leaning against the walls and others lay on the floor. Some drawings were pinned to the walls, and there was one interactive piece with an E.T. the Extra-Terrestrial theme painted onto cheap, white window blinds that revealed a different, more abstract image when turned.
"The work is up for interpretation. I am not concerned with titles [for the artwork] because my work is made from an unconscious method, like free-flow jazz," said Kaufman.
When I headed over to the Harrison Center for the Arts, my mind was jumbled with the stark contrast I'd found just blocks apart. The Harrison Center also seemed like a different world, far away from East 10th Street and closer to the track with their black-and-white checkered May theme and their #PorchPartyIndy season kickoff.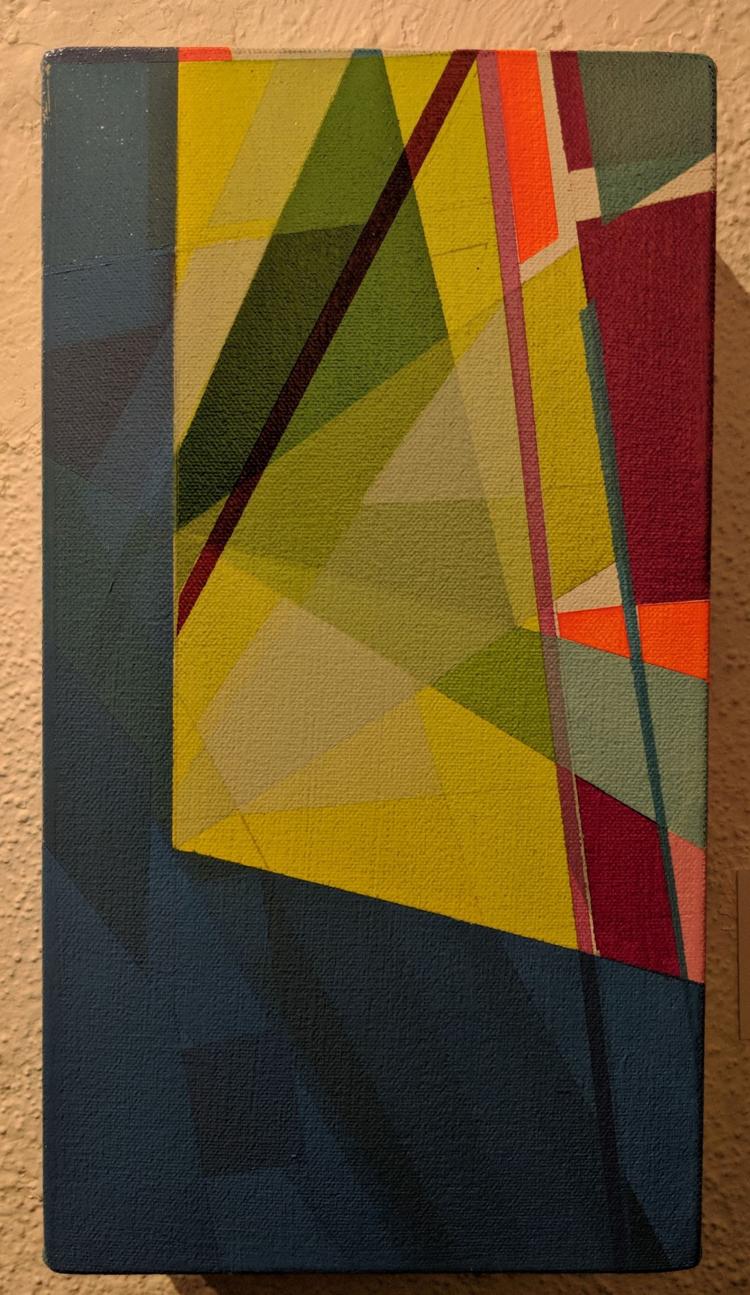 Inside the Harrison gallery, I was drawn to Marna Shopoff's more colorful works, particularly "A Look Inside," a small painting that hung just outside the gallery that seemed to either introduce or protest her mostly grayscale works within.
"As an artist, I investigate whether someone can access and experience a new view of the world through my work and how I can create a new space using my art," said Shopoff in her artist's statement.
It was after 9:30 p.m., and I thought I was done for the night, but running into artist and Putty Talk Show host Erin Drew gave me my third wind of the evening. So we drove together to Sugar Space gallery at 36 E. Raymond St.
At Sugar Space, we saw Tilikum and Blackfish-themed paintings by School of the Art Institute of Chicago graduate Benjamin Cabral and multimedia works by Cranbrook graduate Riley Fields, which explore the complications of girlhood. Fields was present, wearing a sweater with architectural model human figures glued to it.
She was also present in her video work "Candee Cutie," where she is dressed like a young girl trying to embody an internet-sensation beauty ideal and following the instructions of a voice directing her as she tries different chewing gum brands.
"I use characters that I see in social media and turn them into something absurd," said Fields.  
Upstairs, an installation by Cabral and Fields touched both themes of Tilikum and next-level girlhood absurdity with a video of Fields dressed as an orca tearfully performing a karaoke version of Joni Mitchell's "Both Sides Now."
The video takes me back to 1988 when my parents took my sisters and me to see one of the Shamu 25th anniversary shows at SeaWorld in San Antonio, Texas. The memory, remembered less fondly now, is transformed by the knowledge of the conditions for whales living in captivity. Like Joni and Shamu, I too looked at clouds from both sides that night.