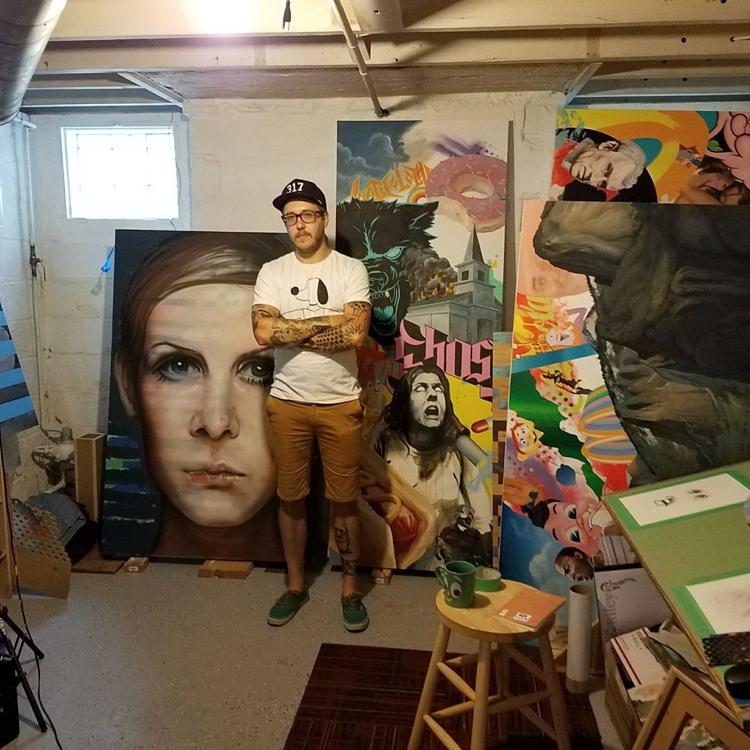 Martin Kuntz knows something about time management, working both for Creative Works and as an independent artist.
(Creative Works worked with sculptor Ryan Feeney to envision the Peyton Manning sculpture "The Sheriff" unveiled Oct. 7 at Lucas Oil.) 
The 31-year-old graduate of the Maryland College Institute College of Art works with a wide variety of media in his own art, that occasionally includes his own skin. That is, he's learned to do tattoos, not only on his friends, but now also on himself.
"I've been getting tattoos for a long time so I know what tattoo artists typically want from the stencils," he told NUVO in July, 2017.  " I got a stencil copier so I put the stencil on and I took a deep breath and sat down for a couple hours."
Those in the Indianapolis arts community are mostly acquainted with Kuntz, who lives with his wife Brittany in Indy's Garfield Park neighborhood, know Kuntz through his paintings full of jittery excitement and sensory overload, not through his tattoo artistry. He often combines dead-on portraiture with collage-like amalgams of cartoon characters, commercial products, and superheroes.
At his August 2017 exhibition High Times/Low Life at Gallery 924 at the Arts Council, Kuntz displayed not only paintings, but also sculptures — using the same high density foam that he used in his work on the Peyton Manning sculpture. Kuntz's work reflects an America dominated by a dispirited body politic, Trumpian tweets, and racially-tinged controversies — on and off the football field — from sea to shining sea. 
"I'm trying to be a bit more singularly focused in what I'm trying to say in each painting but at the same time I may have a theme in mind or a certain message in mind but I think it's okay to be open to interpretation," he said.