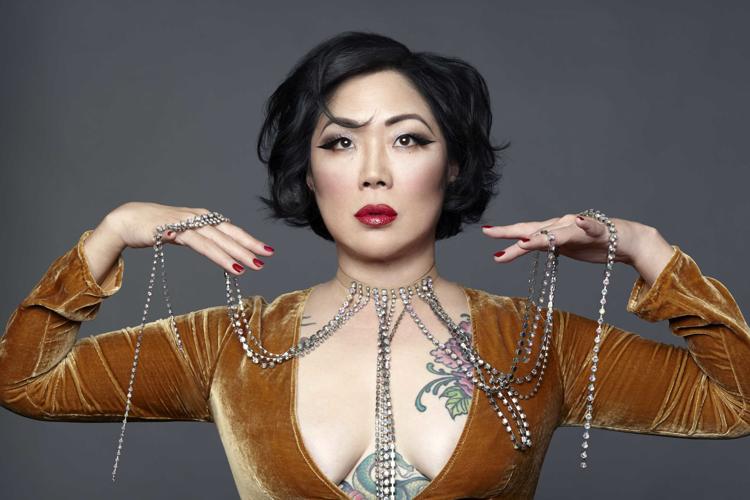 Fans of comedy know that Bloomington has become a mecca of sorts for the art form, thanks in large part to the longstanding legacy of The Comedy Attic. Now in its sixth year, Limestone Comedy Festival is continuing to build upon this reputation as well, with a 2018 lineup that will be headlined by none other than Margaret Cho.
"I've been a huge Margaret Cho fan forever," said Mat Alano-Martin, co-director of Limestone Comedy Festival. "I still consider her one-woman show, I'm the One that I Want, to be one of the finest hours of standup ever performed, so it's just exciting to have her."
Slated for May 31–June 2 this year, the festival will again take place at numerous Bloomington venues, with tickets available for individual shows as well as the whole festival. In addition to Cho, several other notable names are also featured on the 2018 Limestone lineup, including Judah Friedlander, Chris Gethard, Laura Kightlinger, and more.
Ahead of her set at Buskirk-Chumley Theater on Thursday, May 31, we caught up with Cho for a phone interview.
NUVO: I know you started doing comedy at a pretty young age. Who were some influences that inspired you to pursue it so early on?
MARGARET CHO: The first one was Joan Rivers. She was incredibly influential and also became a very, very good friend later on. [She was] just somebody who had a lot to say. There was so much that she had to do with the birth of women in comedy and that sort of permission for women to be in comedy. [She was] an incredible comedian, also, and a great mentor all the way to the very end. So I'm lucky that I had her in my life and got to know comedy through a real pioneer.
NUVO: Speaking of mentors, I know that Robin Williams was also a mentor to you. How did he impact you and your career?
CHO: It was very hard because I would have to always follow him. He was sort of a silent partner in this comedy club in San Francisco called the Holy City Zoo, where he used to be the doorman. I would always have to perform after him, and it was really hard [laughs]. But what a great man. He was sort of the patriarch in comedy in San Francisco. If you had a problem, we all would sort of go to him for whatever. To me, his mentorship was the community that rose up around him in comedy, and how many people relied on him for whatever. He was just the first one of anybody to make it at that point, and that was a hugely big deal.
So it's really sad that he did so much for people, yet nobody thought to ask him if he was all right. It's really crazy. Of anybody, you would think that he would be happy and that he would be satisfied. But I think he had a lot of dissatisfaction too that we'll never really know. I didn't know him as well as everybody else. But he had a great impact on my career because I had to learn how to follow him, which was really trial by fire.
NUVO: I do a lot of writing about music, which makes your Cho Dependent album, featuring Fiona Apple, Andrew Bird, and many other notable musicians, quite intriguing to me. Tell me about your background as a musician.
CHO: I've been a musician since I was about seven. I started as a pianist, and then my family is all singers, guitarists, and pianists. So I didn't start on guitar until much later in life, but my first instrument is the piano. Also, throughout my life as a comedian, we all would go and hang out with musicians. That was a major part of comedy. We had this great community with people in music. Whether it was going out with Chris Isaak and being with him at gigs or doing ecstasy with the band Luna in New York… all early '90s stuff. And then, more recently, doing a lot of gigs with Bob Mould, and my band, which is Jason Narducy, Sean Eden from Luna, and Jon Wurster from Superchunk and Mountain Goats. They all have a lot of crossover with different bands. But yeah, I love music. I will always be a musician. I will always be in awe of these people, like Ani DiFranco or Andrew Bird.
NUVO: I've asked this of other comedians who are political in nature. Do you ever find it difficult to balance between being funny and being an advocate?
CHO: I think it's most important to be funny. You never want to get into being an actor-vist [laughs], like an actor activist. Like, you don't want to get so far into politics that you let go of the mirth and excitement and dumbness of being a comedian. That to me is so precious. I never want to stop being stupid. That is kind of a motto. Don't stop being stupid.
NUVO: With how political you are at times, however, I'm curious what your thoughts are on gun violence in America, especially with the recent school shooting in Texas.
CHO: It's depressing. That to me is so tragic and so needless. It's such a strange reverence that we have for these gun nuts that's so stupid. It's literally killing our children. That is so upsetting. It's just these kids who want to go to school. They should be able to go to school and be safe in school. And for some reason, people who have no reverence for the Constitution somehow get stuck on the Second Amendment. They have no reverence for any other part of it but the Second Amendment. It doesn't make any sense. I think we're in really bad trouble.
When people are saying there are too many doors…that's so dumb. It's a real insult to the intelligence of our country. We should be smarter than this. Every other nation, practically, has understood that gun violence is not OK, and they've taken measures to protect the populous. But for some reason, we don't get it. I don't know what's going to happen, but it's very upsetting.
NUVO: Being that I'm interviewing you for an Indiana publication, what would you tell Mike Pence if you could say anything to him?
CHO: You can't be so antigay and anti-immigrant and still have a box seat at Hamilton. You can't discriminate against these people and then somehow enjoy the fruits of their labor. You can't have it both ways. You can't be this insane social-conservative dictator and be in the office where you're supposed to speak for everyone. It's just nonsense. He would never have gotten that position if he were running. There would be no way.
NUVO: Having gone through all that you have over the course of your comedy career, what tips would you give a young person who's looking to pursue a career in the entertainment business?
CHO: Never give up. Tenacity is really what will carry you through. Everybody who works hard to continue and persevere…they'll get there. It's really about that. It's that perseverance and that dedication that pay off.