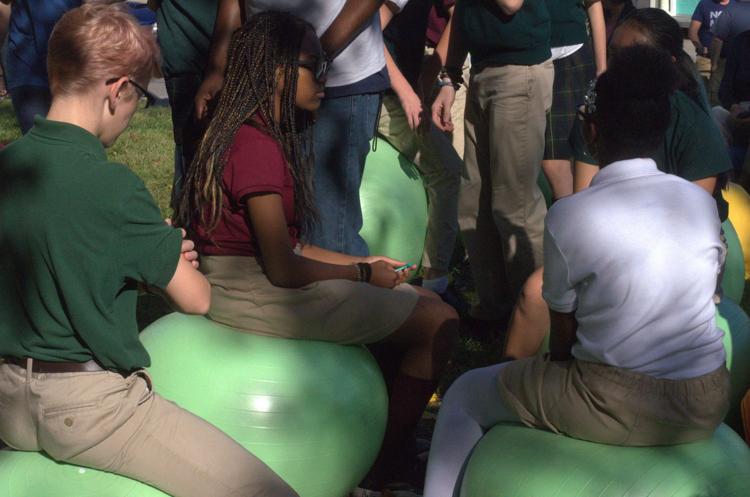 It's not everyday that you get to see vacant lots and boarded-up storefronts, along with existing businesses, transformed almost overnight into an ideal community. Even though it was only for a few hours, that is exactly what PreEnactIndy achieved on Saturday. The beautiful weather was just a bonus.
Under a tent between the recently opened businesses Hat Kings and Flower Hut, I learned about the plans for a community garden. The Flower Hut had beautiful fall arrangements, and Hat Kings offered a corn hole game and, of course, hats, and other items in their store.
At Brother Nature Market, Heart Change Ministries was selling "soap in a sweater." I was immediately drawn to and purchased one with a cat image — the scent of green tea was a secondary concern. Local artist Justin Vining had some of his paintings for sale; you could also find produce from Felege Hiywot Center's mobile farmer's market and café. Other local vendors were also on hand.
Also on the street were several performing arts groups — the event boasted 100 artists. I caught a performance from STOOPS, by Asante Children's Theatre's ACT4Adults, on a sidewalk in front of what could be Arsenal Street Homes. It was right across the street from Herron High School's amplified performances of Broadway songs, making it a little difficult to hear the children's engaging performance.
I also stopped to ponder what it would be like to live at the Monon Lofts, even though I'm not in the market for a new place to live; I took a brief walk down the Monon Trail to check out a couple of the neighborhood's historic buildings and witnessed kids playing soccer in a field; I spoke with a man from PACE at the IPS building about financial literacy and learned that several people had already talked to him that morning; I popped into the candy shop run by a former business owner in the neighborhood; and I admired a live mural revitalization by Courtland Blade, but didn't want to interrupt. 
I didn't stop to eat — even though there were several food vendors — but I do hope to go back to at least check out recently-opened Festiva.
While the road was open to cars, traffic was extremely slow due to tables and chairs set up as the Middle of the Road Café. Although there were bright cones and signage everywhere, I did wonder if people driving down 16th Street realized what was going on and how this compared to normal traffic on this street.
And while Mayor Joe Hogsett, Rep. Andre Carson, and City-County Councilman Vop Osili all spoke   at Preenact Indy —  lending their voices to the call for neighborhood revitalization to be inclusive —  the best part was seeing normal people interacting with each other. That is, neighborhood residents mixed with people like myself, who, even though I grew up in Indy and have lived here for more than a decade, didn't think much about this neighborhood prior to this event.