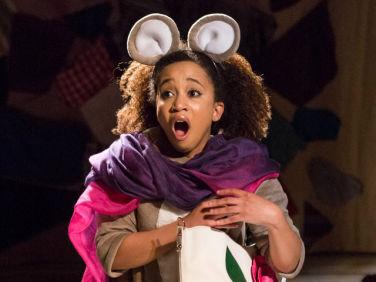 The beloved children's story Town Mouse and Country Mouse has been adapted by Vicky Ireland and brought to the Indiana Repertory Theatre stage as part of its Exploring Stages program, and it's absolutely adorable.
Exploring Stages targets ages three to eight as a way to get kids to experience live theater. Every facet of the production is created with this target audience in mind. The program doubles as an activity book, and crayons can be found for coloring pre-show.
Two seating options are available: sprawl out on the floor for the more wiggly kids or take a chair in the back (for those who need a more comfy place to sit their butt). Pre-show announcements help ground the kids for what they are about to experience, and post-show discussion with an IRT teaching artist and cast members actively engages the children to reflect on what they have seen and understand the story's life lessons. There is even a study guide available for parents and teachers.
In case you aren't familiar with the story, the mouse William lives with his grandmother in a cozy if shabby little boot in the country, and they are happy. One day his fancy cousin Monty arrives to tell William that he has inherited a posh boot in the attic of a nice house in the city, where she is from. William decides to take this adventure to the city and see what it is like.
Benjamin Hanna directs the dedicated cast of Paeton Chavis as Monty, Carlos Medina Maldonado as Snowey, Brianna Milan as Silver, Grant Somkiet O'Meara as William, and Claire Wilcher as Granny. They all dive enthusiastically into their storybook characters and make them come alive in a way children rarely get to see outside of their imaginations, encouraging a new perspective. Chavis is a hoot in her mousy finery and high-life affectations, and Maldonado and Milan make a great devil-angel set as "the twins." Wilcher is everything you would want in a loving and supportive grandmother, and O'Meara, as the only kid in the cast, holds his own admirably.
When my eight-year-old son was asked what his favorite part was, he immediately responded with the fight between Monty and the cat, in which Monty defends himself with a button for a shield and a sewing needle as a sword. But I know for fact that he also loved the songs that the kids participate in.
In fact, about halfway through the one-hour show, he turned to me and declared with a grin, "This is great!" I can't think of a better compliment than that.
You can check out more of Lisa Gauthier Mitchison's reviews here.