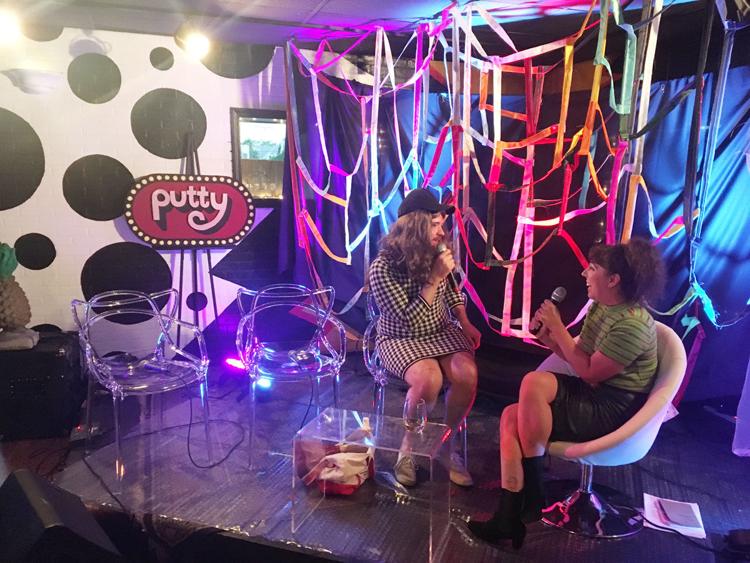 One recent evening at State Street Pub, local artist Casey No sat perched across from his friend and art world peer Erin K. Drew. Dressed in drag but still sporting his signature mustache, he was masquerading as "Season 1 Erin" in a hilariously charged power struggle with the real, or "Season 2," Erin regarding who was the legitimate host of the live art talk show that was about to occur called Putty. 
They argued back and forth, eliciting howls of laughter from the audience, until the real Erin K. Drew finally took her rightful place as queen of the bizarrely beautiful stage. And quite a stage it was. On this night, it featured a backdrop by local artist John Collins McCormick called "Recentering." This 100-foot-long fabric installation had previously been displayed in a gallery and is made of scrap material from flags.
What ensued was absurdist theater, as Drew concluded a conversation with Collins McCormick by challenging him to finely dice at least one onion onstage while neutrally critiquing the worst piece of art he'd seen recently. Collins McCormick complied, methodically peeling the outer skin of the onion while articulately and humorously critiquing a bad short story he'd read, earning even more spirited audience laughter.
Putty is "a monthly live art chat show that appropriates and distorts the format of the talk show," according to the description on its Facebook event page. The Season 2 premiere occurred Saturday, May 26. Putty's website states the goal of the series is "sticking together disparate bits of the Indianapolis art community—connecting artists as it connects audiences, growing as it rolls."
It is a unique brainchild of Drew and represents a major shift in her practice. Putty is part of Drew's effort to de-materialize her artistic output and embrace the practice of collaboration. She says the feedback has been stronger and more immediate than any she received for art objects she exhibited in the past, including posters, prints, paintings, and sculptures.
Drew's prior projects, Power Trip and Cartoon Research Lab, served as early catalysts for Putty. As the offbeat art gallery General Public Collective, which Drew was a part of, closed its doors, she had to consider her next move. She explains, "GPC folded, [and] we all lost energy for that project. State Street [Pub] felt like an extension of a lot of the creative community at GPC."
Thus, Putty was born.
Chicagoan Marc Fischer of Public Collectors was also interviewed in the season premiere. Fischer's presence on Putty as a guest felt especially relevant because his practice addresses one of the same concerns that Drew is combatting with Putty: the sense that much of what is relevant and worth presenting and preserving goes neglected by libraries, museums, galleries, and other mainstream cultural institutions.
"Did I talk enough to avoid the physical challenge?" Fischer joked at the conclusion of his interview. The answer was yes, and he ended up a believer in how well the unconventional format and venue of Putty function. "I travel to give lectures a lot...it's a pleasant surprise that you could do something in a bar, where people are not wasted, are actually giving very focused attention, and have a place to hang around and talk afterward in a way that a lecture hall typically doesn't function very well. Erin really did her homework and asked very thoughtful questions."
Fischer's observation on the quality of questions Drew poses to her interview subjects is quite apt. "Often the questions serve things I'm thinking about a lot with my own practice," Drew muses. "Themes about boredom and entertainment and a social extension of visual art. A lot of my questions come out of my work as an art teacher." The questions are certainly as unique as Putty itself, and they keep the show both humorous and engaging for the audience.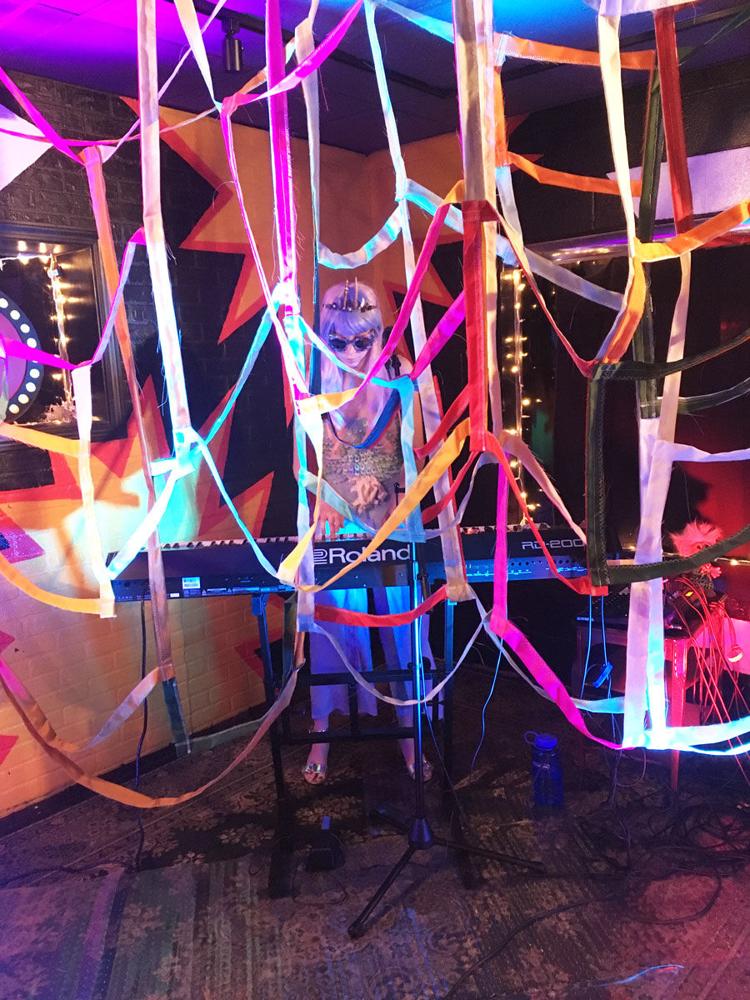 In keeping with the live talk show format, each episode concludes with a musical performance. This helps to navigate between the audience's silence—save for laughter—during the show and the bar atmosphere they find themselves in at the show's conclusion. The opener featured a thoroughly enjoyable and otherworldly synthesizer and vocal solo performance by Gwendolyn Dot, and the second episode will feature Kansas City-based musical guest Miss Last.
On the next episode of Putty, Drew will interview Sarah Urist Green, former Indianapolis Museum of Art curator and current host of the PBS program The Art Assignment. It's hard to know just what to expect, but it will certainly be thought provoking, and it will not be boring.