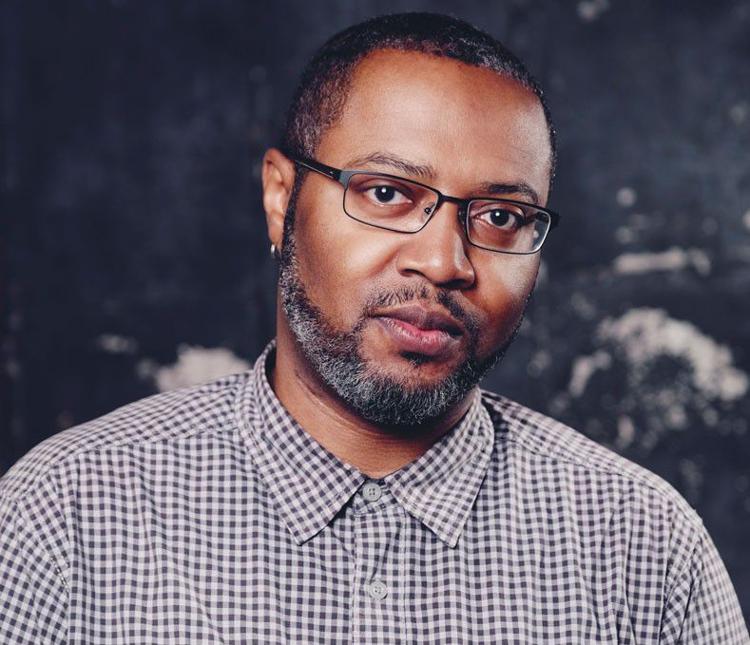 Imagine mowing your lawn and being eyed with suspicion by a passing police officer. Imagine sitting on your porch, watching your daughter roller skate up and down the sidewalk, and pondering if you need to bring her inside when a police officer pulls to the curb. Imagine the names—Trevon, Michael, Tamir, Sandra, Eric, and Erica—hitting with the force of a bullet.
When thinking about the climbing Indianapolis murder rate and the proliferation of police shootings here and around the country, poet Mitchell L. H. Douglas found himself feeling physically ill.
"These people look like me, people I know and love, my family members," he says. "I started thinking a lot about how do we live in this climate of violence?"
Mitchell channeled his anger and frustration into his work, and before long he realized the growing stack of poems on his desk was a book, his own effort to incite change.
On Friday, March 30, Douglas will read from his new poetry collection dying in the scarecrow's arms at the Indiana Writers Center at 7 p.m.
"'Dying in the scarecrow's arms' is actually a line from a Robert Hayden poem called 'A Road in Kentucky,'" Douglas says. "For me, the scarecrow is a metaphor for the Midwest. It had me thinking about who we are in the heart of the country and how our lives are being affected every day by violence."
Douglas, an English professor in the School of Liberal Arts at IUPUI, moved to Indianapolis in 2006. But he had spent most of his life in the Midwest. As a young boy his family moved from Kentucky to Iowa City as his father pursued a Ph.D. There his interest in poetry began, spurred by the new music he was discovering on the local college radio station—The Clash, punk rock, hip-hop.
"I started writing poems because of the politically tinged music I was listening to," he says. "It gave me something I could have hope in and showed me something I could do artistically." With his parents already immersed in the arts, when he decided to put pen to paper and start writing poetry, he did so with the encouragement of a supportive family.
The book opens with a poem named "Loosies"—a term for individual cigarettes, which was what Eric Garner was accused of selling when he was choked to death by an NYPD officer. "This is sport to you, / the choke, grip / & spin. No applause, / but you hold on, / count seconds / like cowboys do," Douglas writes. From there readers visit apartment complexes that have changed names with the intention of erasing murders and disassociating themselves from the Tamir Rice shooting, school shootings, gang shootings, so many shootings.
But the poems don't always dwell on tragedy. In fact, there are many happy moments in the collection. In one poem, the speaker cherishes serving his daughter grits ("surely there is a southern woman in her soul") and admires the love displayed by a couple reunited in the airport ("I think we cheat ourselves calling this PDA…Call it what it is."). In another poem the speaker attempts to help an elderly woman spell "divine" in her granddaughter's birthday card only to realize that he misspelled the word while the woman was gone. These little universal moments connect with readers and make them understand how existence can be even more fragile when one's skin color comes into play.
"These are real issues of aggressions that we deal with, and I'm trying to make sense of that," Douglas says. "For me part of that is art and saying something about it. Saying something about it helps me. It takes a little bit of that weight off of my chest."
The poems within dying in the scarecrow's arms are welcoming and accessible to readers and have already garnered attention from Publisher's Weekly and Oprah Winfrey's O Magazine. They are like the fragments of a broken mirror—sharp, pointed—and they reflect an Indianapolis we may not want to see. But if you stand just right, beauty shines in the shards, and you feel you have the power to reach out and reassemble what's been broken.
"This city has had quite an impact on me as a writer," he says.
And Indianapolis does resonate throughout—from poets Mari Evans and Etheridge Knight to Monument Circle and Long's Bakery.
"I wasn't trying to get free doughnuts," he says, laughing. "If I wanted people to understand this is an Indianapolis/Midwest book, I had to get Long's Bakery in there."