On Sept. 22, the Kurt Vonnegut Museum and Library (KVML) hosted a Forever Home Kickoff Party and Colts Game Watching Party. It was the first day the new museum site has been open to the public. It also was the first day of Freedom to Read Week.
KVML founder and CEO Julia Whitehead was on hand to give tours of the facility, at 543 Indiana Ave., which is gearing up to undergo renovation and construction.
The museum, which celebrates the life and work of the Indianapolis-born writer Kurt Vonnegut, is not new to Indianapolis. In 2011, the museum opened in a storefront location at 340 N. Senate Ave., in a space donated by the law firm Katz Korin Cunningham, and it remained there until January 2019.
The just-opened Indiana Avenue location has three times the space of the old facility, space that will be used not only as a Vonnegut memorial but also to promote literacy and advocate against censorship. It will be a community gathering place as well, Whitehead explained.
To that end, she said, the Mr. Rosewater Café will be located on the first floor of the building. Ed Battista, owner of Bluebeard – one of Indy's most renowned eateries – is working with the museum to provide this café. (Bluebeard is also the title of a 1987 novel by Vonnegut, while Mr. Rosewater is a character in several Vonnegut novels.) The eatery will serve Amelia's pastries and bread and will provide a lunch menu as well.
It's not every museum that will let you bring your coffee into the exhibition spaces, but KVML will allow this.
"We think this is a unique way of doing things," said Whitehead. "There aren't a lot of places you can go to have your coffee and be next to artifacts. But that's what we're doing. We're investing in the best quality display cases and stuff that we can get to protect our artifacts, but then also give people a chance to be right there with the artwork."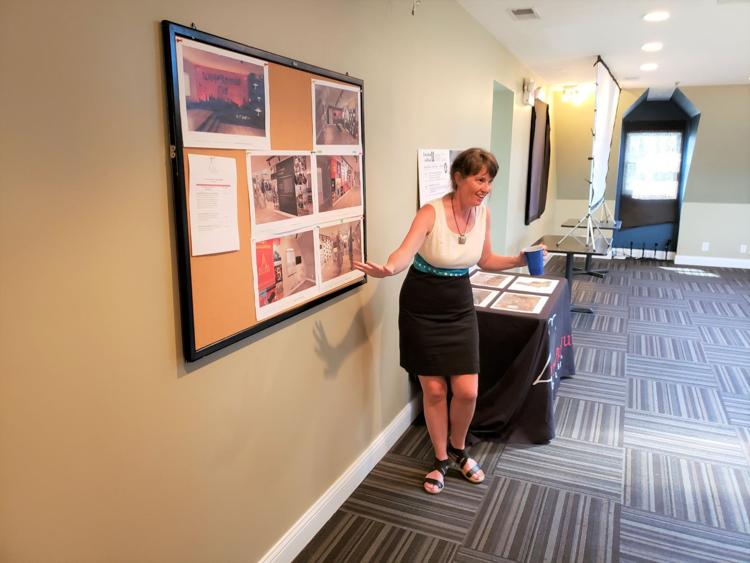 As in the previous incarnation of the museum, there will be a replica of Vonnegut's Corona Coronamatic 2200 on which you can write your own mini-opus. And you also will be able to check out his Purple Heart medal, his artwork, and a replica of his writer's studio. 
You will also be able to, if you are so inclined, pursue Vonnegut scholarship by coming to KVML and accessing a wealth of digital information from Indiana University Bloomington via an iMac.   
"So we'll have scholars come in doing research for books or school papers. ... And they use that iMac to dig up information," says Whitehead.
The nonprofit arts and community organization Big Car Collaborative is collaborating with KVML on interior design and construction. Big Car will be painting stair steps so they look like book covers and book spines.
The third floor of the museum will be the home of the permanent exhibit for Slaughterhouse Five, Kurt Vonnegut's most renowned novel, which is partly based on the author's experience as a prisoner of war in Dresden in World War II. During his imprisonment, he survived the firebombing of the city by allied forces.
During the final segment of Julia Whitehead's tour, she led patrons out to the balcony that looks out on Indiana Avenue. This is a street renowned for its African-American history and for its history as a hotbed of jazz. The museum is within view of the historical landmark the Madam C.J. Walker Building, currently under renovation.    
Jazz, said Whitehead, will be part of the KVML experience. That is, there will be jazz coming through the outdoor speakers of the museum building. 
"Anybody walking down the sidewalk will have any jazz experience here," she said.
The look of the exterior of the building will change as well.  
Renowned Indianapolis muralist Pamela Bliss, who painted the 38-foot-high mural on Mass Ave, also has been commissioned to paint two murals on the walls of the museum.
Freedom to Read
On the second floor Brett Stoker, a teacher from Tipton High School, talked about his being a "prisoner" of the museum for Freedom to Read Week, formerly Banned Books Week. He was dressed in a black and white striped prisoner's uniform.
Around the bed where he's sleeping each night for the duration of Freedom to Read week, there is a wall of books.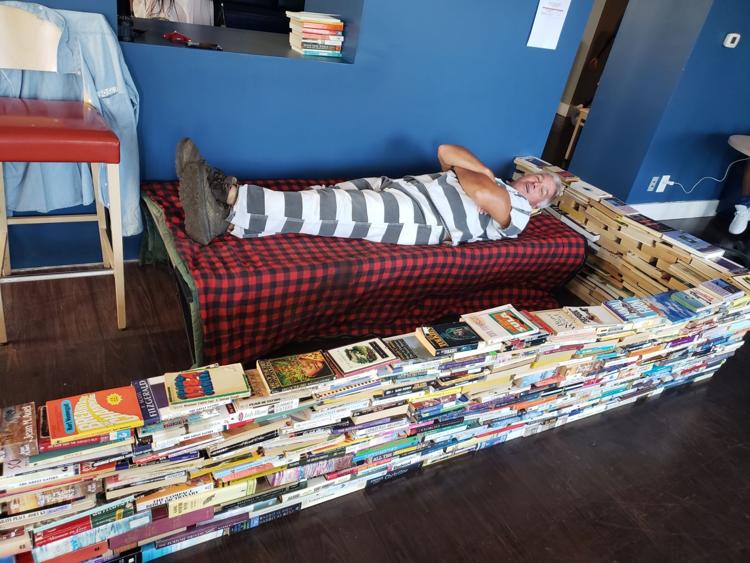 Stoker received a Lilly grant in 1992 to teach Indiana authors.  "One section of that was Vonnegut," he said. "And then I came to the first Teaching Teachers to Teach Vonnegut. It was a weeklong workshop at the time. And that was my first introduction to the museum."
Normally, during Banned Books/Freedom to Read week, it's been a writer or an artist imprisoned, as it were, in the museum. 
Last winter Stoker met Whitehead in a poetry reading and he pitched an idea regarding the yearly imprisonment/residency.
"I had this great idea for a book week," he told her. "I think maybe a librarian or a teacher, people on the frontlines of censorship. And then as we were walking out of the library, she said, 'So, are you doing it?' I wasn't exactly suggesting that."
But he wound up doing it anyway, on a volunteer basis.
Relationships like this are crucial to the future of the museum, said Whitehead, because the Kurt Vonnegut Museum and Library is a small nonprofit that relies on its volunteers and community partners.
"A year ago, we're thinking if we raise a million dollars we'll hire this company to do all this," she said. "We have to change that approach. Because we don't have an extra million dollars to open a building."