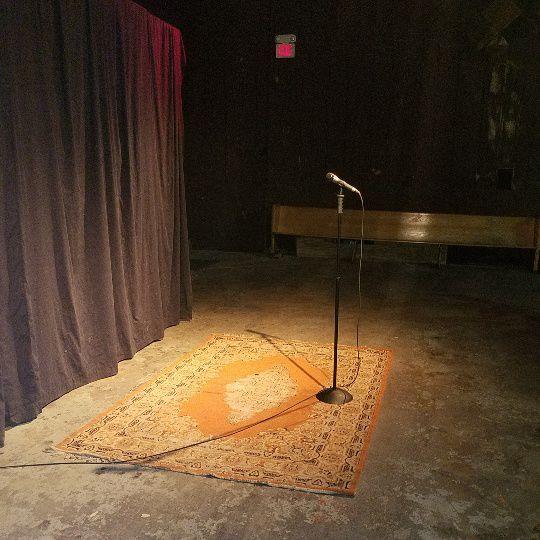 At the Iconoclast Poetry Open Mic at the Irving on Nov. 29., the theater was virtually empty until just a few minutes before the performance began. Then all it once it filled up with an audience of several dozen.
The host Devon Ginn, by way of introduction, offered up a poem that was at once slamworthy and pointedly political, reciting the lines, "it's an American tradition to keep the American conditioned with melted putty and shackled hands..."
Ginn then stepped in front of the mic and talked about the rules for open mic performers. Behind the microphone was a safe space, he said, and you can say what you want. But if you wanted to read on topics that could potentially trigger people, you should give a trigger warning.
Ariane Cyusa, a regular at Iconoclast, read a recollection of her birthdays, stemming from memories of her childhood spent in both Rwanda and the Ukraine.  
Another reader was a musician from the South who was reading his poetry at an open mic for the first time ever. But the poems he read about both held my attention and defied categorization. Several readers read about their experiences with former boyfriends and girlfriends.
Most readers seemed to value confession over compression. Some poets were also rappers. One man brought his own boombox and fiddled with the Bluetooth for a minute or two before finally finding the complicated beat accompaniment for his rap lyrics.
One younger man read an explicit poem centered on his sexual experiences, real or fantasized, before launching into a Trump impression. He then fell belly-first onto the floor, flopping back and forth like a beached whale.
An audience member noted this gentleman's inadequate trigger warning and while another audience member shouted out, "performance art shit."
But "shit" is not necessarily a pejorative in this context.
That is to say, what one might loosely term "call and response" is a big part of Iconoclast, but far from exclusive to it. If a reader were to start rattling off Shakespearean sonnets, for example, someone in the audience might shout out "Shakespearean shit." Or if a poet was offering up his chapbook for five dollars, an audience member (or members) would almost for sure shout out in mock excitement "Only five dollars?"
Audience interaction also came into play when I read my own poems, one of which related to my Peace Corps experience in Niger, West Africa, and another which related to my experience working at Borders Books & Music.
I mentioned, between poems, that I was in the Peace Corps during the mid-nineties.
"That should give people an idea of my age," I said.
At which point an audience member yelled out, "Well you already said you worked at Borders."
"There you go," I said.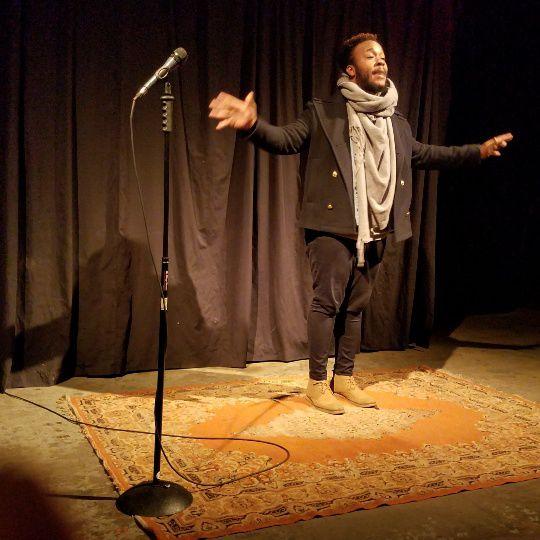 I had a chance to sit down with and talk with Ginn, 28. A Broad Ripple High School graduate, Ginn is visual art and entertainment curator for the Madame Walker Theatre Center. He also teaches performance poetry in high school classes throughout Indiana and beyond.
Ginn told me the history of Iconoclast.
"I began in Oct. 2017 but the series predates me by far, back when the Ten Johnson [Ave.] Coffee Shop was called Lazy Days Cafe," Ginn said. "But the open mic, it's changed hands a couple of times but the community's so important, we just want to make sure we continue this so we keep it free."
Ginn, 29, says his own work is "super-political."
"I'm a theater geek by heart," he says. "I've trained under some greats. And I fancy myself as a writer and it wasn't until high school that I learned through my mentor Tasha Jones that you can juxtapose the two; being theatrical while creating your own content. I just took it and ran with it."
Ginn sits on the Indiana Writers Center board.
"I've led workshops that focused on performance so you can move beyond the page and also the whole craft of writing itself, he said.
But that, he explains, is in service of a larger goal.
"I like to connect people and I want to give folks the opportunity to say whatever they want and let them be their own voice and tell their own story," said Ginn.