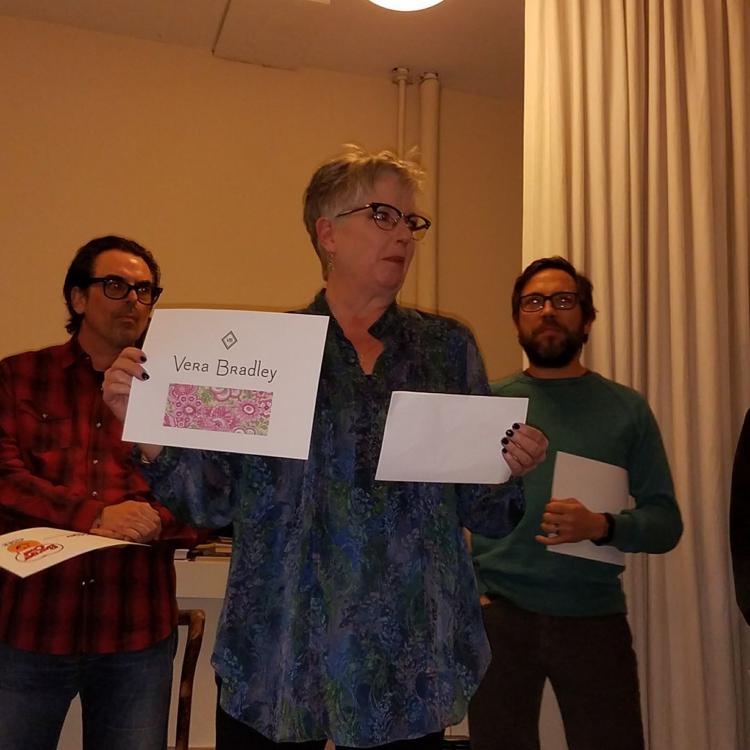 Here's some sad news for those of you interested in unusual periodicals: PRINTtEXT, that fun, funky periodicals shop on 52nd and College, on Indy's Northside, will no longer be a retail store as of Dec. 15, 2017.
(This has been the only place in town to find unusual periodicals such as MC1R Magazine, the Magazine for Redheads, for example).
On the night of Nov. 10, however, that small retail space didn't feel like it was going out of business. In fact, there was standing room only in the small retail shop. The occasion was the release party for the 10th issue of Commercial Artisan's magazine Commercial Article.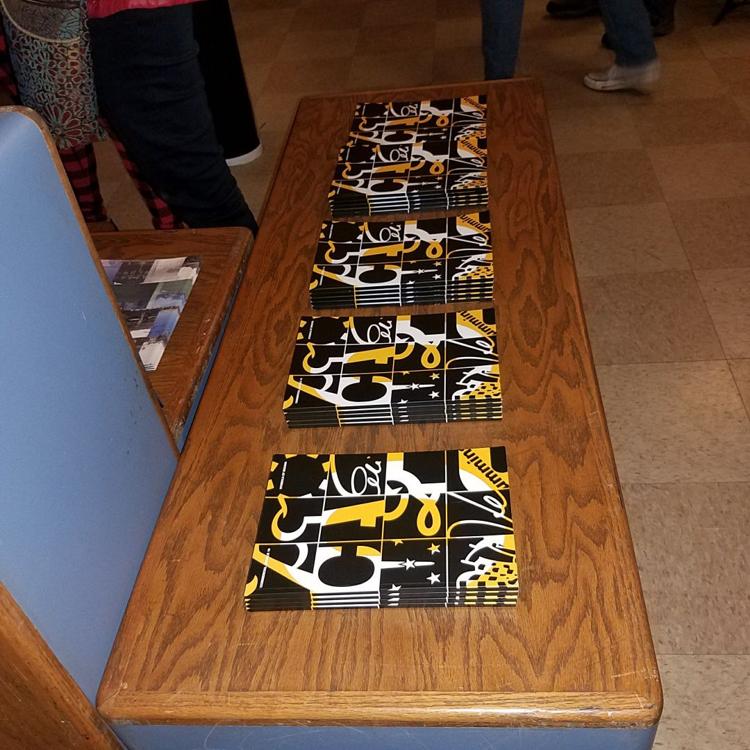 Issue # 10 features essays on notable designs, logos, and rebranding campaigns throughout Hoosier history – with plenty of colorful photos and eye-popping graphics. Subjects range from the Indiana state seal to the Cummins logo to the re-branding of the Indianapolis Museum of Art (now called Newfields.)
"We had 11 separate topics and each person wrote a short essay," said Jim Sholly, the publisher and co-owner of Commercial Artisans, the graphic design firm that published Commercial Article. "I wrote one of the stories. My brother wrote another story."
Sholly first met the owners of PRINTtEXT, Ben and Janneane Blevins, when he went to talk to the crew that put together Pattern Magazine —  co-founded by Janneane —  based in Indianapolis. They [the Blevins] interested in carrying our publication and this is the fourth launch that they have hosted. "
The Commercial Article contributors got to show off their pithiness — and their worthiness as wordsmiths — at the release party's highlight; the "Logo Lightning round."
A tap on a xylophone announced the beginning and end of each round: the writers in attendance got to talk about the logos they wrote about in Commercial Article in a time-period not much longer than an elevator pitch.
Commercial Article contributor Lisa Thomas wrote about Vera Bradley, the purse and luggage manufacturer based in Fort Wayne, Ind. that moved all its production to China in 2015.
"When is a logo not a logo?" Thomas asked, right out of the gate, during the lightning round.  "When the brand itself is synonymous with brand identity. Barbara Bradley Baekgaard and Patricia Miller struck oil when they had their calico epiphany and launched Vera Bradley Luggage and Handbags. These floral, feminine and fun totes were an immediate hit with women of all ages."
Thomas went onto say that the Vera Bradley product is so identifiable by its distinctive floral patterns that having a logo seems almost besides the point. And in fact, said Thomas, their current logo is pretty much beside the point.
"There are numerous people in this room I hope that could have designed a better logo than their current version," she said.
Will Higgins, who writes for The Indianapolis Star, talked a little of Indy's brand identity, in "Indianapolis's Flag, A Travesty Unfurled" during his lightning round.
Higgins had a visual aid: an asymmetrical early version of the flag.
"Somewhere along the line, early on, somebody, probably some bureaucrat centered it," he said. "..this flag, which came out in 1962.. came at a time when the city was trying to go from an old timey sleepy town to a modern, atomic aged city….We needed a new flag because the flag they had at the time… it looked like something out of Game of Thrones."
Just like the Indianapolis in the early '60s, PRINTtEXT is in a state of transition. PRINTtEXT will still be out there for its fans, just not as a retail store.
Co-owners Janneane and Benjamin Blevins wrote their next step in a Nov. 1 Facebook post:
This next phase will allow us to continue pursuing all the PRINTtEXT projects and partnerships that have grown out of (and beyond) the shop. We've discovered a love for collaborative publishing —  working with artists, writers, communities, and cultural organizations. Additionally, we'll be furthering our work with set styling, designing, and the animations/images that have been filling our Instagram.