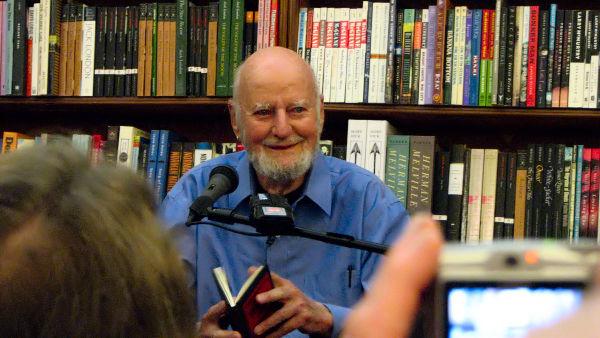 The Mueller report summary — in which the Trump-appointed attorney general cleared Trump of collusion with Russia — was released Sunday, March 24. This was also the 100th birthday of the poet Lawrence Ferlinghetti, a piece of news you might have missed in all the hubbub.
Ferlinghetti looms large in American poetry. Not only did he write the Beat classic Coney Island of the Mind, but he founded City Lights Booksellers and Publishers in San Francisco and subsequently published Allen Ginsberg's Howl and Other Poems. "Howl" was one of the most influential American poems of the 20th century. Flipping through this book, published in 1958, you see right away that Bob Dylan's mid-60s-era lyrics didn't just spring into his brain ex nihilo.
Odds are that Dylan was influenced by Coney Island of the Mind as well, with its exuberant and freewheeling topicality so different from the confessional poetry that was starting to become fashionable at the time.
City Lights Bookstore is also worth talking about. It's one of San Francisco's greatest cultural treasures. The bookstore, founded in 1953, gave birth to the nonprofit City Lights Foundation, dedicated to the mission of promoting "deep literacy."
And just last week, Ferlinghetti just published Little Boy an autobiographical novel.
I met him once. It was at Butler University, on Feb. 7, 2000. During that appearance, he read a poem titled, "Don't Cry for Me Indiana" at Clowes Hall.  
In that poem, written in his customary loose and Whitmanesque style, he disses the Circle Center Mall for its commercialism.
He wrote: What is this place Indianapolis 2000? — I feel like I just got beamed out of the sky/into the Omni Severin Hotel/attached to a huge shopping mall all enclosed/all the products of corporate monoculture from somewhere else …
John Clark, my friend and editor of pLopLop, a local literary zine, wanted very much to publish this poem. So Clark got permission to publish the poem and I typed the poem up, taking it from The Indianapolis Star that had originally published it after Ferlinghetti's reading. (We're both fuzzy on the details of how this all went down.)
So, when Clark finally got around to publishing the next edition of pLopLop in 2004, he asked me if I still had what I had typed up four years previously. I did, in fact. I found it in my very disorganized stash of papers, literary magazine rejection letters, and old tax returns. Not that he couldn't have found the text of the poem elsewhere. But I'd still like to say that I had some small part in getting Ferlinghetti's poem published in pLopLop. I'm very proud to say that I still have that pLopLop issue.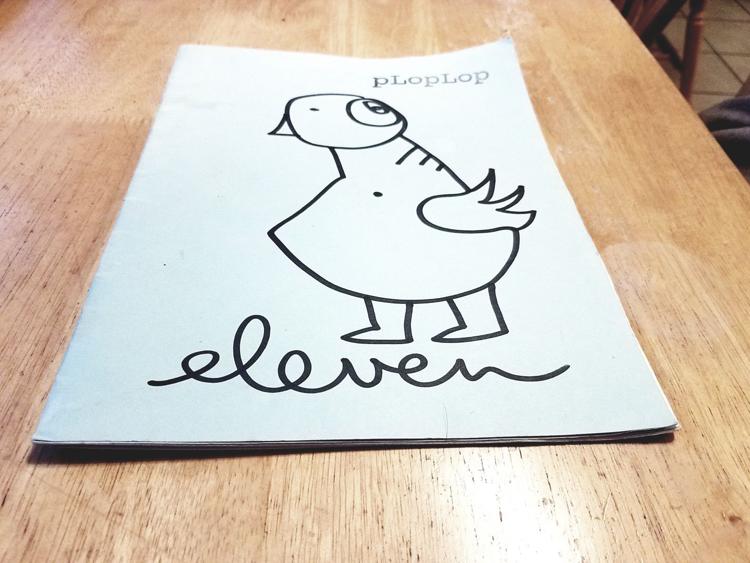 But back to the Circle Center Mall. I recall that my high school French teacher, who was in the Clowes audience the day of his reading, took exception to the tone of the poem. She told him, to his face, that there were parts of Indianapolis that he might like very much.  
I wasn't quite as convinced of this as my French teacher. If Ferlinghetti were to walk around the city today, however, I do think he'd see a certain kinship between his City Lights Foundation and all the civic-minded nonprofit organizations that exist now that weren't here in 2000.
I'm talking about organizations like Big Car Collaborative, Indy Reads Books, Cat Head Press, and PATTERN, which publishes a twice-a-year fashion magazine with the help of interns and fellows in the hope of "fashioning a creative community."
Speaking of PATTERN, longtime gallery owner turned Indiana State Museum curator Mark Ruschman had a wonderful essay in their Art Issue published last October. It was titled "The Indy Art Scene: On the Edge and Thriving." As one of the gallery owners forced to close his doors in the wake of the financial crisis a decade ago, Ruschman doesn't wax nostalgic about the decline of traditional galleries in the city.  
"People say there are fewer places for showing art, but these people are envisioning an older model," he writes. "The truth is there are more places showing art than ever before. People see art in new ways now.  Alternative spaces, pop-up venues, cooperatives, and maker-spaces are drawing a bigger audience."
The art world is always in flux, Ruschman says, and the arts always seem to find a way to thrive whatever the economic circumstances.  
As I discovered, in checking out various Indy spoken word venues this past couple of months, the rich variety of venues Ruschman speaks of isn't just limited to visual art. In fact, many of the venues for visual art double as venues for spoken word, venues where you could almost imagine Ferlinghetti walking onstage and reading his work with musical backing. In fact, he wrote certain of his poems specifically for jazz accompaniment.  
I don't take exception, and never really did, to Ferlinghetti's snarky lines directed at Circle Center Mall. But I find myself forgiving the poet anyway. With his groundbreaking poetry and his publications, after all, he helped make the arts thrive both in his and in our time.
Happy (belated) 100th birthday, Lawrence Ferlinghetti.