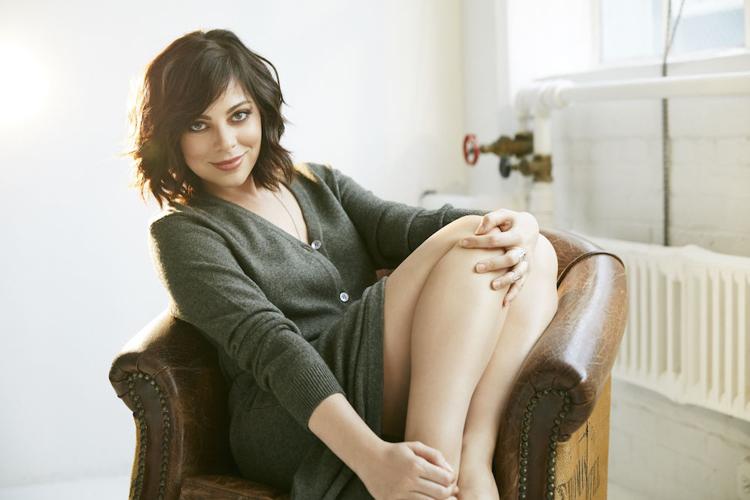 In January 2016, Krysta Rodriguez performed a cabaret-style show as part of BroadwayCon in New York. (Think ComicCon, but for theater enthusiasts.) While that was a one-off performance only for those who braved a blizzard in New York City when many of the other artists were unable to make it, she'll be doing a similar gig for The Cabaret in Indianapolis and Columbus the weekend of June 29. 
The singer, who has performed on stage in The Addams Family as Wednesday Addams, the Deaf West revival of Spring Awakening, the musical First Date, in the most recent revival of A Chorus Line, and on the television shows Smash and Trial and Error, has never performed in Indianapolis before. But she's looking forward to her cabaret-style show for The Cabaret at the Cook Theater at Indiana Landmarks Center on June 30 and at The Cabaret at the Commons in Columbus on June 29.
She adds that she and her co-star for the evening, Megan McGinnis (Les Miserables, Beauty and the Beast, Side Show, Little Women) put together a duet show at the Rubicon Theatre in Montecito, Calif., a few years ago, and she has performed at her alma mater, the Orange County High School for the Arts. The Cabaret show will also feature her music director, Benjamin Rauhala, on piano. 
Rodriguez says audiences will hear songs from her shows, but also songs that reflect a part of her personal life.  
"I've been fortunate enough to be in shows with very popular songs," she says, but says a cabaret show is "freeing."
"I think it's a fun experience to be able to share a part of yourself instead of a character," she says. "You really have no rules, you can say whatever what you've been wanting to say outside of the guise of a character's choices. You can feel the energy of the room, there's more of an improvisational feel, just you and the piano. I love feeding off an audience, sharing some things with them. I'm sure some of the people in the audience will be aspiring performers, and maybe they'll hear some things that can help them along the way." 
Without wanting to give away any spoilers, she says, "The theme that's very strong is perseverance, of finding another way in when you're told 'no,' or finding a way to fight."
"Part of my story," she adds, "is I was diagnosed with breast cancer when I was 30. I'll talk about how I pushed through it." 
Shortly after she was diagnosed, Rodriguez publicly shared her diagnosis and treatment on her blog, ChemoCouture.com. She meant for it to be a way to keep her friends and family informed of how she was doing. It has also been a way for other young survivors to cope.
Jeanie Neal, an Indianapolis-area breast cancer survivor and advocate diagnosed 16 years ago at age 33, says she appreciates what Rodriguez has done for other survivors, even if it's just to show them there are other women like them.
"Breast cancer in young, premenopausal, women is rare," says Neal. "It accounts for only about 4 to 5 percent of all breast cancer diagnoses. The median age at diagnosis is 62. All survivors have valuable experiences to share, but my experience clearly wasn't as similar to that of a 62-year-old woman. We have issues, however, particularly unique to our population, the greatest of which is probably fertility. Or if you're single, as I was when diagnosed, how do you approach the subject of your survivorship with future partners?"
"Younger women aren't as largely represented in research either," Neal adds, "primarily due to the fact that there are fewer of us than the average-aged survivors. I've participated in as many research studies as possible, and have encouraged other survivors to do the same. Medical professionals are just now getting a good idea of how to treat us younger patients now that research data on our population is available."
Rodriguez has also experienced hardships in her professional life. "Some of the songs empowered me to get through those times, or cheered me up when I didn't get a job, or helped me celebrate a job I did get."
"This is a unique opportunity to see one of Broadway's hottest young stars with the premiere of her brand new solo cabaret and we are thrilled that she has chosen to do it with The Cabaret," says The Cabaret's CEO & Artistic Director, Shannon Forsell.  "Krysta is one of the most vibrant and engaging young performers currently on Broadway. … Her talent, really, is undeniable. A performance like Krysta's brings some of the freshest and brightest talent straight from the stages of New York City to Indianapolis."