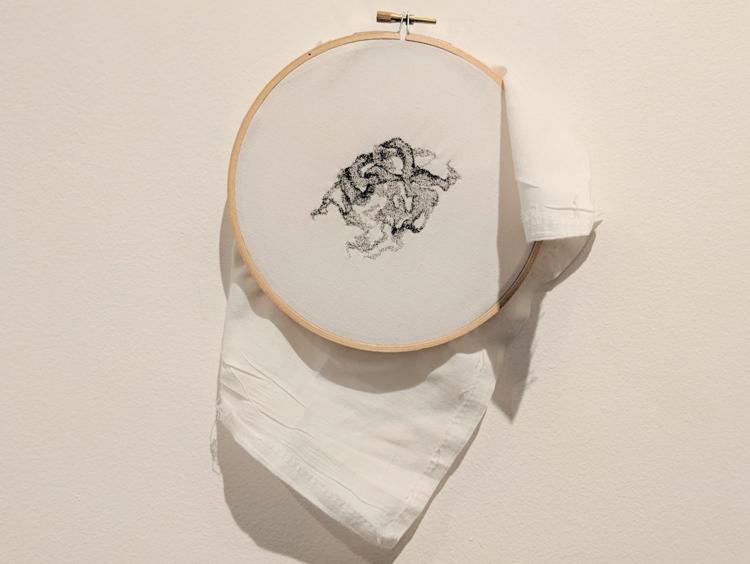 One of my favorite things about First Friday is that I get to chat with my fellow artists in a casual setting. My first stop was Dream Anywhere Play Here Pt. 1 at Kime Contemporary, across 10th Street from Pogue's Run Grocer. The show is the first collaborative installation from Danielle Graves and Nick Witten. Both artists have been independently shaking things up and bringing fresh takes on class and gender through their work lately. They detail the visual symbols of being blue collar or a young woman through the eyes of a patriarchal society.
The newly-formed duo, Graves and Witten, has shown work often at galleries such as Listen Hear, Guichelaar (next to Tube Factory), Cat Head Press, the Oilwick, and the now-gone General Public Collective. After seeing them pop up over and over recently, their aesthetic and use of symbols have turned into a recognizable language—one that has been playful in their independent narratives and now serves as a visual representation of the conversation among the artists.
The works on display at Kime include a pretend brick gate with street lamps and a bench made from wood, felt, and other soft materials. Taken in together, the scene feels as if you are in a cartoon. The discarded banana peels and juice containers on the floor, as well as the red and yellow snake made of felt, also play into the illusion of a world that is imperfect and dirty. Yet it is colorful and free of the aromas or decay to make it uncomfortably gritty and real.
On the walls, Grave's "Piece of Meat," previously seen in soft sculpture, is now rendered two-dimensionally in acrylic paint. You see here a hamburger with sesame seed nipples, a Mickey Mouse bullseye between the legs, and a gasoline nozzle hovering nearby.
Witten's upside-down trashcan mailbox is also back, now lilac and with a television on top. The screen displays a perpetually spinning Marathon gas station sign with some charmingly cartoonish asymmetry.
Although Pt. 1 of Dream Anywhere Play Here closed June 3, Graves and Witten are already working on the second part of this installation collaboration, so stay tuned.
At Cat Head Press, printmaker and painter Austin Stiegemeier also played with the tension between portraying a world that is cruel and real beyond the gallery walls and accepting the works as 2D representations of the world.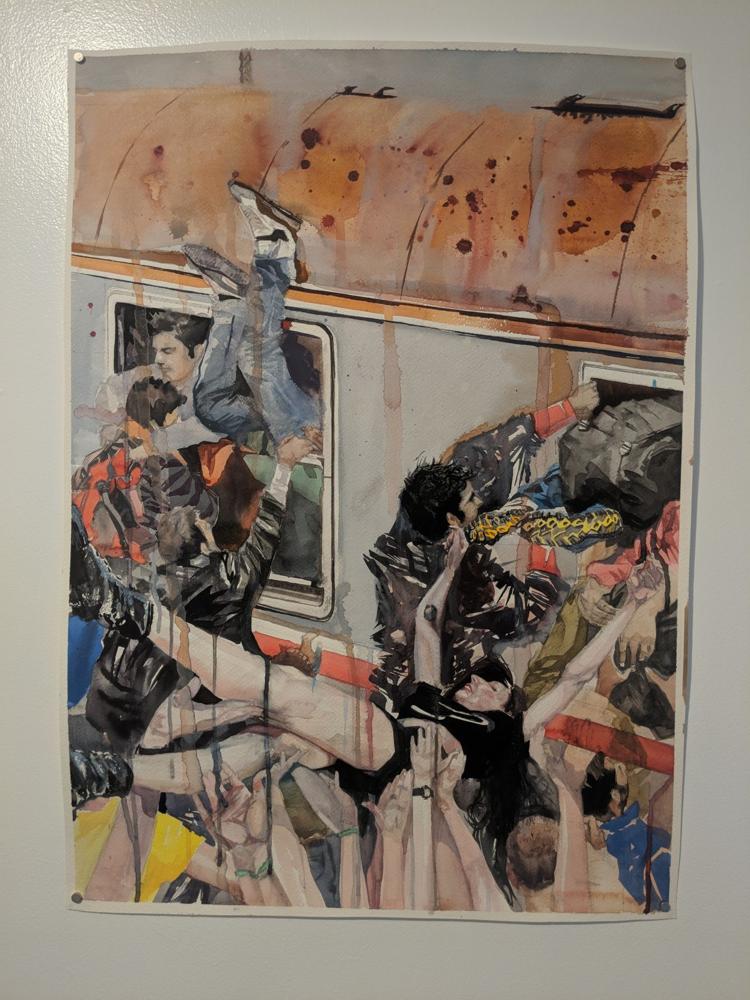 The tension shows an artist who is ready to bring important ideas to the table while remaining honest about the limitations of having such conversations inside an art gallery. His watercolors depict Donald Trump from a metaphorical moral wasteland in "The Global Community: Paid Vacation," while "The Global Community: An Escape to an Escape from the Crowd" has a group of people all being crammed into or rescued from a bus in a scene that feels violent and physical. There is a juxtaposition to these politically inclined works with a more literal acknowledgment of the medium, such as in "The Video Destroyer," where a subject's head is unusually cropped and framed with the paint showing carefree drips down the canvas.
"The model is an interesting, quirky guy that destroys video feeds," says Stiegemeier. "He couldn't hold his head, so it ended up popping up from the bottom and led to the cutting."
The painting was Stiegemeier's entry to other pieces depicting still life objects that are then cut, reassembled, and displayed with an undisturbed version of the object, such as with "Cut the Bull 1 & 2." In it, the artist not only playfully acknowledges the limitations of the medium but also undresses cow landscape paintings from romanticism and other saccharine painting symbology.
At Cat Head Press, I ran into my friend Stuart Snoddy, who was part of the Drawn to Doodle: Works on Paper show organized by Nathan Foxton at the Harrison Center Underground Gallery. And so we headed over, he on his bike and me in my Volvo Wagon.
At the Harrison Center, we visited the Jerry Points show inside the main gallery. Stuart likes some of the more playful paintings, but I am more attracted to the small embroideries made with human hair by Abi Ogle titled "Tangled" in the Gallery Annex.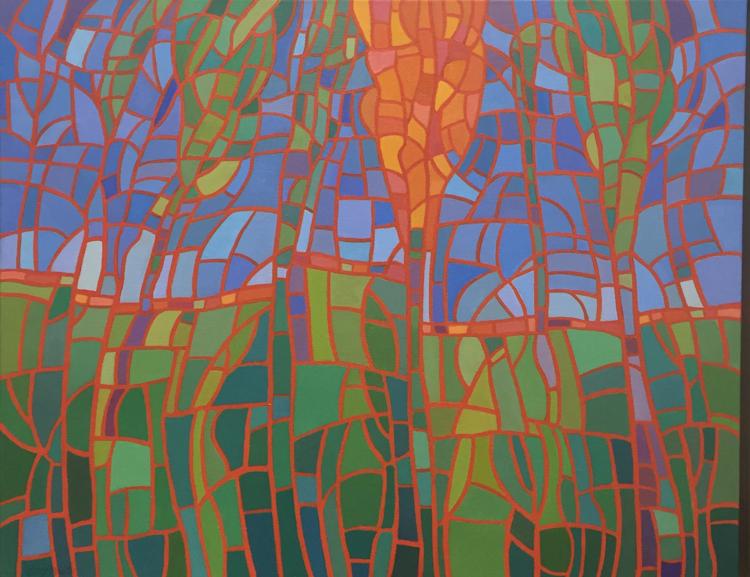 The embroidered works are detailed, and they hang in a weird balance between being ornamental, beautiful pieces and/or a documentation of something perhaps more sinister. But perhaps the works are just an innocent play on the physical similarities between silk thread and strands of human hair, and I am the one projecting anything other than that. To figure it out, we'd have to have a conversation about it, but this time the ambiguity is more entertaining than asking for the truth.