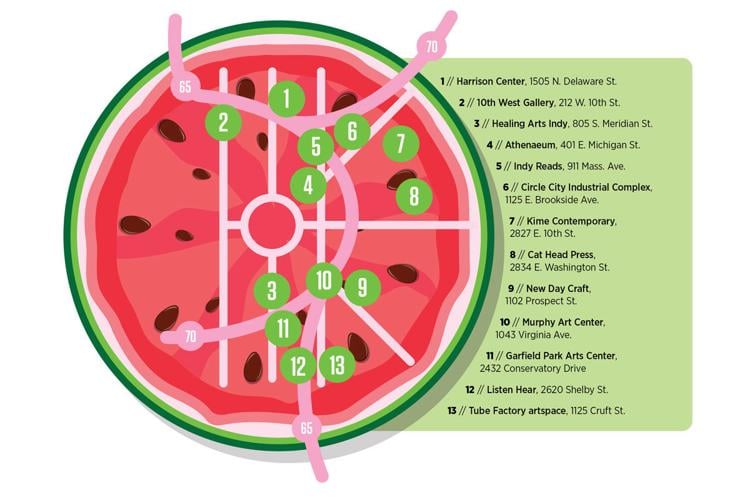 Something is happening deep underground that will be reflected aboveground this First Friday, July 6. It's the DigIndy project under construction 250 feet below the city. The 10 miles of tunnels completed so far are an attempt to deal with the city's combined sewage overflow problem. Ultimately, 28 miles of tunnels are projected to be completed by 2025.
The Harrison Center is drawing attention to the project with a DigIndy First Friday artist reception starting at 6 p.m. One of the shows at Harrison will feature round wood panels made to resemble manhole covers. You may have seen Fab Crew, Gary Gee, Megan Jefferson, William Denton Ray, and Blend Creative Minds outside on Mass Ave on June 30. They were participating in a DigIndy Art Project painting actual manhole covers. During the First Friday reception, 15 designs on manhole covers will be selected by a jury. The winning manhole canvases, as it were, will be installed along the Cultural Trail.
Speaking of all things underground, up on the walls at the Harrison Center's Underground Gallery until July 27 is a group show Drawn to Doodle organized by Harrison Center studio artist Nathan Foxton, who is interested, he says, in the idea of "visual processing." That is, the intermediate steps that an artist takes to get to finished work.
"There's finished work, the masterpiece," says Foxton, "but so often you can see artists working through an idea. Which is just as gratifying, in a way, where you see the in-between pieces."
What the show lacks in polish, it gains in freshness. Mike Reeves' "Trump in a Hot Tub" (watercolor on Bristol) is an amusing off-the-cuff depiction of our current president in a less than dignified setting.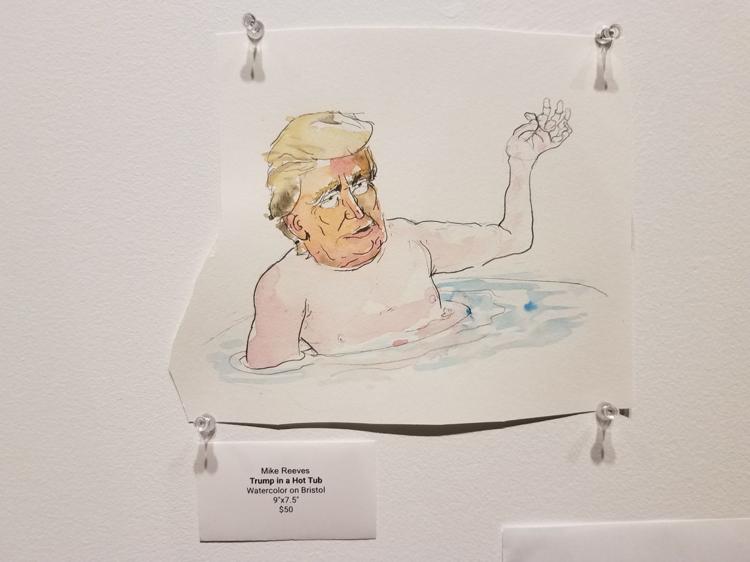 Aboveground, in the Harrison Gallery, versatile painter Benny Sanders—who paints everything from plein air landscapes to Goya-esque portraiture—will be having a solo show.
"My new show will showcase 50 new pieces made over the past six months," says Sanders.
"Prior to this work, I was desperately and unfortunately searching for a specific concept that I could solidify and mass produce. I was also following successful painters on social media to understand what made a successful contemporary painting and simply copying what these people had worked so hard to discover. In February 2018, I made a promise to make clear and honest work about things that are simply close to me. This body of work attempts to showcase my obsession with understanding and developing a sensitivity to how light works in a multitude of situations."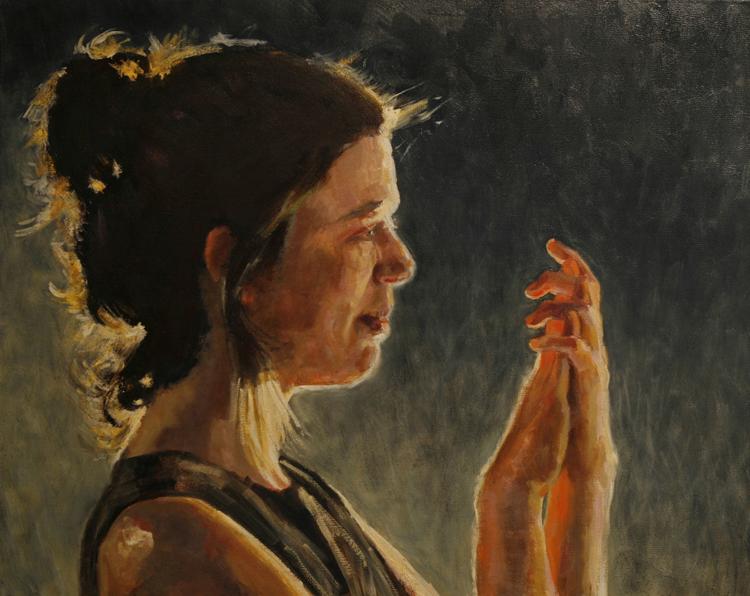 At 10th West Gallery, the featured artist, Stanley Krohmer, is apparently more obsessed with color than light. Consider the title of the Grand Rapids, Michigan, artist's show: An Obsession with Color.
"July is Part II of his show, and what we're doing is we just collected a lot of his work on our Grand Rapids trip," says gallery director Tony Quintana. "He was a landscape photographer in his beginning 10 years, and then he transitioned into painting in his teaching time during his career at Grand Valley State University up in Michigan."
New to NUVO's First Friday map as a visual arts venue is Healing Arts Indy, but we consider it a must this particular First Friday because they will be exhibiting The Secret Life of Bunnies. This is an exhibition of paintings by Kat Silver that might be nutshelled as Dali meets Looney Tunes. If you were intrigued by Silver's paintings on display at The Young Collectors' Show II at Gallery 924, you definitely want to swing down South Meridian to check out more of her work that is rich in beautifully constructed imagery and personal symbolism.
We've listed the Artspace at the Athenaeum before as an arts venue, but it's been a while. So welcome back! A show called Characters: Neoclassical Illustration features the paintings of Mechi Skakur (aka Demetrius Green) and three other artists; the work will be hanging on First Friday, I'm told, but if you want to meet the artist, you will have to wait until its second Sunday reception, July 8 at 3 p.m.  
"These works are from artists who were self-taught, outsider if you will, vibrant, whimsical, and thought provoking...familiar imagery with conceptual variations," says curator Clayton Hamilton.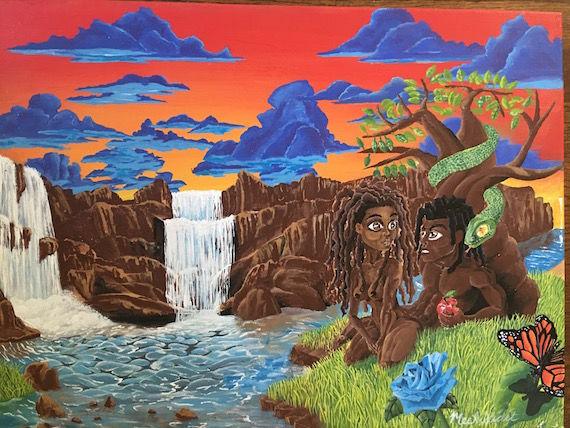 As long as you're in the Mass Ave area, you may as well stop by Indy Reads to check out the collages of Vanessa Monfreda. During the reception, local poet R.E. Ford will read his work.
Literally a five-minute walk away from Indy Reads is the sprawling Circle City Industrial Complex (CCIC) where Satch Art Space will be presenting Long Live Frida, a group show of woman artists all inspired by various facets of the Mexican artist's work. (They will be having collectors' night as well on Thursday, July 5, along with Kime Contemporary, 10th West, and Listen Hear.)
"My idea was to bring women artists of varying ages and backgrounds, using diverse mediums, together for a group show," says Satch (aka Julie Kern). "The artists had to be bound by one common thread: that they are influenced by Frida's life and her art."
In the Schwitzer Gallery, the communal gallery space on the CCIC's second floor, you will find The 45 Project by Jamie Willis.  The paintings in the collection portray reactions of Americans, both positive and negative reactions, to Donald Trump.
Like many Americans, Willis has a strong point of view about our president, who seems to go out of his way to polarize and to antagonize while establishing what is increasingly starting to seem—to this writer at least—like a transglobal corporate junta in collaboration with Vladimir Putin and other anti-democratic strongmen. 
"But for the sake of this project, I've made a point of including the emotional reactions of people who support the president as well," says Willis in his promotional text for the show. "My goal is to promote understanding. As dismaying as I find the current political administration, I'm more dismayed at how divided we are as Americans. We don't just disagree—in many cases, we view people on the opposite side of the political spectrum as our enemies. I want to open a dialogue."
And as long as you are at CCIC, check out the numerous galleries and studios that will be open.
It seems like the entire Near Eastside of Indy has opened up as of late in terms of art. At Kime Contemporary, the newest gallery on this list, Dallas-based painter Henry Swanson will show his latest everything-but-the-kitchen-sink paintings and drawings. That is to say, it's hard to describe these paintings that combine collage with landscape painting with graffiti.
Cat Head Press, more or less in the same neighborhood, will be featuring work by Mary Jones and Joylnn Reigeluth in a show intriguingly titled States of Eye: A Conversation.
Moving on to Fountain Square, New Day Craft  will be showing work by Patrick Viles. 
At Future Friends Holographic Magic Club  in the Murphy Art Center there will be an installation curated by Eden America and SarahJintheCity.
"Grounded is an intentional moment in which you can experience the meanings and the healing properties of those colors as it relates to self-care," says Future Friends about this exhibition, a description that seems as cryptic as it is intriguing.
There will also be a show of work titled Divi Femi by portraiture photographer Charlee Black.
If you head south of Fountain Square to Garfield Park Arts Center, chances are that you'll find yourself impressed by Impressed: an exhibit of woodcuts, etching, lithography, and screen printing.
Per usual we recommend you end your First Friday voyage at Big Car's dual venues of Listen Hear and Tube Factory artspace.
Listen Hear's Make a Man is a photography exhibition by Dana Kalachnik.
And if you haven't seen Christos Koutsouras' series Land Art (Telling Trees) at Tube Factory, check that out before hitting the Night Market food trucks for a bite just outside. It might be your last chance to see this work involving photography, painting, and an installation focused on the recent forest fires on the Greek island of Samos.