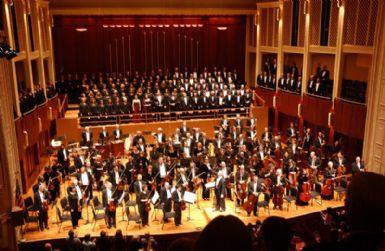 Indianapolis Symphony Orchestra//Joshua Bell, violin//Hilbert Circle Theatre// Oct. 6, 8pm//3.5 stars  
Last week I wrote about a passionate sounding Indianapolis Symphony Orchestra, and this weekend's concert was certainly along a similar vein. Conductor Jun Märkl returned to the ISO again, and it's clear to see why he's a favorite. This was a concert filled with joy and excitement, borne out of what is a solid partnership between conductor and orchestra.
Before witnessing this fruitful partnership, assistant concertmaster Peter Vickery stood to speak with the audience, dedicating this concert to those affected by the Las Vegas tragedy, and directed everyone in a moment of silence, which was appropriate and appreciated. Märkl then took to the stage, and off we were treated to a great musical adventure, beginning with Franz Liszt's Les Preludes, the most well known of his twelve symphonic poems. Liszt mainly wrote for piano, so it's unsurprising that much of this work sounds like a piano piece orchestrated. The orchestra sounded lush, with a depth of sound that took me a aback in the most pleasing of ways. Another favorite, violinist Joshua Bell then joined the stage to finish off the first half with Max Bruch's Scottish Fantasy, a work that is anything but easy for a violinist. Bell did what he does best, and created and shaped lines that soared with a tone that musicians work their entire lives to get. The orchestra was already on good footing with Märkl leading the charge, but the addition of Bell brought the music-making up a notch.
The concert finished with Robert Schumann's Symphony no. 3, a.k.a. "the Rhenish". Schumann wasn't exactly an ace orchestrator, so there was occasional muddiness; Schumann seems to think many crescendos and loud statements are best made with tremolos and everyone wailing away with sixteenth notes, and that having the cellos and double basses trilling in the lower register adds something significant to the music (it doesn't).
There were again, sadly, intonation issues in the winds again, especially noticeable in the beginning of the fourth movement, where the brass weren't blameless either. That aside though, there was fine music making to be heard this weekend at the ISO.
Drew Petersen, piano// Ruth Lilly Performance Hall//Sept. 25, 2017 7:30pm//5 stars
"Tickling the ivories" is an expression to mean playing the piano, and sometimes I'd like to add to that expression, and particularly in the case of that Drew Petersen, winner of the 2017 American Pianists Award. This exceptional young musician, also the winner of several other competitions such as the Leeds International Piano Competition, and New York Fryderyk Chopin Piano Competition among others, certainly "tickles" the ivories. But that phrase seems pithy when thinking about his vast ability for musical expression. 
The rather full-sized audience at the Ruth Lilly Performance Hall was treated to a recital of 20th and 21st century music, starting with Judith Laing Zaimont's Attars, which was commissioned by the APA. A multi-movement work about floral essential oils, he conveyed each scent with a large palette of musical colors, so to speak; from lush rounded notes and phrasing, to more crisp, and angular ones. He followed up with Charles Ives' "The Alcotts," from his famous Concord Sonata, a work with layers and nooks and crannys, that was utterly delightful.
His ability to go from intense and nearly thunderous to gentle and tranquil was astonishing and wholly satisfying. Petersen then jumped almost right in to Samuel Barber's Piano Sonata in E flat minor, going from a peaceful finish to slightly more chaos, and again with ease. The second half began with Elliot Carter's Piano Sonata, which at times had a relentless intensity. In the first movement, there was a time that intensity was brought to a breathtaking halt by Petersen — a singular note toward the end rendered everything, and everyone, completely still — before he then dove right back in, allowing us all to catch our breath. The evening finished out with Charles Tomlinson Griffes' Fantasy Pieces, an impressionistic-like work. Petersen's feather-like touch was particularly poignant in the Notturno movement, and the finishing Scherzo was a fun adventurous ride that Petersen remained in firm control of.
We were fortunate to hear two encores, both by Gershwin, with a sultry, romantic Earl Wild transcription of "The Man I Love" and his First Prelude. Petersen will be the Artist-in-Residence at UIndy for the next two years, so if you weren't fortunate enough to catch this recital, thankfully there will be others.