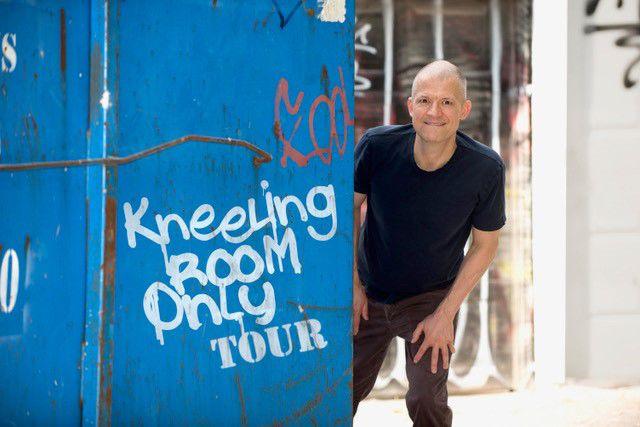 I had a short conversation with Jim Norton on the phone last week. He appeared at the Old National Center's Egyptian Room on Friday, Nov. 17, during his Kneeling Room Only stand-up comedy tour.
The comedian – who also has made a name for himself as an actor, radio host, and writer –  was born in Bayonne, New Jersey, in 1968.
Before our conversation, I wasn't overly familiar with his material. But I caught up with some reading and excerpts from his shows. His most recent comedy special was Mouthful of Shame, released in March 2017, on Netflix.
I checked out a stand-up bit from his American Degenerate special on EPIX from 2013, on YouTube, where he complained about the type of massage therapist who won't offer a hand job to her clients.
"These women should be killed," he said. "By the way do you know how much fun it is and come out and talk about this, and nobody gives a shit?"
It seems that people are paying more attention to this sort of thing now, however.
This is an awkward time for comedians of his genre, considering the sexual misconduct allegations leveled in the last few weeks against Harvey Weinstein, Kevin Spacey, Louis C.K., Roy Moore and Al Franken.   
Who knows when this avalanche of revelations will end. But it seems a fair bet that many more women will come forward offering their testimony about the sexual misconduct of men in all areas of American life.
By chance, while on YouTube, I also saw a debate featuring Norton on the show Totally Biased, from 2013, with then-Jezebel contributor (and current NYTimes writer) Lindy West.
West talked about some men in the audiences of comedians telling rape jokes might be inclined to take his sexual humor literally. And how women in the audience, rape survivors, say, might not see the humor in the shtick.
West wasn't writing about Norton in particular– or sexual assault as a topic of male comedians – in her Nov. 8 op-ed in the New York Times entitled "Brave Enough to Be Angry." She was writing about how, even now in 2017– in the age of Trump– women are subordinated, humiliated and victimized.
"Like every other feminist with a public platform, I am perpetually cast as a disapproving scold," she wrote. "But what's the alternative? To approve? I do not approve."
During the back and forth in their Totally Biased debate, Norton seemed to have a particularly expansive notion of 1st Amendment rights.That is to say, Norton seems to think critics should be free to call him out on the offensiveness of his humor, as long as they don't complain to the advertisers on the networks where his specials play.  
After my  interview with Norton was over, I went back and watched more of American Degenerate. I found that there were some genuinely insightful, funny bits.
The one about finding the scent of a fellow traveler in the airplane seat beside him attractive, for example. And, when asking the man what cologne he's wearing, Norton discovers to his embarrassment that the man is not wearing cologne at all. It's just his man scent.
This hits close to home for me, and I thought it was funny. Most men Norton's age (I happen to be one of them) were brought up to be homophobes. We might change our point of view, we might even take on same-sex lovers ourselves, but for some, the embarrassment remains.
I get it.
Not so much, though, the part where he talks about fantasizing about touching a drunk woman's butt while she's vomiting out the window of his car. Part of the problem might be the current news cycle, sure. But also I don't think it's funny. (Ditto with the title of his current stand-up tour). And I wonder who does.
I talked to him on the evening of November 10. My first question was about Lindy West.
DAN GROSSMAN: Do you think she overstates things?
JIM NORTON: No man, it's really weird. I didn't agree with any restrictions on jokes. She comes from the point of view of victims. I haven't watched the debate. I just remember doing it with her. And while I didn't agree with her point about jokes. I have a tendency when I meet someone to actually like them so we've actually corresponded since then.  But I don't think she overstates things.  How do you mean I'm overstating things?
DAN: Well, she said, [and] I think I'm paraphrasing here, that comedy clubs are dark places full of angry men.  And sometime rapes happen because of the jokes that are [said] onstage…
JIM: I didn't agree with her point on that. I don't. I don't think humor will cause somebody who is not a rapist to commit a rape. I don't think that will contribute to a rape… [inaudible] as humor hits you in such a different way.  But look, she has every right to that type of humor either. I just don't want to see people get in trouble for it. But you can think that kind of humor sucks. That's a fair point.
DAN: Do you think that comedians have special license to talk about what everyone else is afraid to talk about in the workplace?
JIM: Well, it's a different job. You're in a nightclub. So yeah, because you're going to a place where people know….like  If you're in an office, you know, and you start doing lewd jokes, people aren't expecting that there.  So a lot of times the license you have is people are going somewhere to see you do specifically what it is you do. I think that's where the special license comes in. It's the fact that people are travelling to see that.
DAN: How did you get started in comedy? Why do you like comedy?
JIM: I saw Richard Pryor and said, that's what I want to do with my life.  I always enjoy making people laugh… and seeing him kind of cemented "oh, that's what you do with being funny.'
DAN: Your humor made me think of Denis Leary for some reason because irony plays a big part in his humor. You say things, I'm assuming, that you don't want people to take literally, and there's a lot of that in his work.
JIM: Well, he exaggerates. That's part of it. You have to stand there and tell the truth. To me telling the truth is basically being a news reporter.  You have to exaggerate to point out how ridiculous something is or to make something silly.  And the way that you do that is to exaggerate.  Like George Carlin said, every joke has an exaggeration.  It just depends on where you put the exaggeration.
DAN: How often have you been to Indianapolis?  Is this your first time around
JIM: No, the second or third. I always enjoy it when I'm there. I mean the gig was great, the Egyptian room, I think I did it last year.  So this will be my second time. I loved it.
DAN: One comedy bit I saw [on American Degenerate] and forgive me, I didn't see nearly as much as I would've liked to, you were remarking on how Black people don't attend your shows as much as you would like them too and maybe it's because of your looks. Do you think it's because of your looks or something else?
JIM: No it was a joke. [African-American comedian] Patrice [O'Neal] said "A lot of Black people should like you and they don't think they should." So that's where that came from, was Patrice making fun of the fact that I have a skinhead haircut, and something about my face that makes Blacks just not like me. And he was making fun of me.  So yeah. No, I don't think there's any reason they wouldn't…. I've got a good amount of Black fans. I did two seasons on a great show called Power which was one of the most fun things I've done in my entire career.  So I'm just pointing it out…. As a comedian you always want to have fans of all genres.
DAN: What's your reaction to the news about Louis C.K.?
JIM: I'm glad he apologized. He made the right move by apologizing.  It was a shitty thing to do and I'm glad that he acknowledged he was wrong to do it, you know?  I just hope that there's nobody else.  I love Louis. But I think he was wrong, obviously very wrong and I'm glad that he said he was sorry.