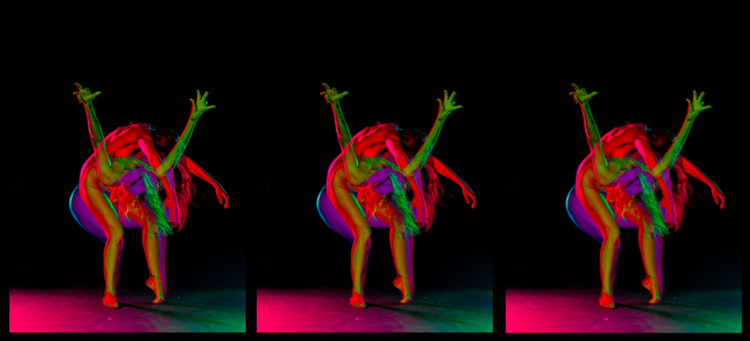 Jedediah Johnson is the creator of The Makeout Project, a series of large-scale photographic portraits which document the immediate aftermath of him kissing people while wearing an enormous amount of lipstick smeared on his face.
You don't see Johnson in the photos. Instead you see the sometimes bewildered, sometimes amused, faces of the project participants, their faces now smeared with his lipstick. The work not only showed at the Indianapolis Art Center in 2015, but garnered national media attention in The Huffington Post and elsewhere.
In his newest series of photographs, Our New Body, you see photos of groups of people nude or nearly nude dancing together in close proximity in colored light. Often in these photographs, you can see two or more separate people become one.
One of those people, in some of these photos, is Johnson himself.
Johnson's new series, he says, is about equality, about demonstrating the oneness of humankind.
Johnson, 39, is one of the 23 visual artists (or artists groups) who will bring their work to Oranje on Sept. 22. It's a one-night event that encourages interaction between artists, musicians, and patrons.
"All of these nude and near nude people [are] photographed in this colored light and composited and photoshopped together to make these new bodies," Johnson says about his series. "I'm messing around with composition. I'm trying to blur lines so that one person's skin becomes another person's."
And, if you like, you can get in the frame as well.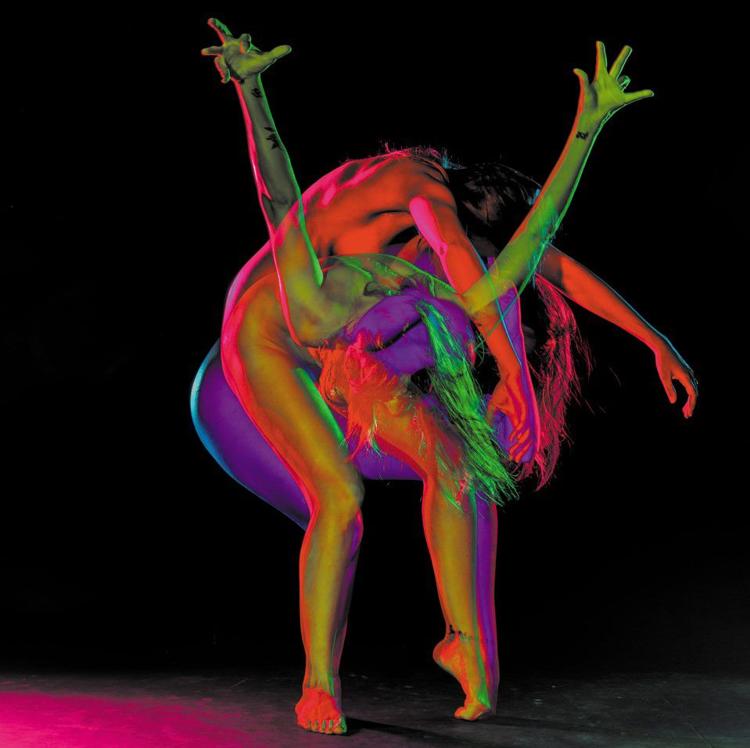 "I'm also setting up a background and I'm photographing people for this if they want to during the event," he says. "They can be as nude as they want to be."
Just as in Our New Body, you don't have to have a particular body type to join in the fun. That is, he's photographing people "who don't necessarily fit the commercial beauty standards, the really narrow commercial beauty standards."
The project has helped Johnson deal with some of his own body issues.
"I've had a long journey because I've always been overweight," he says. "And, I've always felt bad about it and only around the time I was going to grad school was I starting to not feel like I needed to constantly hide my body. And, then I got to this New Body project and I kind of just let it all out there. ... So I look at myself in the mirror now and I'm like, "I look fine." ... It's really just matter of realizing that when people say this does not look good, it doesn't really matter how many people say it. It's just an opinion. It's not a real thing."
Johnson, born and raised in Indy, moved to Los Angeles to attend film school in the '90s. He eventually dropped out but not before becoming interested in photography, and he began photographing parties and models in the L.A. area.  After receiving an MFA from the Art Institute of Chicago in 2013, Johnson moved back to the Eastside Indy home he grew up in.
In 2016, at  Zephyr Gallery in Louisville, Johnson's exhibit My Father's Murder featured both mixed media work and photography in an exploration of his sometimes troubled childhood.
"It's a little bit of a mislead," Johnson admits about the show title. "My father committed a murder in 1984. So, I purposely titled it that way to put the viewer in a sense of sympathy for him that then they would have to deal with when they travel through the exhibition. I think people that do bad things are people too."  
The exhibition also addresses institutional racism and toxic masculinity and shows Johnson trying to come to terms with his past.   
One of the mixed media works in the exhibit are Pepsi cans painted to look like Budweiser cans—and shot up afterwards.
"That's a reference to what my mom told me when I was five, that my dad shot someone. She didn't think he would have if he wouldn't have been drinking.  So, I said, "he wouldn't have done it if he would have been drinking Pepsi. So I got all these Pepsi cans and painted them to look like Budweiser cans, and shot them."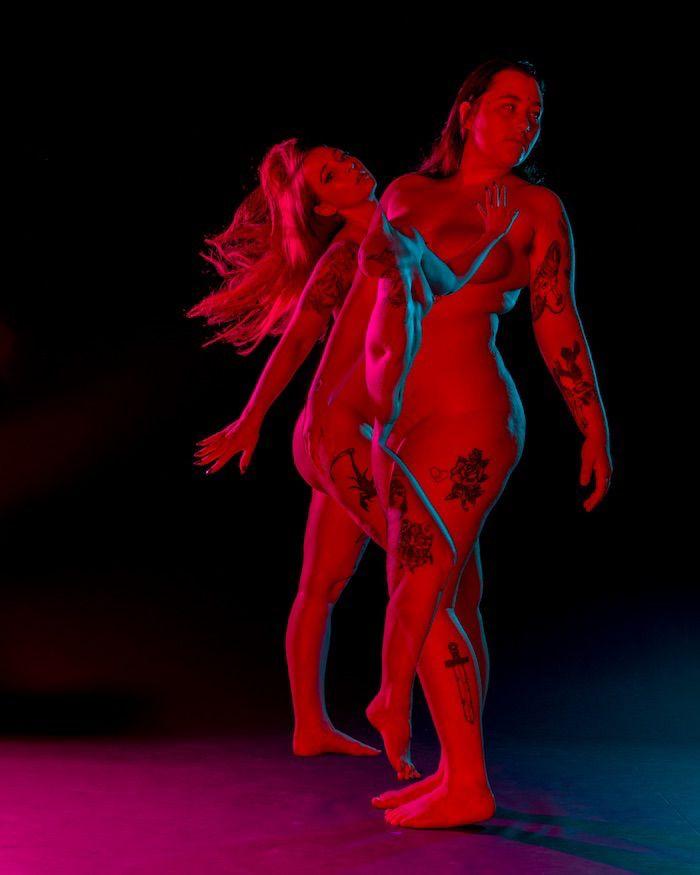 Johnson, who teaches photography at the Indianapolis Art Center, has not abandoned film, although he shot Our New Body in digital.    
"It's kind of nice actually that consumers don't shoot film anymore," says Johnson. "It places that skill set back to its arcane roots. Photographers used to be like alchemists in the 19th century. Film photographers are heading back that way. And you can do things with film that digital can't touch. It's just the special way that film soaks up light. It's nearly impossible to explain but it's true."