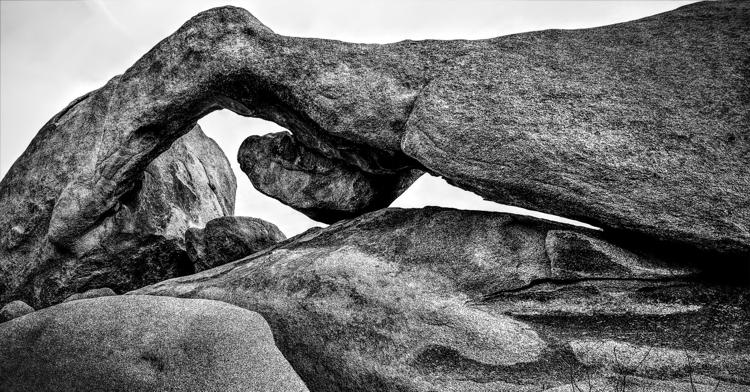 "Is beauty really in the eye of the beholder?" and "Do we bring our cultural knowledge and biases of art and tradition to nature?" are not just questions we are all asking ourselves when looking out on the decaying winter cityscape and confronting frigid temperatures.
These are also the questions Bartosz Pietrzak asks with the photography exhibition Pictured Rocks inside the Speck Gallery at the Harrison Center.
The Polish-born artist presents traditional and digital media photographs of rock formations and mineral deposits juxtaposed with water, dried tree branches and sometimes diminutive images of humans interacting with the environment at Pictured Rocks National Lakeshore, Michigan and Joshua Tree National Park, California.
By labeling the natural mineral formations in his photography artifacts, Pietrzak explores the interplay between photography and abstract art using landscape as a medium for abstract composition. He also posits that essential beauty exists even when hidden from humans.
"Though we can distinguish the difference between man-made and natural beauty, it is surprising how magnificent works of art can often convey the same power that we find in the beauty of nature," he says in his artist's statement.

In addition to the decades of exploration as photographer, his perspective is informed by his background in engineering and philosophy. While he isn't the first to question the famous Immanuel Kant statement "Beauty is in the eye of the beholder," the deconstruction and arguments are made from the perspective of a person whose background involves understanding man-made objects, construction and practicality.
The artist is exploring a construction devoid of human intervention and offering a gaze that suggests the reason we are able to attribute aesthetic values to abstract art is because of the beauty that precedes it — not the other way around.

"When I share my photos with others, many exclaim 'Oh, that looks just like an abstract painting!'" says Pietrzak. "If Wassily Kandinsky or Clyfford Still didn't visit the shores of Upper Michigan, why do we associate their work with something that far predates it?"
In a different section of the Harrison Center, inside the eponymous main gallery, Elizabeth Smith also offered an opportunity to experience a place through the gaze of the artist with Tour de France. The exhibition consists of paintings and beaded sculptures the artist created in the span of two and a half years.
"I was traveling with my brother and I told him he could pick the place we were going to. He chose France," she says.  So Smith and her brother did an 18-day tour, and she loved it so much she went back three more times.
Walking into the gallery, the first thing a viewer notices is a giant beaded bicycle wheel, and then right after a large composition of paintings resembling the Isenheim Altarpiece — aka the Grünewald Altarpiece, created in the 16th century, that is on display at the Unterlinden Museum at Colmar, France.
The group of paintings is made up of radial designs and patterns collected from her experiences such as the fleur-de-lis, the Eiffel Tower, roosters and the North Rose Window from Notre Dame. A radial design matches the placement of Jesus' halo in the original work of art.

Other work in the gallery included more vibrant circular patterns referencing symbols sourced from cathedrals, flora and colors collected through her travels through France. Additionally, there were hanging strings of colorful beaded snowflake-looking pieces the size of the palm of a hand, a large Eiffel Tower installation on the wall assembled with metal and more beaded pieces, and a mixed media work where she combines the beaded sculptures with canvas and light to create "Paris: City of Lights."
The artist, who completed her MFA at Northern Illinois University in 1985, is for the first time seeing a connection between the beaded work she has invested 16 years exploring and her radial design paintings.
"I am trying to elevate something that people think of as craft to art," she says.
My other cold First Friday stop was over at 10th West Gallery, where the members of the Indy Collective assembled a relaxed temporary display of their work ahead of the opening of their "Intense Colors" exhibition on January 18.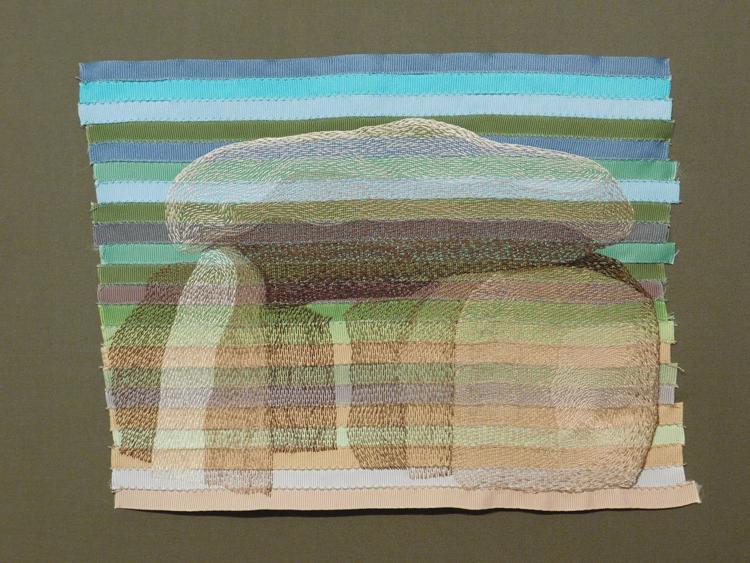 The addition of dynamically colorful embroidery on pierced grosgrain ribbons by Anne McKenzie Nickolson was a showstopper. Other gallery visitors stopped with me to soak and discuss in the movement conveyed by the needle work and the use of color.
Although Indy Collective artists have been working consistently and professionally for a long time in the city, it was exciting to see some of the artists show work outside of what they normally make, such as "Sink" by Cagney King from a series about ordinary objects that fortunate people often take for granted.
"Susan dug this one out for me and told me she wanted to show it this month," she says.
It was also exciting to see new work by Susan Brewer, whose typical work is paintings which involve a great deal of intuition and energy, this time employing the same strengths in small surrealist graphite drawings. This latest work came from an unfortunate change in lighting in her studio where a wall just outside her window was painted dark green.
"This is very intimate and different for me. I lost all of the gold reflected light," she says. "I took a moment to work through the darkness."