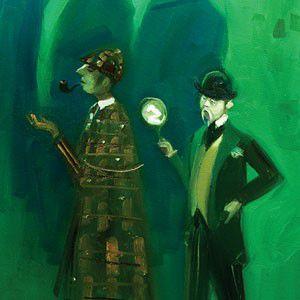 Friday, The Indiana Repertory Theatre revealed its 2018–2019 season, its 47th, to the media during a small marketing luncheon, which also included the (literal) unveiling of Kyle Ragsdale's lovely artistic interpretations of each show. This is the IRT's fifth year collaborating with Ragsdale, whose originals are auctioned at the IRT Radio Show fundraiser.
Related: A review of Kyle Ragsdale's INsignificant
The lineup is a diverse offering of challenging works and popular classics. The season consists of six productions as part of its subscription package and three special productions.
So now, let's see what the IRT has planned for its next season. (Note that the show descriptions have been provided by the IRT. I have not personally seen many of these plays produced.)
Here are the blurbs from the press release:
Holmes and Watson by Jeffrey Hatcher, Sept. 25–Oct. 21, 2018: a chilling mystery (part of subscription package)
Summoned to a remote asylum on a rocky island, Dr. Watson investigates three inmates who all claim to be the late master sleuth Sherlock Holmes. This eerie new puzzler by award-winning playwright Jeffrey Hatcher will stir your blood and tease your mind.
Pipeline by Dominique Morisseau, Oct. 16–Nov. 11, 2018: a searing drama (part of subscription package)
Nya's son, Omari, is tormented with rage and in trouble at school. A fractured family navigates a broken system as a mother fights for her son's future in a world divided by race, class, and money. Compassion and eloquence galvanize this gritty new work by one of America's most sought-after playwrights.
Lilly Presents Charles Dickens' A Christmas Carol  adapted by Tom Haas, Nov. 17–Dec. 26, 2018: an Indy holiday tradition
As the weather turns cold, warm your heart with Ebenezer Scrooge, Tiny Tim, and spirits of the past, present, and future. Filled with laughter and tears, A Christmas Carol celebrates the power of kindness and love in this uplifting tale of one man's journey to redemption.
Every Brilliant Thing by Duncan Macmillian with Jonny Donahoe, Jan. 8–Feb. 10, 2019: loss and laughter (part of subscription package)
What makes life worth living? The answers are both simple and profound in this one-of-a-kind off-Broadway hit. A theatrical experience like none other, this witty new play shines compassionate light into the dark corners of the human condition.
The Diary of Anne Frank by Frances Goodrich and Albert Hackett adapted by Wendy Kesselman, Jan. 25–Feb. 24, 2019: a courageous classic
In a world turned upside down by the Holocaust, Anne Frank held on to her faith in humanity. This story of resilience, optimism, and a young girl's extraordinary spirit transcends time and offers hope to today's world.
Elephant & Piggie's We Are in a Play! with script and lyrics by Mo Willems and music by Deborah Wicks La Puma, Feb. 23–March 24, 2019.
The author of the best-selling Elephant & Piggie books brings you a rollicking celebration of friendship and fun in a colorful musical for children 3- to 8-years-old and their families. With their backup trio the Squirelles, Gerald and Piggie sing, dance, and laugh their way through a day where anything can happen.
A Doll's House, Part 2 by Lucas Hnath, March 12–April 7, 2019 (part of subscription package)
Straight from Broadway, A Doll's House, Part 2 begins fifteen years after Nora left her husband and her children. As she returns to the place where she slammed the door on her past, long-kept secrets are split wide open. A scaldingly funny and deadly serious exploration of divorce, family, and lost love.
Amber Waves by IRT playwright-in-residence James Still, April 2–28, 2019 (part of subscription package)
Hard times mean hard decisions as an Indiana family faces the prospect of losing their farm. This small-town tale returns by popular demand, featuring music by Tim Grimm and Jason Wilbur, with generous helpings of courage, love, and humor.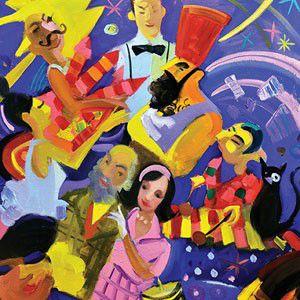 You Can't Take It with You by Moss Hart and George S. Kaufman, April 23–May 19, 2019 (part of subscription package)
Alice loves her eccentric family, but what if her fiancé's straight-laced parents don't feel the same way? Brimming with colorful characters, this Pulitzer Prize-winning farce with heart brings people together in a comedy classic that ignites fireworks of laughter!
Executive Artistic Director Janet Allen is by far most excited by A Doll's House Part 2 and Every Brilliant Thing, both of which are the season's edgiest shows. Getting the rights to A Doll's House Part 2 was quite the coup for the IRT. The show closed on Broadway in September of 2017, and since there won't be a touring show, the rights were opened to regional theaters. Allen assured us that if you haven't seen A Doll's House Part 1, that's OK because you will learn all the background you need during the first 10 minutes of Part 2. Allen referrers to how the "slammed door changed theater forever," in that the main character, Nora, defied convention and committed an act almost considered taboo in the Victorian era. In Part 2, we will see how those actions affected everyone.
Audiences might be familiar with Every Brilliant Thing because it was also an HBO film. While the subject matter may seem dark—Donahoe's character is compiling a list of things worth living for—the writing keeps the audience engaged. Quite literally. As Allen commented, it is "highly audience involving." So be prepared for some level of audience participation. The one-man show has been cast already: Marcus Truschinski will take the stage. Audiences may remember him from the IRT's production of The Mystery of Irma Vep: A Penny Dreadful in 2016, where he played opposite Rob Johansen. And when I say played, these two played. Irma Vep was hilarious, so I have faith in Truschinski's ability to pull this show off.
While You Can't Take It with You was writing in the 1930s when racial viewpoints were different than they are today, Allen said the theater will "expand" its view and "do it in a way that will be respectful to the play." This includes their approach to casting choices.
While some people may roll their eyes at yet another production of A Christmas Carol, Allen makes a good point regarding it, as well as Anne Frank and Elephant & Piggie. They are "gateway" productions. Carol is the IRT's best multi-generational production. It acts as both a family tradition and a way to introduce all ages to live theater. Anne Frank targets the teenage set by tying in with the students' curriculum and then bringing it to life. Elephant & Piggie is part of Exploring Stages, which is a program designed for ages 3-8. (Town Mouse and Country Mouse recently closed, but it was a joy to share the experience with my 8-year-old son).
When choosing the season, Allen said the process involves determining "the audience we want to make works for." The IRT sets out to serve audiences for a lifetime, so they ask, "Who are we serving with a particular show?" The season then reflects a combination of the new, the edgy, the classics, and the gateway productions.
Beginning on March 27, seated ticket packages can be purchased for the Signature Six Series. Go to irtlive.com for more information.
Lisa Gauthier Mitchison covers local theater at IndianapolisTheaterReviews.wordpress.com.