Among the friends David Hoppe corresponded with as an editor for NUVO during the early 2000s, was the Indianapolis-born Kurt Vonnegut. 
Like Vonnegut, Hoppe has a distinctive prose voice. You can check out his insightful and sometimes acerbic style in his book of collected columns from NUVO in Personal Indianapolis,Thirteen Years of Observing, Exhorting, and Satirizing the Hoosier Capital, released in 2014.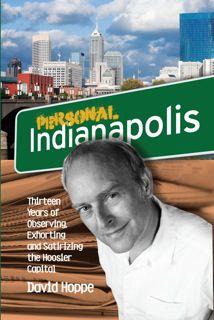 Hoppe also was a Creative Renewal Arts Fellowship recipient for 2005-06, a program that awards 40 Indy-area artists and arts administrators $10,000 to pursue their creative dreams. You might find this information particularly relevant now if you are interested in applying for the program. That is because the deadline for the 2019-20 fellowship, administered by the Arts Council of Indianapolis, is coming up August 16.
For the past six years, Hoppe and his wife, choreographer Melli Hoppe, have lived along the shore of Lake Michigan, adjacent to Michigan City. He has become a voice in the movement to keep beach access free and open to the public, and he is able to get down to Indianapolis often enough to keep tabs on the cultural scene in the city he loves. 
We spoke by phone on July 29.
NUVO: I'm interested in having you talk about your experience with the Creative Renewal Arts Fellowships, run by the Arts Council of Indianapolis, because there's still time for people to apply. Why don't you tell me about your experience with creative renewal and how it helped you?
DAVID HOPPE: I applied explicitly as a journalist and to do journalism. What I wanted was to write about the ways that different cities in Europe were treating what we in Indianapolis at the time were calling cultural tourism. So cultural tourism at the time, in Indy, you know, was a conversation point, as the city was trying to make itself more attractive to out-of-towners interested in cultural experience. And so it seemed to me that Europe has been a cultural tourism capital for about 500 years. People have been acting as cultural tourists in Europe since the Renaissance. And, you know, what I wanted to do was … go to places that were really interesting and rejuvenating for me. And that, I think, was the first criteria for the cultural tourism program.
They didn't want you to do a project. I don't know if that has changed. But the first time I applied, I had a real project in mind. And they turned me down because I was too sort of task-oriented or goal-oriented. And what was really great about the cultural tourism process was that they weren't really looking for concrete results. They were a lot more interested in encouraging those of us who received the fellowships to go out, and do something that we consider to be exciting, and possibly for its own sake. I did say that I would write pieces for NUVO as a result of my travels. And that is what I did. But it gave me a chance to go to some cities that I've been to previously and then to visit places that I had never been before. We were in Paris and London, but also in Bruges in Antwerp, and Amsterdam. And each one of those cities was engaged in different ways of making the most of their great cultural resources.
NUVO: And did that give you any insight into what was going on in Indianapolis, as far as trying to develop its tourism resources here?
HOPPE:  … It was a difficult comparison, insofar as those cities all had long histories. And the cultural resources of those cities were in many cases baked into the very fabric and character of those places. On the other hand, that very observation, you know, raised questions and challenges about Indianapolis, which was to say, OK, how does a comparatively young and middle-sized city wrap its arms around its own culture? And the answer to me was an embrace of the sense of place. And I think it was really important for Indianapolis to try and identify those things that were really unique to itself. Those things might not necessarily read immediately as cultural resources, as an anthropological or sociological resource, but nevertheless [they] play a big part in the local culture with a small c. And so I continue to think that really, the challenge for Indianapolis and indeed for the Midwest, in a more general regional sense is to try to continually articulate what it is that's different about this place, what it is that's distinctive, what it is that pushes back against stereotypes and cliches and attempt to find what's authentic and genuine.
NUVO: How do you think Indianapolis has been doing in that endeavor in the past 10 years, or since you've done your creative renewal?
HOPPE: I think it's probably a mixed bag. It seems to me that when we talk about culture, and creativity, we're really talking about ... regionalism, but we're also talking about something that is also inherently international scope. And so you really have to keep one eye on the local and one eye on the global simultaneously. That can be perplexing, to say the least, and disorienting. But I think largely, Indianapolis has done a pretty good job. I think you can see that, for instance, most vividly with regard to the culinary scene. I think that Indianapolis has done a great job making food probably the city's most engaging and vibrant art form. You know, young chefs in Indianapolis are really the art stars of the city to a very great extent. And what makes it particularly interesting is that the culinary scene, of course, is a for-profit scene. These are artists who are working without a net [or a] not-for-profit corporation ...  And in fact, [they are] doing a really great job of combining the local and the global in a lot of the ways in which they work. I think they probably serve as a great example to lots of other creative endeavors in the city.
NUVO: Since you left as arts editor for NUVO, there's been a profusion of alternative art spaces and a growing dominance of nonprofits in the art scene in Indianapolis, to an extent that was probably unimaginable 15 years ago. How do you feel about that?
HOPPE: Well, I think it's great ... the more the merrier. That's a really healthy sign. The question, though, in Indianapolis has always been not are there creative people, and not "Is there a lot of creative energy," but whether or not there would ever be a market for what people are doing. And I know ... really from the time we moved there, in the late '80s, all the way until we left, which is about six years ago, there were lots of creative startups. There was always a great gallery scene. But the complaint was always that people went to all these events, but they didn't buy anything. I don't know, maybe that has changed. But I don't think that's necessarily a situation that's unique to Indianapolis either.
NUVO: It seems that people are buying, in my opinion, maybe up to a certain price point. But above that price point it's very difficult.
HOPPE: I remember the artist Artur Silva complained to me once ... people were willing to go to restaurants and were willing to spend on a meal, what they could be spending on a work of art. The problem, of course, is that the meal is the work of art.
NUVO: How has moving to Michiana changed your perspective on Indianapolis, if it has at all?
HOPPE: Oh gosh, I don't think that it's changed my perspective. I mean, I get down to Indianapolis several times a year. I keep in touch with my friends there. And I am very impressed with the changes that I see with the city since we've left. The amount of growth and the evident prosperity of the city is really impressive. So I continue to be very fond of the place and continue to be a great fan. I want the best [for the city] for no other reason than because I think Indiana as a whole really needs Indianapolis. And I think that Indianapolis has a lot to share with the rest of the state, whether the state knows it or not. It's interesting now being where we are. I can look to my immediate west and find Chicago or I can work south and find Indianapolis. And living up here, of course, we're much more influenced, I would say, by what goes on in Chicago, which is a good thing. But at the same time, I find that in my dealings with creative folk up here, and with different types of institutions up here, bringing the Indianapolis perspective can be really useful. And people aren't nearly as aware, as I think they should be up here of the kinds of really interesting [things] from a creative standpoint that are going on.
NUVO: On the issue of gentrification and displacement: Is that something you saw during your tenure at NUVO as an arts editor? Is that something you looked at? Was it in the air?
HOPPE: I think it was beginning. ... There were some interesting ideas floated. ... One of the issues that we kept running across was that the city was just so eager for any kind of development to take place. And developers were considered heroes. … I remember going to a city council meeting, where that term was used to describe a project that was being proposed in Broad Ripple. But they were heroes ... doing this thing. And of course, at that time, there hadn't been a whole lot of money invested. Even in a neighborhood like Broad Ripple, one of the more successful, supposedly, neighborhoods in the city. There hadn't been a lot of outside investment in some time. So there was a real eagerness, it seems to me, to encourage development, no matter what. And sometimes, those issues overrode more complicated questions with regard to the quality of life in particular places, to the people who have been living in those places for substantial periods of time.
NUVO: Now you have a whole different problem with development — on the Michiana shore. Can you tell me a little bit about the area you live in? 
HOPPE: I live right outside Michigan City. I live about five miles from the Michigan border. So I'm on that crook of Lake Michigan, that falls in Indiana, but just barely outside Michigan. It's all basically dune country. I mean, it hasn't been dunes for a very long time because people have been living here for a very long time.
NUVO: You've written quite a bit about development controversies along the beach shore. Can you tell me a little bit about that?
HOPPE:  A lot of what I've written about really has to do with what happens when you have the kind of disproportionate wealth distribution that you have in the United States today, when you have a smaller and smaller percentage of people with more and more of the country's wealth in their hands, and what happens when that bumps up against small town government and the kind of passive-aggressive form of government on the state level that we see so often in a state like Indiana. What really sparked everything here with regard to the beach, and what would turn into a really kind of defining moment here, was the assertion by a private property owner of the beach, named Gunderson. This was about … nine years ago, actually, here's Gunderson's assertion that he as a beachfront property owner owned the land to the water's edge. And that he had the right to do anything on that stretch of beach that he wanted to, including closing it off to people, kicking people off the beach, etc. This was an attitude that had never really commonly been expressed in Long Beach, the town where this took place. For many, many years, I've been coming to Long Beach, because my grandparents had a cottage here since I was a little kid. So I can remember what life was like on the beach. It was a very narrow, laid-back, semi-bohemian community.
And, of course, the beach in those days was considerably larger than it is today. And as the lake [level] went up, beachfront property owners' proprietary sense of their claim on the beach also went up, as the beach got smaller. And they wanted to defend what they thought was theirs. 
The idea of privatizing stretches of beach really flew in the face of common usage here. So a grassroots organization called the Long Beach Community Alliance was created here among citizens of Long Beach,a town of about 1,500 people. This is a small town, and a large proportion of those 1,500 people do not live here all year round. So a lot of these folks formed the Long Beach Community Alliance and attempted to engage with the Gunderson family and with some of the other beachfront property owners who rallied around Gunderson to try and figure out if they could come to some kind of accommodation. Well, what they got instead was a lawsuit from Gunderson, basically suing the town of Long Beach for not protecting his private property.
One thing led to another, and the short version of the story is that the Long Beach Community Alliance wound up becoming allies with one of the oldest environmental groups in the state, Save The Dunes [which also allied with the Great Lakes Alliance], to basically defend the public's right to the beach, which really goes back to the founding of the state of Indiana, actually goes back even before that, to the founding of the republic of the United States, which basically set forth the coast of Lake Michigan as a public trust land. 
Different states have different rules and regulations about just how they govern, and what the jurisdiction is, with regard to the beaches, and there are also things called the riparian laws having to do with, you know, private property along inland lakes, but Lake Michigan is a special case. It's an inland sea, and it's been governed like one.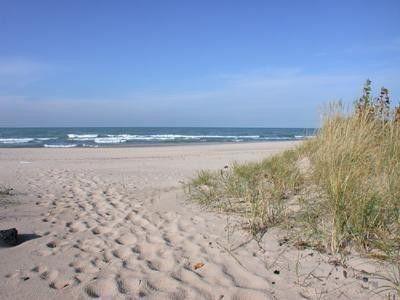 And the states along Lake Michigan all basically were entrusted with public trust with public lands for their coastlines. Indiana, as it turns out, has probably the most liberal approach to this situation as any of the states in the Great Lakes, because it declared that the Lake Michigan shore was a public trust, and that it belonged to the people of the state of Indiana. Unless there could be some public usage declared that would allow for some kind of change, people are not allowed to do anything along the shore.
This thing has gone through the courts, from local courts to state courts, to the state supreme court. Ultimately, the Gunderson trust took it to the U.S. Supreme Court, which refused to hear it and sent it back down because the Indiana Supreme Court - which as you know is a rather conservative [state] Supreme Court - voted unanimously that the beach is a public trust that cannot be privatized.
And so this has been a really interesting issue, not just from a social standpoint. It's divided this community to some extent. So the vast majority of members of our community support the idea of the beach as a public trust.
NUVO: You have a weekly newsletter, right?
HOPPE: Yeah, I've been doing this weekly blog for about the past 20 weeks now called Letter from Michiana, which is an attempt to simply observe and talk about a variety of experiences, issues ... and just other out-of-the-way things.
NUVO: And, obviously, one of the things is the situation on the beach. 
HOPPE:  It's become a platform that enables me to share some of my ideas about what's going on with regard to beach rights here. And those sort of ongoing controversies … over whether the beach is private property or a public trust for the people of Indiana.
NUVO: You're working on a memoir, right?
HOPPE: Yeah, I'm finishing up work on a memoir I'm hoping to bring out publicly within the next six months or so, within the year. It's about growing up in the Chicago suburbs between 1950 and 1964, a time that I think is underrepresented and under-analyzed. So I've been working on that really for the past several years. And finally I'm nearing the finish line. I've also ... written a couple of plays since we came up here. And one of them I'm hoping will be produced in the next year or two. And then that also, by the way, deals with beach issues.
NUVO: Tell me about how you became friends with Kurt Vonnegut.
HOPPE: Oh, gosh, that was shortly after coming to Indianapolis. I was working with the Indiana Humanities Council, and I was tasked with the job of creating a citywide Book Festival in Indianapolis. So It seemed to me the natural and proper thing to invite Kurt Vonnegut to be the keynoter for that event, since he was Indy's most famous son.
What I didn't realize at the time was that he had kind of a fraught relationship with the city. Not everybody was really crazy about Kurt Vonnegut coming to Indianapolis in those days. This was in 1991. So I thought I had a great idea, which was to invite both Kurt and his wife, Jill Krementz, to come as a duo. I thought maybe that didn't happen that often, that they'd welcome that opportunity. And sure enough, when I offered the invitation, they both accepted. 
So that was good news. And we proceeded with planning for the festival. And then about two weeks before the festival took place, I got a call from somebody saying, "Have you seen this morning's New York Times?" and I had not. So I went out and grabbed it. And sure enough, there was a story about how Kurt Vonnegut and Jill Krementz separated. They were breaking up. So my strategy had completely backfired. But they were both totally professional about it. They both honored their commitments to Indianapolis, but they were flying separately, and there would be separate accommodations. So I went to the airport and picked up Kurt. I had not read a whole lot of Kurt Vonnegut since I'd been in college.
I'd read one book: Cat's Cradle. But I knew a lot about Kurt Vonnegut, because he'd been kind of like cultural wallpaper throughout the '70s and '80s. So I was aware of him. I had the impression that he could be a pugnacious and irascible character at times. So I was just hoping when I went to pick him up at the airport that he would be easy to deal with.
So there he was. I picked him up, and we wound up spending the next three days together in a car driving from event to event in Indianapolis. And it was one long conversation. And during the course of that time, we became friends. And when he went back to New York, I asked if I could correspond with him. He graciously agreed. And we started the correspondence that lasted for the next 17 years and, you know, became dear friends. And he was really like a mentor. He read all of my stuff. We shared books with one another. He sent me artwork and called at all hours. It was marvelous. ... In many ways, I think it was Kurt Vonnegut that really pointed me toward writing nonfiction. Because he started reading my essays and was incredibly encouraging, which was such an invaluable gift for somebody like me.
NUVO: Some of that conversation you can track in NUVO, in your columns, right?
HOPPE: To a certain extent. Over the years, we involved Kurt in a variety of things at NUVO. In 1998, I started at NUVO. One of the first things we did was to create something called the NUVO Cultural Institute. And he asked a couple of writers — Kurt Vonnegut and Susan Neville — to write an original essay about Indiana ... And it became an essay called "On Being a Native Middle Westerner," which has been anthologized since it first appeared. 
He also did these graphic artworks called "confetti," which put aphorisms in a visual context. And he made those available ... one piece of confetti after another ran in NUVO ... for quite a while, over a period of months, as I recall. And that was going on right up until his passing in 2007. And there were a couple of occasions when he sent me speeches that he had given. And we ran the text of those talks in my column space. So Kurt also had a subscription to NUVO in New York. And so he was a constant reader and occasional contributor.
NUVO: What are your feelings now that there is a permanent space for the Kurt Vonnegut Museum and Library?
HOPPE:  I think it's terrific. I'm delighted that the campaign to secure the building there across from IUPUI has been successful. I think it's going to be a great asset to the city. I think it's going to be tremendous for the KVML because they're going to be able to really be much more ambitious with their programming and exhibitions. Its proximity to the university is great. I think it being downtown is even better. I think it's high time that Indianapolis had a real site, destination, around Kurt Vonnegut's legacy in the city, because his relation to the city was very important, not only because he grew up there, but because he references Indianapolis in so much of his writing. 
NUVO: You also have said that you think it's high time that African American poet and essayist Mari Evans has a similar type of spot.
HOPPE: Yes, by all means. Now that we've secured a destination for Kurt Vonnegut, I would love to see something similar with Mari Evans. I mean, I'm thrilled that she has a monumental mural off Massachusetts Avenue. That's certainly fitting, but her contribution to the city, and to literature and the arts, is really incalculable, and I think deserves to be memorialized in practical ways that can actually affect the community in an ongoing way.