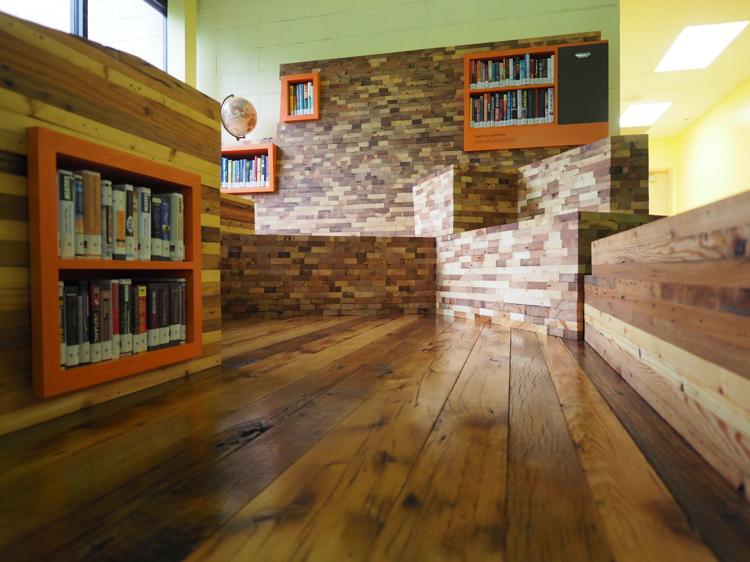 There's ample seating in the day room of Horizon House for the homeless clients ("neighbors" in Horizon House parlance) at 1033 E. Washington St. On any given weekday, the room is filled with neighbors engaging this nonprofit organization's services.
It's from the corner of this room that "Table of Contents" —  which functions as shelving for books, seating, and even a stage —  beckons with its smooth wood surfaces, inviting platforms, and books. Neighbors can read on "Table of Contents," recline on its surfaces, or listen to audiobooks at its listening stations. 
"Having the library here on site provides neighbors access to books and audio material and a relaxing place to sit and enjoy reading a book," says Horizon House Executive Director Teresa Wessel.  "Our neighbors see this special unit as a confirmation that people in our community care about them and their well-being."  
"Table of Contents" is a project enabled by The Public Collection, a nonprofit dedicated to improving literacy through increasing access of books through the placement of artist-designed book stations around Indianapolis. According to the Public Collection website, its mission is "to improve literacy, foster a deeper appreciation of the arts, and promote social and educational justice in our community."
Also on the Public Collection website, the creators of "Table of Contents" —  Stuart Hyatt, Janice Shimizu, and Joshua Coggeshall —  describe their work as inhabiting a space "somewhere between furniture and architecture." 
"It was a small group of artists who were invited to submit proposals and we won the mini-competition for this site," says Stuart Hyatt, an Indy-based multimedia artist and musician. "We felt very drawn to the community, to the neighborhood, and to Horizon House's mission."
The project, which began in the Fall 2014 was a collaborative one.  
"During the design proposal phase, we met with Horizon House staff, met with the neighbors and discussed visions for what might be needed in that space," says Janice Shimizu, who comprises one half of Shimizu + Coggeshall Architects. "So the proposal really came out in collaboration with neighbors and staff."
It was during these discussions that the project began to evolve from simply a place to hold books to a more flexible kind of space, which could also be used for seating, holding classes, or staging events. 
"We saw the project as being advocates for educational justice," said Shimizu. "Access to books — especially age-appropriate books —  is one of the largest obstacles in community literacy, especially in neighborhoods like the one where Horizon House is. And then that became an architectural idea about how could we make space for people in this project."
All the wood they used in the project was reclaimed. "There were these really beautiful variety of wood types that were then reprocessed," said Shimizu.  
Working with the reclaimed wood — often hardwoods from which nails had to be removed —  helped give "Table of Contents" a special character, according to Joshua Coggeshall. "We got to make something that didn't look like it came out of Lowe's, something unique," he says.  "Janice, Stuart, and I really have a deep interest in materials and how material goes along with the concept that's driving the project." 
They also employed seven neighbors as part of the project, who helped construct the piece.
"We're on the job site all day, covered in sawdust, totally sweaty," says Hyatt, "We get to go home but our collaborators might be going to a tent or to an underpass. That was what they were facing at the end of a long day."
They also came into contact with neighbors who have success stories to tell; a newly found job or permanent housing, with the help of Horizon House.