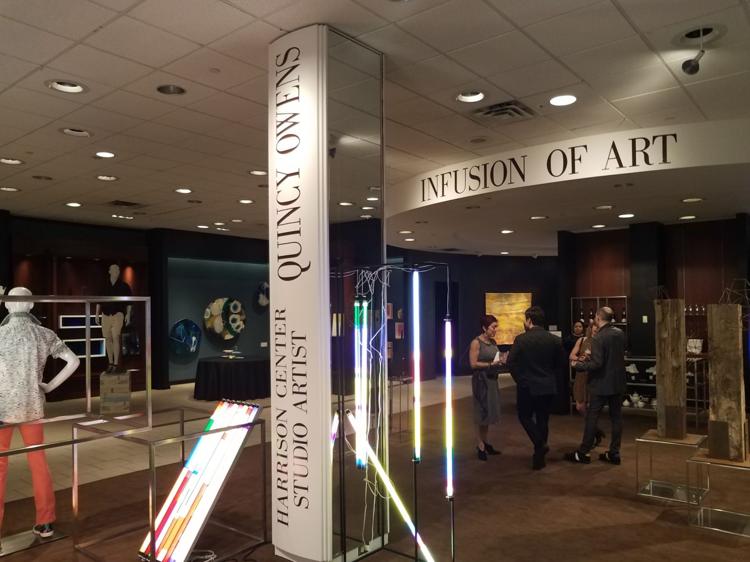 On Thursday, June 21, there's an reception for Carolyn Springer at Saks Fifth Avenue.
Yes, you read me right.  The Infusion of Art reception, free and open to the public, is at Saks Fifth Avenue, the high-end department store at Keystone at the Crossing.
Springer, a Harrison Center studio artist, will have her encaustic paintings on display.  She will also be on hand to talk about her work.
Back on March 21, I paid a visit to this new exhibition space on Saks' third floor.  Harrison Center studio artist Quincy Owens had some of his paintings on display but also sculptural work incorporating Saks mannequins and mixed media work involving fluorescent lighting.
There were dancers from the Indianapolis Ballet on hand (not dancing, just imbibing and socializing.)
There was also a stylist on hand, off to the side, dabbing a woman's face with Tom Ford makeup.
Hors d'oeuvres and drinks were available for purchase at the free event.
I asked Saks' Jim Longfellow what was going on.   
"We wanted to do something along the lines of promoting the arts and fashion together so we came up with our third Thursday theme," said Longfellow. "Hopefully it will become like every third Thursday, people will go to Saks see the next up and coming artist, see what the new fashion trends are. And then we're open to partnering with anybody, any artists. We've got a partnership with the Harrison Center."
Owens said that he appreciated the opportunity to show work in this venue and meet with Saks staff in order to come up with ideas for an exhibition.
"The real treasure for me in this other than the challenge of trying to activate the space and make it look like art belongs here was meeting with the retail designer René Garcia," says Owens. "So you go into his playground and they have all of these kinds of retail accouterments that I would consider sculptures already. 'm always looking for interesting ways to collaborate with people of different backgrounds."