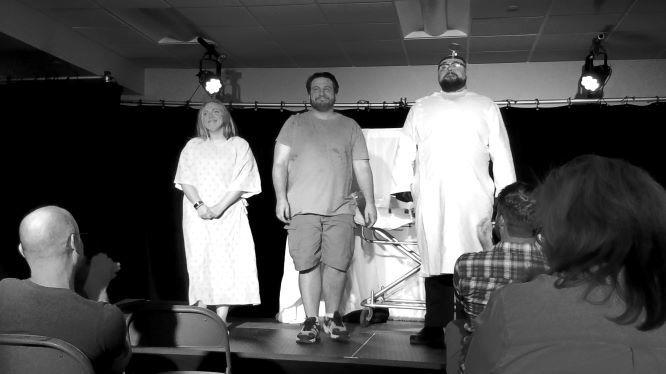 When tough cookie of a news editor Veronica finds herself laid up in the hospital with an injured foot, she somehow finds herself in the care of a German-accented doctor with a love for Lithium, Thorazine, and Mahler's Kindertotenlieder. The medicine that the doctor gives Veronica (Abbie Wright) puts her into a deep sleep as she's lying in bed looking through the works of William Shakespeare.
The doctor, played by show creator Tristan Ross, is not the type of man she would ever want in her dreams. He, nevertheless, enters her subconscious as the "Catheter Cowboy," which is also the title of a musical number. This is, after all, a musical where all the characters sing—even the puppet. (But we'll get to that.)  
The doctor, it must be said, is something of a natural in employing a catheter as a whip. Does that sound weird? Well you ain't seen nothin' yet pardner, because this production soon takes an even deeper dive into absurdity.
That is, when our heroine wakes up, she meets the Spanish roundworm, Gus, poking out of her foot.  (He is portrayed by puppeteer Dane Rogers who also sings Gus's musical numbers.) 
Gus proceeds to drives Veronica to the brink of orgasm with his pronunciation of "et cetera." You can see how such a sophisticated sentient being (no matter how slimy) employing Shakespearean wit as foreplay—with a solid command of A.P. style—might become this newspaper editor's Don Juan. 
But, alas, the essential conflict of this story reveals itself.
'"I am your lover, but also your parasite," he says in a voice that seems borrowed from Antonio Banderas. Will the doctor remove said parasite and toss him in the incinerator? Will our roundworm hero get our heroin off before she he gets off? And what exactly are they doing underneath the sheets?     
If hysterically funny musical theater gets you off, you're not going to want to miss this one.