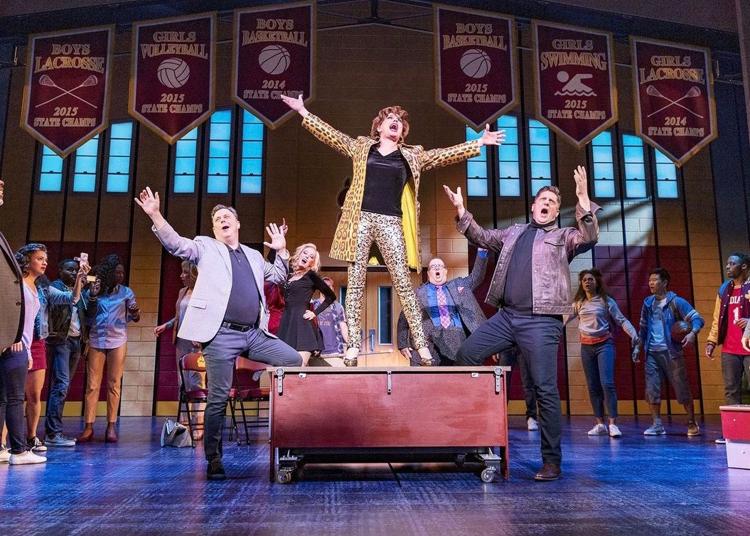 Jason Robert Brown's 13 involved a big-city kid who, just before his bar mitzvah, gets uprooted to (horrors!) Hoosierland. And, while not set here, The Music Man famously put Gary, Indiana, to music.
But, to my knowledge, The Prom is the first Broadway musical to administer such direct-hit lines as "Note to self: Don't be gay in Indiana" and where a homophobic parent announces to outsiders, "This is not America. This is Indiana."
At this point, I should mention that The Prom, which opened Nov. 15 at New York's Longacre Theatre—and which I saw during its preview period—is tuneful, hilarious, touching, empowering and generally delightful.
You may not have heard of it yet because, unlike most of what makes it to Broadway these days, The Prom isn't based on an existing movie, doesn't come with a pop-hit-packed score, and isn't toplined by name-recognition stars. It's going to have an uphill battle in a world where Pretty Woman: The Musical has proven a hit and where King Kong (see below) is an obvious attention-getter.
But I'm rooting for it.
Here's the story: A group of self-centered Broadway types—egotistical diva, hapless leading man, clueless Julliard-grad waiter, and Chicago stuck-in-the-chorus gal—decide, in an effort to boost their public images, to champion a cause.
Their Twitter-inspired choice: A high schooler in, you guessed it, Indiana. Young Emma intended on taking her girlfriend to the prom. However, the PTA president, hostile to such same-sex partnering, had the event cancelled. (It's loosely based on a 2010 incident in Mississippi.)
While the interlopers—Brooks Ashmanskas, Beth Leavel (you may recall her from the ISO's Hairspray concert), Christopher Sieber (looking much taller than he did as Lord Farquad in Shrek), and Angie Schworer—all offer comedic gold, the heart of the show belongs to Caitlin Kinnunen, who brings an awkward, spotlight-averse charm to Emma. The opposite of the outsider attention-seekers, she'd be perfectly happy being left alone—if only she could be with the person she loves.
The proceedings are kept buoyant thanks to a smart script by Bob Martin (whose credits include The Drousy Chaperone and the outstanding TV series "Slings and Arrows") and Chad Beguelin. The score may not be a breakthrough one for the team of Beguelin and Matthew Sklar (The Wedding Singer and soon opening at Beef & Boards, Elf), but it's got some charmers in it that I look forward to hearing again once an original cast album is recorded. Keep an ear out for Emma's gentle second-act song, Unruly Heart. I wasn't crying. You were crying.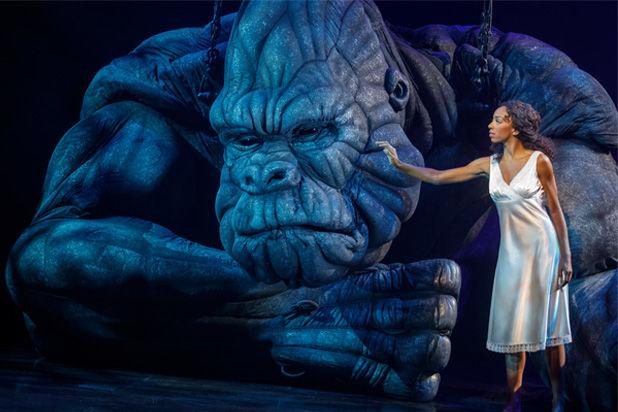 I had no such emotional reaction to King Kong, the big-budget would-be blockbuster that also recently opened on Broadway—although I remain in awe of its technical achievement in bringing the big guy of the title to life on stage.
Other musicals have effectively faced the challenge of the "we know what's going to happen" ending. There was no surprise that the Declaration would be signed at the climax of 1776, that Alexander would be shot at the end of Hamilton or that the boat would go down in Titanic. What those shows, did, though, was create characters to care about. Kong doesn't quite get there, although an effort has been made to solve some of the dated issues of the original.
Here, Ann Darrow, the heroine, is far from just a reactive screamer. Having her played by an African American actress (Christiani Pitts) gives her an even deeper underdog status and, combined with the elimination of human inhabitants from Skull Island, reduces racial uncomfortableness. The lame love interest is also axed.
What's left? An attention-getting opening built around the construction of the Empire State Building, a terrific entrance for the title gorilla, and some amazing puppetwork from the folks who did the Walking With Dinosaurs arena shows.
The superior effects are padded with songs that tend to be forced and obvious, including a show-closer that offers a poor example of the "Here's-What-I-Learned" song. (Note to composers: Give a listen to The Color Purple to hear how it's done.) Of course, it's helpful if you've come to care about the characters when you get to that point.
The most telling example of what keeps greatness away from this Kong: On the evening I saw it, when the big guy took his fateful plunge, an audience that should have been emotionally caught up in his tragedy instead applauded the stagecraft.
While the aforementioned two shows featured original scores, much of contemporary Broadway is built from existing music catalogs. Among them is Head Over Heels, a newcomer with music by The Go-Go's.
Unlike Jersey Boys and Beautiful: The Carol King Musical, Head Over Heels isn't a musical biography. Instead, in the Mamma Mia! mold, it grafts the tunes into an unrelated story. In this case, it's an updated take on a 16th-century fantasy.
In short, the shepherd Musidorus disguises as an Amazon in order to be near his royal lady love, Princess Philoclea. His drag sparks the interest of her philandering papa. Meanwhile, elder sister Princess Pamela—who must, of course, be wed before her sibling—ditches suitor after suitor before realizing she has other interests, specifically, her handmaiden. And then there's Pythio, the oracle who identifies as nonbinary plural (and is played by Peppermint, credited as the first transgender woman in a principal Broadway role).
The result is a pleasant diversion, upgraded by its celebratory spirit of non-traditional relationships. Whatever its fortunes on Broadway, expect the combination of progressive thinking, pop music, and period costumes to generate many a future college production. And if the show can survive, listen up for some serious belting on the Tony Awards from Broadway first-timer Bonnie Milligan.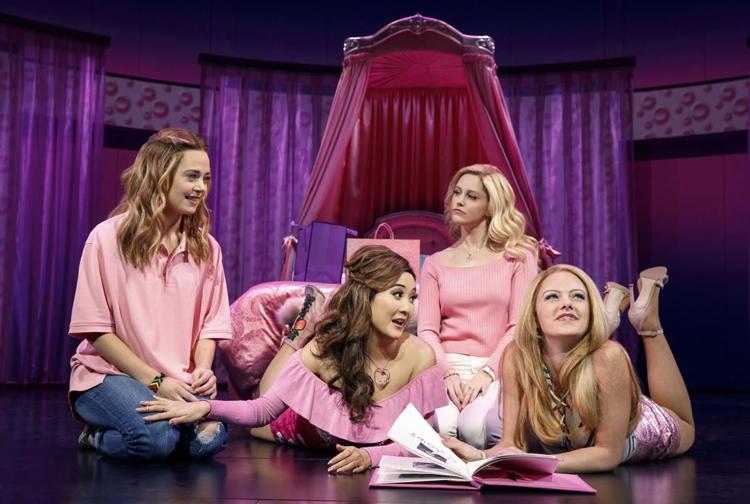 Quick takes:
Mean Girls is packed with earwig songs (Whose House is This? Revenge Party, and the rousing I'd Rather Be Me), snappy lines, and a cast in which nobody looks within a half-dozen years of high school. As perhaps the only person in the theater who hadn't seen the film, I can't make comparisons. But for this Mean Girls virgin, the overpacked plotting often got in the way of its many pleasures.
Last year's Tony-winning Best Musical Revival, Once on this Island, has been given a glorious production at my favorite Broadway theater, Circle in the Square. The magical scenic and costume design—and up-close-and-personal performances—elevate the strong score/fair book Caribbean-set fairy tale. Regret: I was about two weeks early and did not see Pike Township's Allan K. Washington take over one of the supporting parts.
I paid a revisit to The Band's Visit, which won the Tony for Best Musical last season. I'm happy to report that the subtle, gentle, deeply humane show about a stranded-in-Israel Egyptian military band is as warm-tear-inducing as it was when it opened a year ago. On the road and in regional theaters, its pleasures will be more difficult to reproduce than those of Come From Away, about the passengers and crew of rerouted 9/11 planes and the Canadians who took them in. That unexpected hit musical, with its people-next-store characters and healing spirit should have a strong life on the road and in regionals.