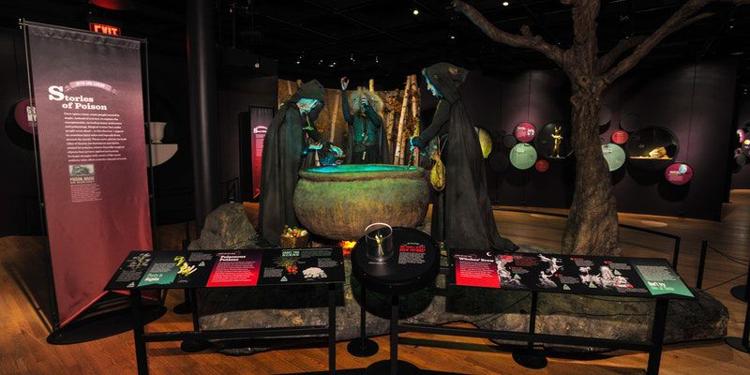 Poison. What's your reaction? How do you know what's poisonous?
Right off the bat, in this new exhibit, you're thrust into the Chocó forest in Columbia, South America. You meet a grouping of golden colored frogs. Ah, the Midas urge — pick one up, possess it; actually, don't, please, because poison is poisonous. Don't go into forests without knowing the what-all.
I spent almost an hour in this almost-true-to-life wet forest experiencing amazing details about animal, insect and plant self-defense. I learned about tribal warfare, and how science culls all this death-by-poison for defenses against fatality. The exhibition teaches patrons how self-defense evolves through generations and how survival of the fittest fits in.
Another section of the exhibition sucks you into literature and poison. Watch your back. Seriously. The witches of Macbeth are eager to beguile. That shiny red apple might be yummy but you'd better remember Snow White. What makes Sherlock Holmes a super-sleuth, Agatha Christie a best-selling author and Harry Potter an aficionado of potions, poisons and plants? You can find yourself engrossed in an enchanted book here, undergoing the trials of Hercules, feeling the wrath of Medea.
You can get involved in the art of detection, the birth of modern forensics, learn about solving real murder cases, sitting on a jury. Figure out what killed your neighbor's dog, a famous British captain, a barred owl. Exactly how did Cleopatra die? Is Shakespeare's version accurate? Is it a spoonful of sugar or arsenic? Look alikes can do you in.
Learn about poison for doing good. Poisons can harm, but some can be powerful medicines, we learn in the closing section. But how much is just right? Follow along the path of cures—a case study of trial and error.
Plan a longish time slot to experience the nuances of The Power of Poison, which was organized by the American Museum of Natural History in New York City.
Come back for several visits that could include some time at "Science at Play," an interactive exhibit across the hallway, up until Jan. 15, 2018.