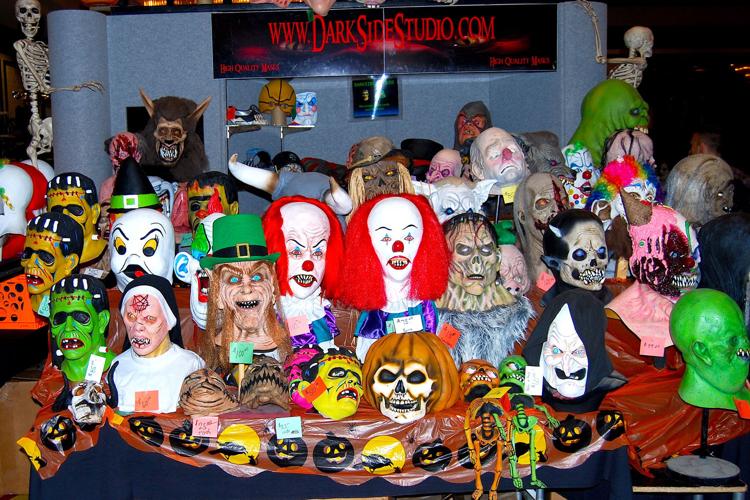 Boo.
Oh, sorry, did we scare you?
Do you like how you feel now?
Heart ticking
Muscles tensed
Those teeny hairs on the back of your neck standing straight up. 
If you do enjoy that rise in adrenaline, that innate sense of fear, then it's high time to head to Indy's most horrific annual convention, HorrorHound Weekend, which runs screaming into town Friday through Sunday at Marriott Indianapolis East. 
HorrorHound, a bi-monthly horror magazine and convention organizer, has brought the world of horror films to Indianapolis for a decade and during the tenth anniversary, they are making sure it's scarier and more fun than ever before. 
"This year you'll see stuff from Friday the 13th [Part II], Buffy the Vampire Slayer and The Goonies," says Andrew Risch, one of the convention's organizers. By "stuff" Risch means cast members — the biggest highlight of the convention. 
"We bring a lot of celebrities in that the guests love and we try to do some reunions," says Risch, who has attended the event every year since the inception and this year is finally working behind the scenes. 
The reunions this year include Goonies actors Sean Astin, Corey Feldman and Jonathan Ke Huy Quan, all attending. Buffy fans will be able to meet with Xander, Spike and Drusilla. And eight Camp Crystal Lake campers and counselors will round out the over 30 celebrity appearances over the weekend. 
Other celebrity guests include Nestor Carbonell and Max Thieriot from Bates Motel; the Species creature herself Natasha Henstridge; five of The Lost Boys; and everyone's favorite '90s witch, Fairuza Balk. 
Risch says the celebrity guests have always been the highlight of the convention for fans. 
"You see someone you've admired for a long time and just get that chance to talk to them for a little bit. You get a picture with them and share your love of the genre," he says. 
He also says one of his favorite memories of the fest as a guest was meeting one of the most well-known horror figures of all time, "The big man, Freddy Krueger, Robert Englund himself. He was one of those who was just a really nice guy."
Risch says Englund gave fans an experience that you may get to have the chance to have with one or more of this year's celebrity guests: "Despite the long lines he had at the convention all weekend long, he actually took his time to talk with every fan. We would've liked to get more fans through to meet him, but that was a cool thing to see him take his time just to speak with everyone and to give them a good experience."
While the celebrities are definitely the benchmark of the convention, the fest also includes many vendors offering various horror film memorabilia and collectibles for fans. 
"This year also has the return of a very popular convention within a convention," says Risch. "We do the Mask-Fest, where it's a lot of companies and people that do a lot of Halloween and other types of collectors masks, as well as Halloween props. We've had several guests from Face Off and shows like that come to our conventions, too." 
This year's Mask-Fest promises to have some of the industry's top mask makers, effects creators and make-up artists. Among the dozens of special effects artists showing off their work, a few standouts include Jordu Schell, who has done work on films like Avatar, Hellboy, Edward Scissorhands and Alien: Resurrection; the wickedly talented Mikey Rotella, who's worked on nearly 40 films, most recently Kong: Skull Island, Independence Day: Resurgence, and the soon-to-release remake of Stephen King's It; and "The Godfather of Gore," Tom Savini, who is known for basically pushing the special makeup effects world to what it is today with his groundbreaking work in classic films like Friday the 13th, Dawn of the Dead, Creepshow and Day of the Dead. 
Risch also points out an exciting addition this year corresponds with Rotella's upcoming film.
"This year we're going to be doing a big giveaway," he says. "The same weekend as HorrorHound, the It remake comes out so we're going to be embracing that and having a big party on Friday night for It. We will be giving away lots of passes and memorabilia, we've been working with the studio with that. We're really going full-on with that. We will be having that after-party where fans are encouraged to dress up as clowns."
The party will also include something that, according to Risch, has been requested by attendees for years: SCAREoke, a.k.a. horror-themed karaoke. Attendees can also join in the daily panels, including all of the reunion casts as well as a panel with The Ice Cream Man, Clint Howard, and modern film and television panels including stars from The Strangers and Sons of Anarchy. 
There is also the yearly kid's costume contest on Saturday, followed by The Costume Ball. This year's ball, as in years past, will feature a costume contest and live music. "The horror music scene is something we're including, we'll be having a concert on Saturday night with The Stellar Corpses, which is a horror punk band." The concert also includes music from G Tom Mac and Tim Capello who starred in The Lost Boys and a special-presentation from Mask-Fest.
"We love Indianapolis," Risch says. "It's where our first show started and this is our tenth year anniversary. We really would love to have this be a big show to celebrate our ten years and we look forward to continuing this tradition."