Gather friends, don walking shoes, join Amy Beers on a guided tour, or create your own adventure with "The Red Line Brewery Guide" in hand.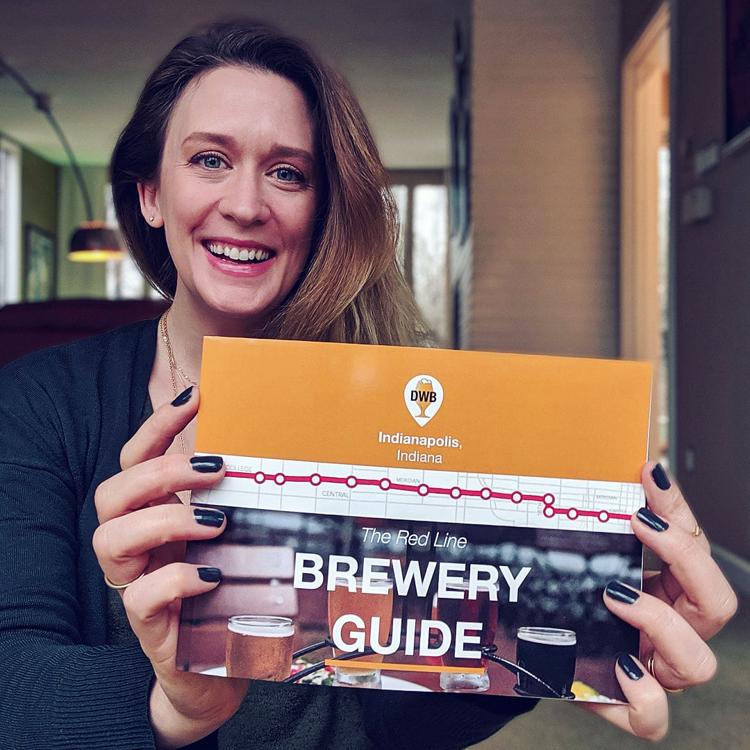 Newly published, the print edition is fine on its own, or it can be paired with the downloadable "Drinking with Beers App" that keeps current with openings and closings and special events.
The sprightly format, awash with color photographs, takes you to seven neighborhoods for a day of exploring breweries, brewpubs, taprooms and craft bars while equally paying attention to each location's built and natural environments. You also can zero in on Amy's top ten breweries for an in-depth experience at one location.
The Red Line neighborhoods, north to south, include: Broad Ripple Village, South Broad Ripple, Fall Creek Place, Downtown Indianapolis & Market East, Fletcher Place, Fountain Square, and South Indy.
The top ten breweries offer specials you can clip and redeem; see pages 125-126 of the book. Adding up the benefits, you earn back the $25.00 book purchase. Available through amybeers@drinkingwithbeers.com, 317-782-5670, o Amazon, and at a local bookshop near you.
Amy foresees all the aspects for a happy experience. Start with page one and follow the guide to the close of the book featuring "a brief guide to tasting beers" and "tips to avoid a hangover." And there are pages at the back of the book to keep track of where you've been, the beers you sampled, and your general impressions of the location and the experience. The book easily fits into a purse or a backpack; the paper quality allows you to wipe off spills.
Amy's 2020 walking tour season starts March 28.
"I'm doing a "kick-off" event that Saturday in partnership with Old Churches Indy. We're planning a Beer and Religion Tour with 10% of the proceeds benefiting the Indianapolis Landmark's Sacred Places initiative," said Amy. The tour will be a mix of local breweries and tours of historic churches with a theme on beer's role in religion. Watch for more details on Amy's website, as the date approaches."
The Indy Beer Mile in Mass Ave is "Drinking with Beers" original and most popular tour. "It's a European-inspired drinking adventure where each stop represents a different country: St. Joseph's Brewery (Belgium), Rathskeller (Germany), MacNiven's (Scotland), and Nine Irish Brothers (Ireland)," said Amy, adding, "I give a little history on each stop and talk about the beer from that country. Beer and food is included. The beer is a mix of local and imports. All beer is preselected and I walk guests through a tasting. It is a walking tour and a great way to get to know the neighborhood."
The Indy Beer Mile tour is available Thursday-Sunday starting at noon and goes until about 3:30/4:00 p.m. Tickets purchased in advance at www.drinkingwithbeers.com includes beer, food, an expert guide, and a souvenir photo.
"I'm currently working on adding another tour option. Most likely, it will be in Fountain Square with a similar format," said Amy. "I've also launched an app that is in beta mode."
Learn more here:
(317) 782-5670
Website / Facebook / Instagram

https://www.amazon.com/Red-Line-Brewery-Guide/dp/170283543X/ref=mp_s_a_1_fkmr1_1?keywords=redline+brewery+guide+indianapolis&qid=1580155890&sr=8-1-fkmr1