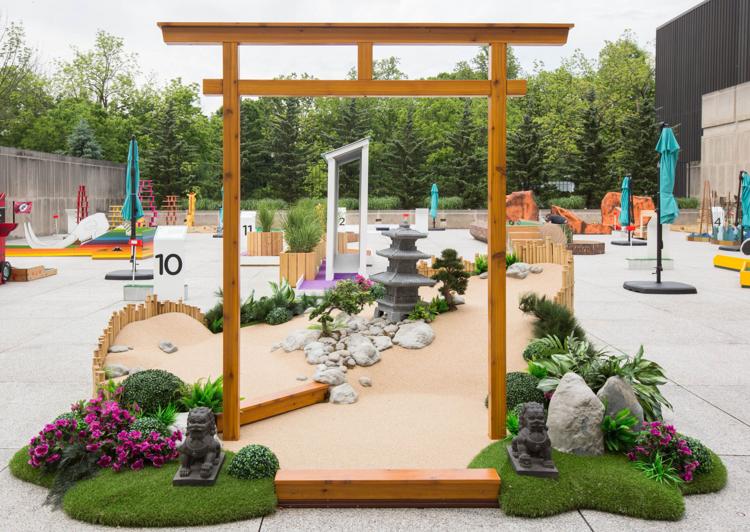 As I'm led through the Indianapolis Museum of Art towards the newly-opened Mini Golf at the IMA exhibition, I pass by Robert Indiana's famous LOVE sculpture, now on display inside the IMA galleries. "Better enjoy this love while it lasts," I jokingly say to Brad, my competition for the day. 
The mini golf exhibition debuted at the IMA last summer, bringing thousands of putt-putt loving Hoosiers to the IMA grounds. And it returns this year with 15 new artist-designed holes, a new theme —"Natural World" — and new amenities like beverage holders and shade platforms. 
More than 60 artists submitted hole designs for this year's course, said Jeremy Shubrook, IMA's director of festivals, performance and public programs. A board whittled that number down to 15 by selecting holes that fit several criteria like playability and how relevant it was to the theme. Shubrook and his team made sure artists stuck to original plan by making regular check ups throughout the building process. The end result is a course that is strikingly beautiful, deceivingly difficult and educational. 
With each hole's design inspired by nature in one form or another, the course goes hand in hand with other exhibitions around the IMA campus. Guests will be able to putt through a giant honey bee in the "To Bee or Not to Bee" hole, take a tour of Africa's unique wildlife in "Putting Around Africa" and intentionally hit the water hazard in "White River Putt." Every hole throughout the course has an information board before you putt so guests can read up on the artist and their inspiration for the hole's design. And when it comes to design, Kevin Bielicki's "Stroll Gardens" hole was easily my favorite in this year's course. Bielicki produced a miniature Japanese Zen Garden, which will definitely help you calm down if the first half of the course didn't play in your favor. The intricacies Bielicki was able to include in the hole's design stood out to me as soon as I walked up to it. 
While one might think the course is easy because of its artistic design, it's quite the opposite. Holes are designed to test your skill and they force you to make strategic decisions throughout. There were several instances where I imitated Happy Gilmore and came seconds from throwing my putter. Pro tip: don't throw your putter. 
As we finished our round and totaled our scores, realization sunk in that my score wasn't good enough for the IMA's leaderboard. I did get the better of Brad this time around, although I guarantee he'll want to return to exact his revenge some time before the exhibition closes on September 4.