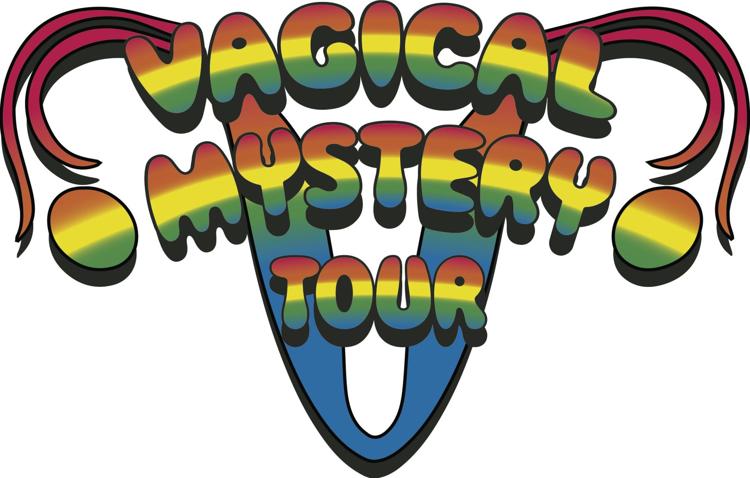 Although no vote was taken on the U.S. Senate's healthcare reform bill June 27, a delay doesn't mean it's over. To help you cope with the ongoing uncertainty about the future of the U.S. healthcare system, the Lady Parts Justice League's Vagical Mystery Tour, featuring "a coven of hilarious badass feminists who use humor and pop culture to expose the haters fighting against reproductive rights," is waiting to take you away. 
It's no mistake that this tour, organized by one of the creators of The Daily Show, Lizz Winstead, has a similar name to The Beatles' iconic film and album celebrating its 50th anniversary in 2017. Make your own conclusions about any connections.
The Vagical Mystery Tour will make a stop in Indianapolis on July 6 at The Hi-Fi. The show will feature actress and comic Maysoon Zayid, founder of The Muslim Funny Fest, who had the most popular TED Talk of 2014: "I got 99 problems… palsy is just one"; Joyelle Johnson of Night Train with Wyatt Cenac on SeeSo and a regular at the Comedy Cellar; and Buzz Off, Lucille, an all-women sketch team that performs at Upright Citizens Brigade in New York City.
"By showing up and growing the resistance, it shows politicians there is a price to pay for going against the will of the people. We are trying to create that around reproductive rights by growing activist bases during our tour," says Winstead.
At the show, there will be tables with temporary tattoos, a Girl Scout-style activism badge, and "thank you" cards for service providers. The comics will entertain the crowd, and Winstead will lead a discussion featuring Wanda Savala, Public Affairs Manager of Planned Parenthood of Indiana and Kentucky (PPINK), and Forest Beeley, Director of Surgical Services for PPINK.
"Laughter builds community," says Savala. "The fight to defend access to health care — reproductive or otherwise — takes an emotional toll on those of us on the front lines. We deserve to laugh with our friends, peers and colleagues just as much as we deserve to have our voices heard by those threatening access to health care."
"The Senate ACA repeal/'defund' Planned Parenthood bill is delayed — not dead," she adds. "So keep the pressure on. We need everyone to continue raising their voices whether our elected officials are home for recess or back in Washington to continue debate about this bill. … Turn your posts on Facebook into letters to the editor in your local paper. Elected officials pay attention to what's published and it is an excellent forum to have your voice heard. If you have been to Planned Parenthood, consider sharing your story with us: HumansofPPINK.com."​
Winstead was inspired to start Lady Parts Justice League when she learned that Congress, which included then-U.S. Representative Mike Pence (R-IN), sought to defund Planned Parenthood, national parks, and public broadcasting. "It made me think, 'Are they performing abortions on 'Car Talk' in Yosemite?'" The organization also brings attention to the myriad ways reproductive rights are being slashed by state legislators, including Indiana laws like SEA 404, which would require parents to have a say at judicial hearings when minors seek judicial approval for abortions without parental consent. (The ACLU won a preliminary injunction blocking those restrictions on June 28.)
"I often say I felt like an anger fluffer," she says of her work as a writer for news programs. "I would get people riled up, but it was also a source of frustration. You can be funny and have an opinion, but you can't cross into that activism lane."
However, with Lady Parts Justice League, "I can bring people into a room and guide the folks in the community providing services to talk about their work." Winstead and her crew volunteer at clinics and ask clinicians what they need, whether it's gardening, interpreters, or someone to fix a leaky roof because local business owners are afraid they'll have protestors for helping an abortion clinic.
"People forget they can bring their own set of skills to anything," she says. "Clinics might need websites designed, pamphlets printed, or you can even make cupcakes or take them out for dinner or drinks," she says. In other words, "Easy shit you can do that doesn't seem like activism that you can fit into your busy life to help to shatter the abortion stigma."
"I've heard as a result of shows, 'I got a new nurse,' 'Someone in your show signed up to be a clinician,' 'I have 40 new volunteers,'" says Winstead. "My life hasn't changed but focus has. I'm still doing standup and videos and political satire, but I'm doing it with badass women and gender-nonconforming people."