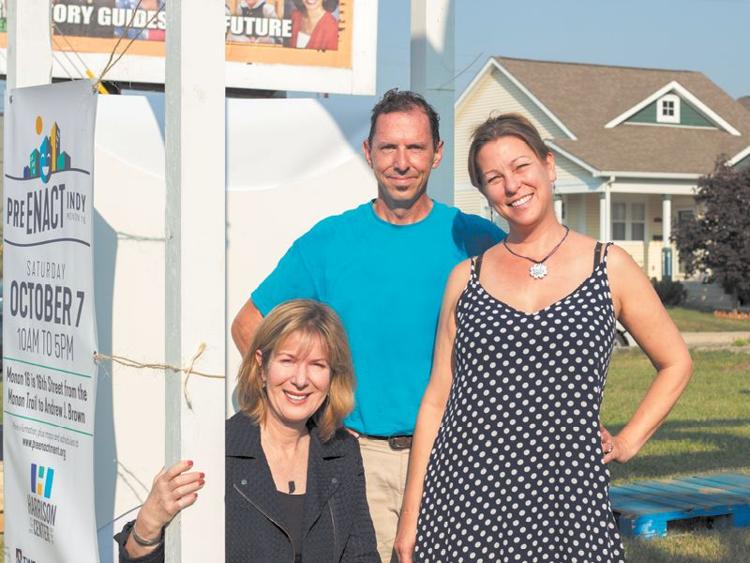 I talked to Joanna Beatty Taft, the Executive Director at the Harrison Center for the Arts on the evening of Friday, Feb. 2, at the opening of Quantum Leap. 
This First Friday opening featured the mixed media sculptures of Owens + Crawley and five other art exhibits scattered throughout the sprawling center.
But Taft had news that had much less to do with the current exhibitions than an innovative theater festival that she spearheaded on October 7, 2017 called PreEnact Indy which took up three whole blocks of an underserved neighborhood adjacent to the Harrison Center.  
"We're officially setting the date for Oct. 6, 2018 for a second Pre-Enact Indy in Monon 16," she said.  "Next City ran an article about PreEnact Indy and the response was amazing across the nation. We knew that we were doing something important for our city, for our neighborhoods. But I think we're doing something important for our country too."
Sapphire Theatre, she said, will be directing the programming during the festival.
"And we'll have some wonderful surprises that will come around, things that we've learned and things that the community's asking for," she continued.
Back in September 2017, Bonnie Mill, Sapphire Theatre's artistic director, described the goals of PreEnact.
"The idea is to create an ideal Saturday," she said. "The neighborhood and the community and the organizations have come up with this plan of things that people would love to have."
More First Friday Highlights to come.