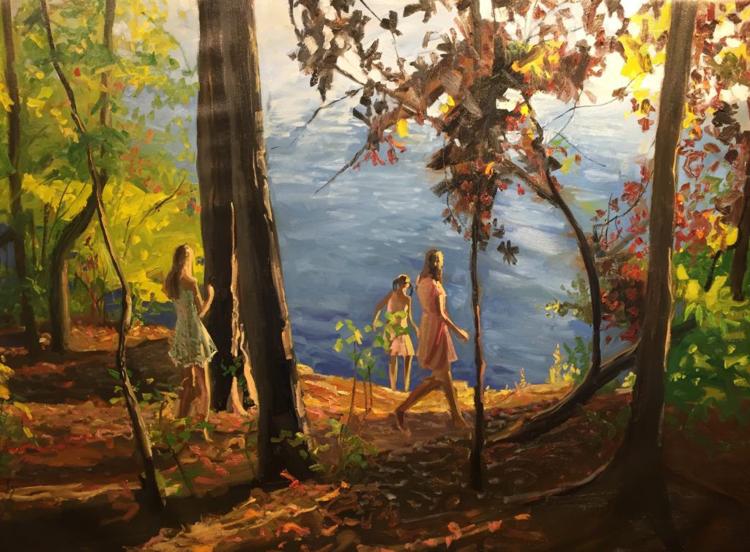 The exhibition at the Harrison Center that opened on Friday, Nov. 3 was entitled "Other People's Children" by Kyle Ragsdale. But this show was also something of a child of the nonprofit art center, where Ragsdale has been curator since 2002 — as well as a studio artist —  and where he has an annual show each year.
On the many large canvases throughout the Harrison Gallery, you could see Ragsdale's various influences duking it out with each other. You could see the influence of the plein air work of his fellow Harrison Center painters Justin Vining and Nathan Foxton, who have set their easels just about everywhere in and around Downtown Indy. 
Ragsdale has also acknowledged the influence of his graduate school professor John Alexander, who liked to paint "thick and rough" as he describes in a recent Harrison Center blog interview. 
Thus in some of these lushly colorful oil paintings you can see thick dabs of oil paint like frozen waves on the surface of the canvases. But he is also painting people in landscapes, landscapes that just might be familiar to Indy residents. In this case the subjects are other people's children, often children of his friends, photographed with an iPhone.  
There is a particular poignancy to this show, considering its subject, if you happen to know that Ragsdale has reached the age of 50 without having children, and that he has pondered this fact and what it means to him, as he explains in his afore-linked Harrison Center interview.
I've written before about the mixed way how I feel about Ragsdale's aesthetic approach in previous reviews. I certainly have seen a lot of his paintings, visiting the Harrison Center on a monthly basis for the past 10 years. Occasionally his paintings will creep up from behind and surprise me with their beauty.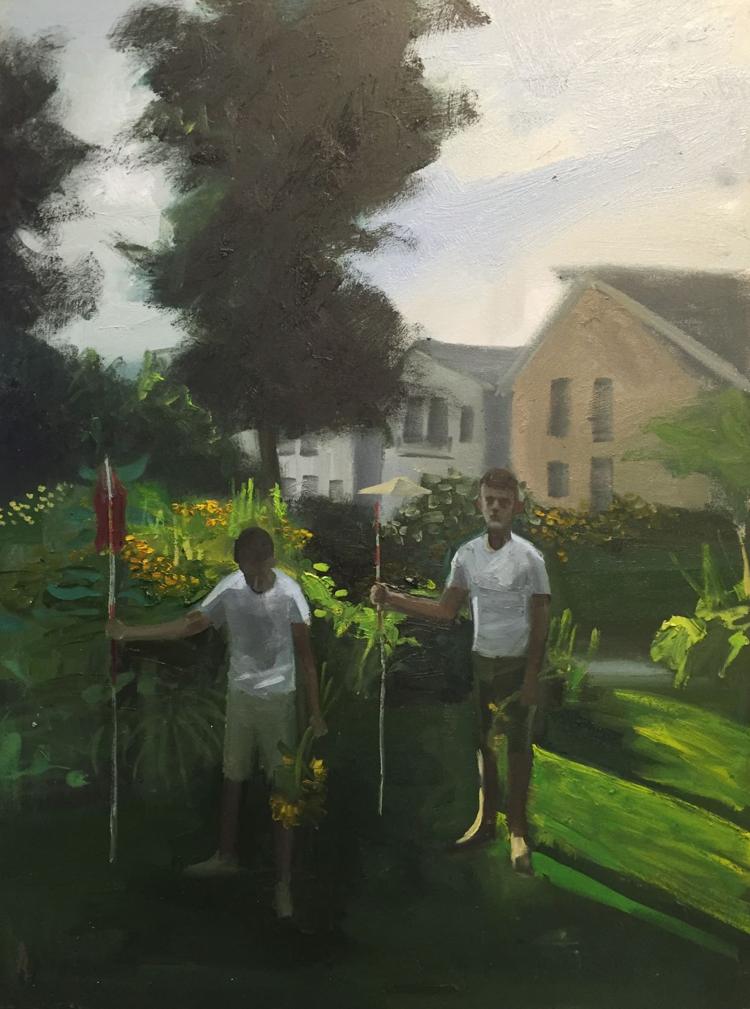 What is clear is that his work resonates for many people in the Greater Indy area and beyond. And because he puts relatively low price on his paintings, they buy them. It's not a bad business model for an artist: make a lot of work and sell it at a reasonable price.  
And it's not a unique approach at the Harrison Center, which is one of the best places in the city to find locally made, reasonably-priced art, from paintings to jewelry. 
But Ragsdale's show was not the only game in town in the Harrison Center's six-ring circus of a nonprofit art center.
The show in the Harrison's Speck Gallery, entitled Metamorphosis, has work by two artists exploring the theme of rebirth, Christina Hollering and Erin Hüber. In Hollering's "The Pond"  (cut paper and mylar) the sharpness of the green lily pads and dragonfly wings against a black backdrop is arresting. And just might cause the NUVO graphic designers to drool when they see it. 
In contrast, Hüber's work seems darker both literally and thematically. In "The Gift: Past, Present and Future (acrylic on canvas) you see a tropical landscape with a steamboat chugging away in the distance.  The woman in the picture —  and the mysterious man facing her — are both cast in shadow.
There is mystery here, and a sense of foreboding.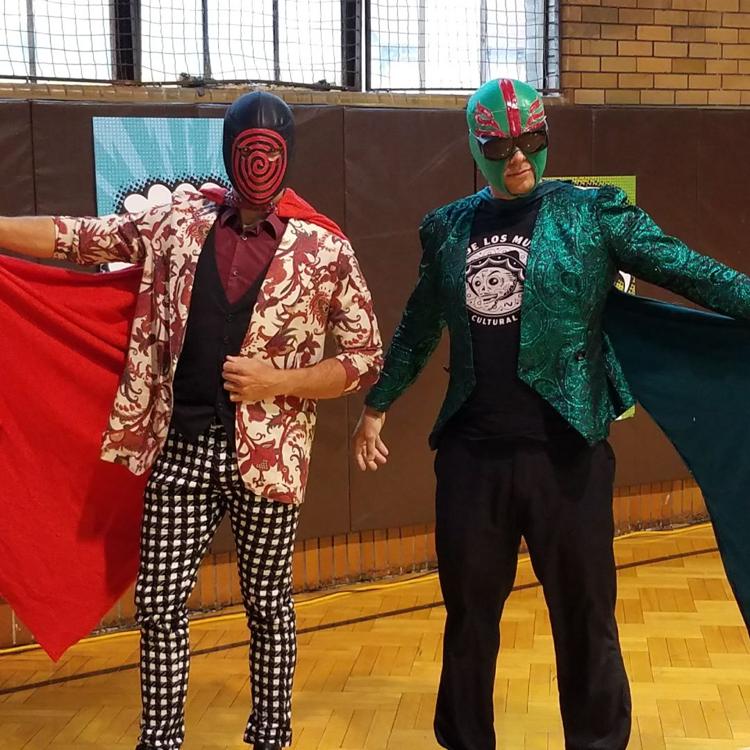 In the gym, electronic musicians El Camaron Electrónico and Melt-Face, in all their masked glory, were working their magic in the kickoff Spirit & Place Festival event entitled "Superhero's Bash."  Some kids were also dressed in superhero garb, like the aforementioned dynamic duo. They were all suited up for fun activities galore; you could share super stories about your neighborhood design a mask, and play games.  
Just who were El Camaron and Melt-Face, these masked men who descend on our fair metropolis to get us grooving? To keep us from dying of boredom at silly adult-geared activities like art openings? They were too busy, however, working their turntables to take questions, although they did pause for a brief photo.
The powers that be at the Harrison Center also pause from time to time to, say, reassess their branding.
On the Harrison Center's website, there was a recent blog announcing the decision to axe "for the arts" from the Harrison Center for the Arts name, to keep things simple. And yet, the Harrison Center has recently embarked on increasingly complex initiatives, such as Pre-Enact Indy that go beyond art and enter the sphere of community building. (A better decision, I think than the Indianapolis Museum of Arts transformation into Newfields, which excludes the city of Indianapolis from their branding.)
From now on, the Harrison Center will just be the Harrison Center.
At least, until they get some million dollar grant from a donor with a very long last name, who insists that the nonprofit Harrison Center use it in their branding.
To be continued...