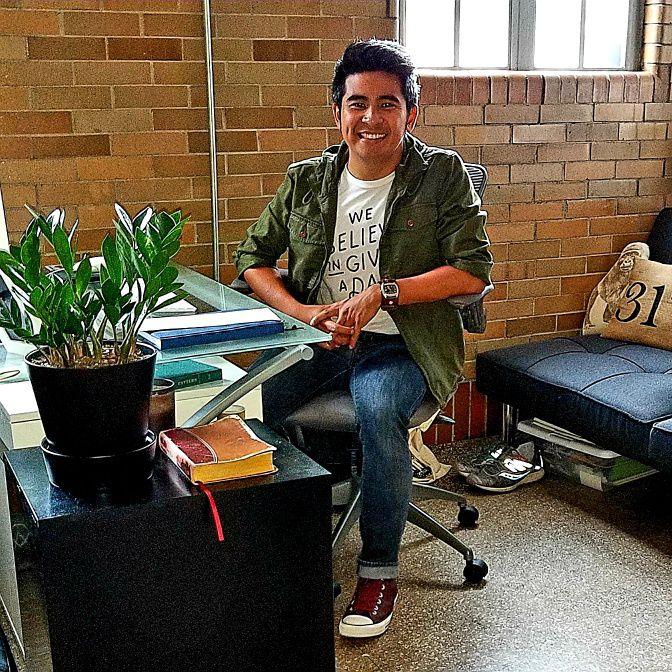 I stopped by the Harrison Center on Friday night, Nov. 2 and checked out the large scale paintings by Kyle Ragsdale in his exhibition Bateaux in the Harrison Gallery.
Ragdale is one of the Harrison Center artists this year participating in the citywide VonnegutFest, an annual event celebrating the life and legacy of Indianapolis-born Kurt Vonnegut from Nov. 7-10, sponsored by the Kurt Vonnegut Memorial Library.
The title painting in Ragdale's exhibition, "Bateau", portrays a mixed crowd in terms of ethnicity and era of dress. All are passengers on a canoe.
"Overboard", a similar painting by the longtime Harrison Center curator, shows a similar slate of passengers on another boat. Except that now, the boat is being tossed by violent waves, and there is a man overboard with his head (for now) above water.
The man overboard resembles Ragsdale himself.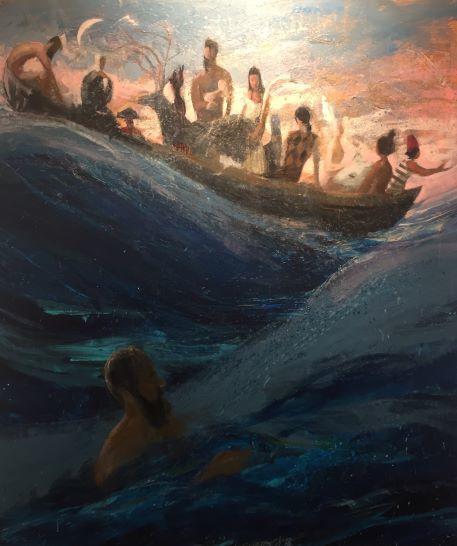 In this series, the painter is doing something a little different. Normally Ragsdale paints in oil but in these paintings, he's employing acrylic paint as a medium.
Ragsdale is participating in a panel discussion Lonesome No More through Faith Communities on Nov. 8, part of VonnegutFest. The discussion will address loneliness and mental health challenges and the support that faith leaders can offer. Included in the discussion at Congregation Beth-El Zedeck will be Rev. John Denson, Rabbi Kate Briggs, Rev. Dr. Sarah Lund, and Dr. Halima Al-Khattab and will be moderated by author Bill Bole.
Ragsdale will create a painting during the event based on his understanding of the discussion, and it will be on sale afterwards.
Also at the Harrison Center, I met up with another artist participating in VonnegutFest, Jingo de la Rosa.
We walked up together to his second story studio, where he lives, which makes him quite literally a resident artist. He's one of three Harrison artists who live in their studio/living space in the nonprofit facility.
During Reclaiming Armistice Day on Nov. 7, de la Rosa will assist guest who want to draw a tattoo that represents their life. During the same event, there will be an exhibition of military veteran tattoos titled Military Tattoos @ IUPUI.  A veteran with PTSD will also address the guests about using art therapy to cope.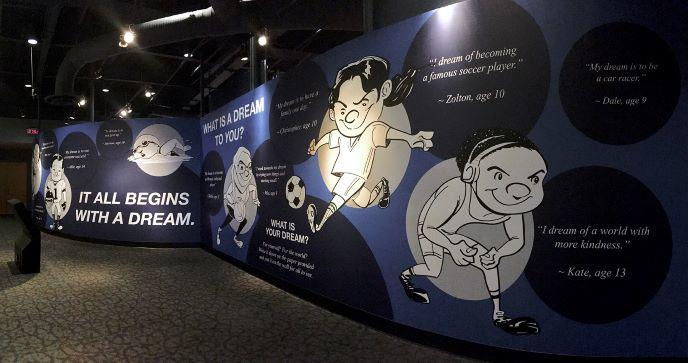 De la Rosa got involved with VonnegutFest which requested the assistance of artists through to Arts For Learning. De la Rosa has been on their roster of teaching artists for about five years.   
"I go around the state on an as needed basis and I try to integrate what the kids are learning with illustrations, right now I have a residency with St. Rock School on the near south side," he says about his work with Arts for Learning. "And what I do is, I teach them the basics of drawing."
The 35-year-old de la Rosa describes his work as mostly commercial, but he has occasionally displayed his work in local galleries. He has been making art since he was a child.
"I grew up in Manilla," he said. "I came here about 14 years ago. I went to Art School back home."
One of his current commissions is painting a van for the town of Rushville.
"They bought a trailer; they want to engage the community so my job is to design the exterior, make it all fun, so I do a bit of everything," he said.
De la Rosa is so busy with projects that he doesn't have a lot of time to read much these days. But he has read two of Vonnegut's works, Slaughterhouse Five and Breakfast of Champions.
"Moving here to Indy I had no idea he was from Indianapolis," he said.
I asked de la Rosa if there was anything about Vonnegut that inspired him.
"I think the main thing is that he's actually proud to be from Indianapolis," he said. "And I drew a lot from that because coming to Indy, I had no idea what Indianapolis was all about.  But getting to know its people including Vonnegut his favorite son and how proud his is of where he's from and because of that I've embraced this place as my home which took some time but yeah, I would say that's the biggest impact."
All events on the schedule except for Prefer to Laugh are free, but an RSVP is necessary. 
Nov 9: Vonnegut Session with John Green
Young adult author John Green, selected by Time Magazine as one of the 100 most influential people in the world, will discuss Vonnegut, mental health challenges, and writing.  During the event, student writers will read winning Vonnegut-themed writing prompts. There will be free coffee provided by Calvin Fletcher.
Nov. 10: So It Goes Release Party
The So It Goes Literary Journal is a literary magazine that brings together essays, stories, and poetry from veterans and civilians, established writers and unknowns, students and "nonagenarians." Contributors will read their works during the event.  
Nov. 10: Work and the Blues
Do you get the blues at work? So do a myriad of Vonnegut characters during the course of their careers, and author Marc Leeds will tell us all about them. After that, an architect, a firefighter, and a lawyer, will tell us about the mental health struggles they face in the workplace.
Nov. 10 Prefer to Laugh
The annual Kurt Vonnegut Humor Award will be given this year to Visit Indy CEO Leonard Hoop, the Visit Indy CEO who will also be the featured comedy act. Vonnegut Trivia will follow. This event will take place at TwoDEEP Brewing.