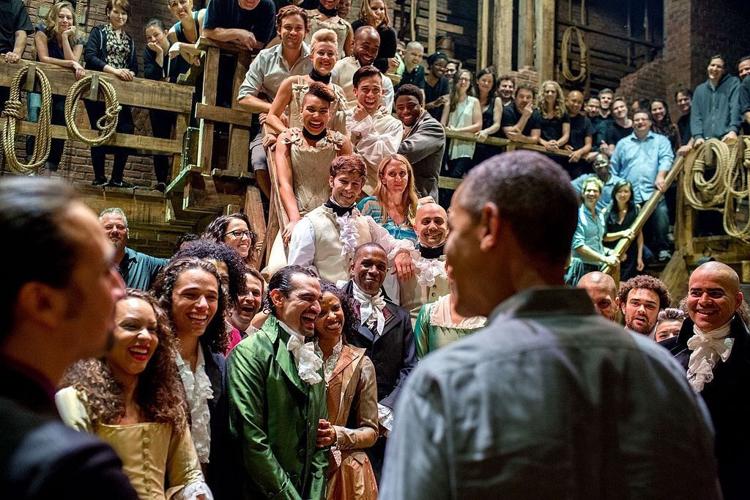 Although the exact dates are not as of yet known, the national tour of Hamilton will be making its way through Indianapolis as part of its 2019 - 2020 season.
This announcement was made Tuesday morning by Broadway in Indianapolis, an organization that presents shows that tour nationwide at Clowes Hall and the Old National Centre. 
Hamilton is a Broadway musical, created by Lin-Manuel Miranda, that revolves around the history of one of America's founding fathers, Alexander Hamilton. Miranda plays Hamilton, in this musical that meshes Broadway style musical theater with rap. Hamilton also breaks ground by starring people of color in the principal roles.
(This was the Broadway musical that Vice President Mike Pence attended in New York in November, 2016, where he got an earful from the actor who played Aaron Burr, Brandon Victor Dixon.)
Broadway in Indianapolis also announced on Monday its 2018 - 2019 show dates. This includes the return of Disney's Lion King. How the Grinch Stole Christmas! The Musical, Rodgers and Hammerstein's The King and I, and a limited one-week engagement of The Book of Mormon.
According to the website:
The best way to guarantee tickets to Hamilton is to purchase a season subscription for the 2018-2019 season. Subscribers who renew for the 2019-2020 season will be able to guarantee their tickets for the premiere Indianapolis engagement of Hamilton before tickets become available to the general public. Information regarding Hamilton dates and how to purchase groups and single tickets will be announced at a later time.
You can purchase season tickets by following this link. Be warned though: according to the website, wait times are in excess of 20 minutes.
2018-2019 Season showtimes, dates and venues are listed below:
WHAT // Disney's The Lion King                                                                
WHEN // September 12-29, 2018
WHERE // Old National Centre
WHAT // Dr. Seuss's How the Grinch Stole Christmas! The Musical
WHEN // November 27-December 2, 2018
WHERE // Old National Centre
WHAT // School of Rock                                                                   
WHEN // January 29-February 3, 2019
WHERE // Clowes Memorial Hall
WHAT // Rodgers & Hammerstein's The King & I                                         
WHEN //  March 5-10, 2019
WHERE // Clowes Memorial Hall 
WHAT // Waitress                                                                                     
WHEN // April 23-28, 2019
WHERE // Old National Centre
SEASON OPTION:
WHAT //  The Book of Mormon    
WHEN // December 18-23, 2018
WHERE // Clowes Memorial Hall